A QUICK GUIDE TO SPOTTING FAKE ZIPPO'S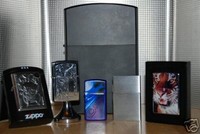 I HAVE NOTICED A INCREASING No OF FAKE ZIPPO LIGHTERS
FOR SALE ON EBAY RECENTLY~ HOPEFULLY THIS GUIDE WILL
HELP YOU AVOID GETTING RIPPED OFF!!
WHEN LOOKING TO BUY A ZIPPO LIGHTER PLEASE BEAR THESE FEW POINTS IN MIND
FIRSTLY CHECK THE REPUTATION OF THE SELLER (although this can also be fake)
INSIST ON SEEING QUALITY PHOTO'S OF THE ITEM FOR SALE ~NOT JUST LIBRARY PHOTO'S DOWNLOADED FROM A COMPUTER
CHECK THE LIGHTER AGAINST OTHERS FOR SALE TO SEE IF IT IS THE SAME
(check small details on compared lighters as fake lighters are generally not as"polished"a finish)
ALWAYS CHECK THE BOTTOM STAMP THIS IS ZIPPO'S TRADEMARK AND IS ONE OF THE EASIEST WAYS TO SPOT A FAKE
(again compare against others for sale in small detail)
FROM 1986 ON A YEAR/MONTH IDENTIFICATION CODE WAS USED
ALL ZIPPO LIGHTERS FROM THIS POINT WERE MARKED WITH A LETTER AND
ROMAN NUMERAL~ THEY ARE MARKED
A TO L ONLY THIS DENOTES THE MONTH IT WAS MADE (A-JAN TO L- DEC)
THE NUMERAL DENOTES THE YEAR
PRIOR TO THIS A SERIES OF DOTS OR SLASHES WERE USED
FROM 2000 STILL A TO L BUT MARKED 01 ETC FOR THE YEAR
DATING INFO CAN BE FOUND IN MOST ZIPPO BOOKS OR WEBSITES
MANY FAKES ARE GETTING HARDER TO SPOT SO THE BEST ADVICE IS
IF IT SEEMS TO GOOD TO BE TRUE IT IS PROBRABLY FAKE
IF YOU ARE NOT 100%SURE DO NOT BUY IT !!

PICTURED ABOVE IS A 100% GENUINE ZIPPO BOTTOM STAMP
SOME OF THE COUNTERFEIT ZIPPO'S I HAVE
NOTICED RECENTLY FOR SALE ARE LISTED BELOW
(from approx. 1st-20th may 08)
Harley Davidson -brushed chrome/pewter motif
sapphire playboy 50th anniversary
Harley Davidson-lightning motif
brushed chome/pewter steers skull motif
bolted armor zippo-which was not even a armor type
ALL OF THESE LIGHTERS WERE FOR SALE FROM DIFFERENT
SELLERS AROUND THE WORLD.
some perhaps did not know the lighters were not genuine
others i suspect certainly did.
PLEASE DO NOT BE PUT OFF BUYING A ZIPPO
MOST ARE GENUINE LIGHTERS FROM HONEST SELLERS
AND IN MY VIEW THE BEST MOST RELIABLE LIGHTER EVER.