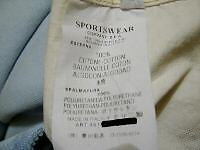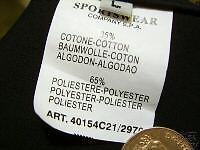 When looking to buy any Stone Island item, remembering these costs a bomb to make, and they are never going to be cheap, unless they are second-hand or last seasons catalogue. There are safeguards to stop fakes. Holograms, spa number, item numbers etc... I have seen a lot of
'genuine'
stone island with totally the wrong art number, e.g stone island coat/jacket with a CP company spa number on it. Here is how to read a Stone Island, CP Company and Stone Island Denims art numbers, because all have there own distinctive number,
This is how the Art number appears on the item
art.39154n40/1807
The first 2 numbers (39) are the year. (This year being 48(s/s)&49(a/w 2008) and for every ascending number is a season) e.g 48 = spring/summer, 49 = autumn/winter and so on.So all even numbers are spring/summer & odds are autumn/winter
The second 2 numbers (15) are the brand. ( 13=c.p.under sixteen 14=s.i.denims 15 = Stone Island, 16=s.i.junior 20=c.p.donna and 18 = CP Company).
The next number (4) is what the item is e.g in this case (1=shirts 2=t-shirts 3=trousers 4 = Jacket, 5 = knitwear, 6 = sweatshirts 9=accessories etc.)sometimes this number might be a letter this is when its a flagship model (ultra light with gause badge-stainless steal or light jacket with white badge ect)but again they don't always do it?
The letter (n) is the model.
The next 2 (40) are the cloth & the treatment that is used to make the item.ie raso gomatto(cotton or cotton/satin with an internal or external smearing of polyurethane)or vdm (a non woven material made from a mix of superimposed nylon/polyester fibres fused under pressure)stone island own the copy rights to thousands of materials, colours, dye processes and dye techniques
Everything after the / are the dye numbers and colour.
So, armed with this information it should be a lot easier to spot a fake, always ask the dealer/seller for the art number. Chances are if the item doesn't have one then it is a fake. But allot of fakes have got art numbers,so also look for country of origin(alot of snides haven't got this..stone island always do) so be sure to check your item with the Stone Island website if its the current season,if its older then you cant check it on their web site but you can ask around the trustworthy boys on e-bay(some of them have guides)another good way is look at who's selling the high end stuff...there are at least a dozen top lads into si on e-bay & they will be happy to stear you away from fake crap... and remember if a
genuine
2006 Stone Island jacket's art number begins with 38186 then is should be a CP company sweatshirt from autumn/winter 2002.
That said anyone can fake a label, it truly is a minefield. oh and a lot of the si labels are dyed as the whole finished garment is dyed in a lot of cases, so you will get red , blue , yellow labels ect, also stone island send their garments to Tunisia & rumainia to be sewn together (its a cost thing!)but this doesn't make them cheap , some of the non Italian pieces i have are far better . ONE THING ALL SI GARMENTS POST 1982 SHARE IS COUNTRY OF ORIGIN , PRE 1986 DIDN'T ALWAYS HAVE ART NUMBERS (BEFORE FAKES) so if your buying vintage it may not have art numbers...
If in doubt, check it out. If you are still not sure, then purchase at your own risk. If it looks too good to be true, then it probably is. I have been ripped of by the market trader fake merchants myself ( on more than one occasion) looking for a bargain, but I have learned that you get what you pay for. If you want real Stone Island then you are not going to get it for £30.00.
There are some good and cheap (for stone island) sites on e-bay , a popular one is Trends & Brands that sell genuine stone island and that's just one of many (& loads on line off e-bay)such as Mainline/Brown bag/Swerve & Cruise clothing to name but a few (use google) .As for the chavs that buy fakes knowing it.."no one can tell"...er yes they can, that'll be the tittering you can hear as people pass by, you see FAKES AREN'T WORTH THE MONEY YOU SPEND ,when for a bit more you can wear the real thing!!.....and everyone else can see you are too !!!
Thanks & i hope this helps
PLEASE DON'T FORGET TO RATE THIS GUIDE HELPFUL OR NOT THANK YOU ................................................................................... I HAVE PUT A PICTURE OF A FAKE ART LABEL FOR YOU AS REFERENCE(FIRST LABEL IS REAL, NEXT ONE IS FAKE)THE FAKE ONE IS THE ART TAG YOU'LL FIND ON THE SNIDE RASO'S ON E-BAY (BEFORE YOU BUY ONE ASK FOR THE NUMBER/PHOTO IF ITS THE SAME AS THIS ONE RUN!!!!!) NOTICE AS WELL NO COUNTRY OF ORIGIN WHICH REAL ONES ALL HAVE WITHOUT EXCEPTION!!!..................JUST BEEN READING A CARBON COPY OF THIS GUIDE!!! FOR GODS SAKE EVEN STONE ISLAND GUIDES ARE BEING COPIED !!! IS NOTHING SACRED?!?! I HAVE SEEN A PART OF THIS GUIDE COPIED AND PASTED INTO AN AUCTION (WHICH IS FINE!) THE MORE PEOPLE SEE IT THE BETTER, SO PLEASE FEEL FREE TO COPY THE FIRST PART (ABOUT THE ART No'S) AND PASTE IT INTO YOUR AUCTION (AS LONG AS IT'S A GENUINE AUCTION!) IT WILL HELP PROVE OR DISPROVE AUTHENTICITY OF YOUR ITEM?
REGARDS
BUSHWHACKER1970