Hi all, I have been trading on Ebay now for a good few years, dealing mainly in Nintendo Gameboy Advance and Nintendo DS games and consoles. In that time I have been utterly astonished at the amount of sellers profiting from selling conterfiet games. If you get a copied game it is quite likely that it will not save your progress - you can imagine how frustrating this must be for a child when they turn the game back on after previously saving their progress in a game, only to find that the game progress has not been saved at all. Some copied games will not even load up at all. I report the sellers who I see selling fake games, but as of yet Ebay have done nothing about them and have let them continue to sell copied games on Ebay. Over the years of being on Ebay I have realised that their customer service is pretty much useless and they offer little to no protection on purchases. I figuired if you want to protect yourself from such fraudsters then you need to get clued up, so heres how to spot fake Gameboy Advance games:
look closely at the sticker on the cart, is it stuck on straight? - Many fakes have wonky stickers, whereas official Nintendo games will have perfectly straight stickers, probably because they are stuck on by a machine, and the fakes by hand.
again, look closely at the sticker - is the printing of good quality? - many fakes have slightly distorted pictures on them and the print quality is poor, this will not be the case on a genuine Nintendo product.
the box - many of the boxes for copied games will be really shiny and have a plasticy feel about them - most genuine nintendo games come in a well-printed, matt-looking box.
the manual - a lot of copied games manuals will be flimsy and poorly-printed, official Nintendo manuals are usually quite bulky, and very well printed.
does it save progress - as mentioned before, many fake games do not have the ability to save
Is you item from Taiwan or Hong Kong? 9 out of 10 games from places like this will be copied, as they have no copywrite laws over there.
DO NOT BUY MULTI GAMES CARTS - GAMES THAT ARE ADVERTISED AS BEING 115-IN-1 THEY ARE FAKES!!!! many of them repeat themselves and dont save properly, they are a waste of money
It is a really good idea to learn how to spot copied games - I spent over £50.00 on a lot where virtually all the games were fake, I contacted the seller for a refund and they refused. I then complained to paypal who said in order for me to get a refund I would have to take all the games to a video games store, get a friendly store clerk to write down why he thinks every indivdual games is a fake and fax all the info to them within something like 7 days. This was what made me realise just how difficult Paypal and Ebay make it to claim money back for fake items - it seems they are in no way interested in punishing the guilty party, but are more interested in making it exceptionally difficult to get your money back. Needless to say, I didnt get my money back and that seller has rofited £50.00 from selling fake games - Ebay has no detterrant to these people, and they just let them continue to trade and rip more and more people of. The sadest thing about all of this, is that the people they are ripping off are mainly children ( lot of my buyers purchase games on behalf of their children, who often use their own pocket money/birthday money etc to purchase a game). Any way, good luck with spotting those fakes people, and when you do spot one, report the seller and item to ebay - maybe if we all get on the job, Ebay could finally take notice and kick these swines off of ebay!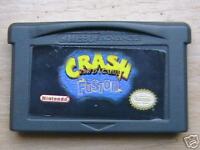 FAKE CRASH BANDICOOT CART - notice the poor quality printing and the wonky sticker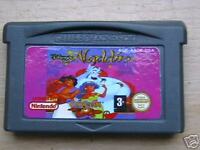 FAKE ALADDIN CART - again, the picture is of poor quality and notice how shiny the sticker is, most fakes have very shiny stickers, but most official Nintendo games are not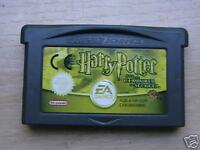 GENUINE NINTENDO HARRY POTTER GAME - as you can see the sticker is stuck on straight, it has the Nintendo seal of quality (which is also copied sometimes) and the printing is clear and of high quality. The sticker is also not shiny like the fake ones above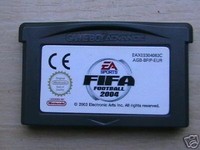 GENUINE NINTENDO FIFA FOOTBALL GAME - again, like the official Harry Potter game above, the printing is clear, the sticker is not shiny and it is stuck on straight
I hope this guide has been of help, and if it stops at least one person from getting ripped off, then it has done its intended job. If you regulary buy Gameboy Advance or Nintendo DS games then take a look at my listings by slecting my member name muddy_mudskipper and then viewing my items. Rest assured, that I will never sell fake games and any product purchased from me will be an official Nintendo product. Good luck everyone and happy gaming!