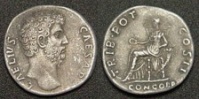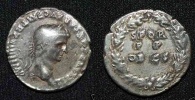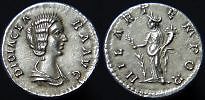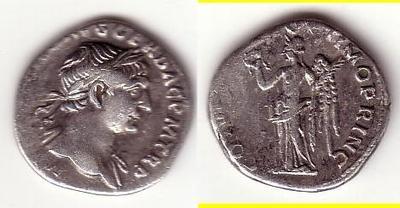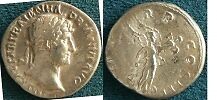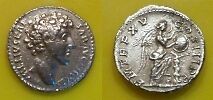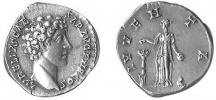 ONLY ONE OF THESE SILVER ROMAN COINS IS A GENUINE COIN, THE REAL THING, CAN YOU SPOT IT???
As many as 30 - 40 % of ancient coins sold on ebay, at the moment, are modern fakes.
So be patient about which coin you might like to own. Try checking it out as much as you can.
'Genuine sellers' list of ancient coins/artefacts.
To see a list of 'genuine sellers' of ancient coins/artefacts just click here...
There are a lot of fake or reproduction coins on ebay at any given time. The problem is how to spot them. The decent people who are selling them will let you know if they are fakes or copies, this way you know what you are paying for and if you wish to buy them then thats your choice, I like these people. Dodgy coins can be hard to spot. Look at the coins above, they are all fakes, except for one, which have been passed off as genuine silver Roman coins.I have lots more pictures of coins like these, and the list grows almost daily!! For a better look at these coins right click the picture, scroll up to (save picture as) click this and then click on (save) and the picture should appear in your (my pictures) folder.
Things to consider when thinking of buying a silver roman coin, (I think it's Silver) or (Silver/nickle,) in the items description is a danger sign, also things like, (I'm selling off my grandfathers collection he purchased some years ago,) has nearly always proved to be from a dodgy coin seller. (There's writing round the edge, I think it's Roman,) another dodgy line.
The letters WRL stamped somewhere on the coin tells you it's a genuine copy/fake, if you know what I mean. "WRL" is Westair Reproductions Ltd. They are based in Birmingham, UK. People often buy these known replicas's as "space fillers" filling in the gaps of Emperor's etc in their collection until they can buy the genuine coin. They are also sold in museums as souvenirs and are often bought for schools to help with Roman studies. At least this way, if they happen toget lost, stolen or damaged, then it's not a great loss and can be easily replaced. Also look out for "copy" stamped somewhere on the coin, normally on the reverse, this obviously tells you the coin is a modern reproduction, as does a tiny letter "R" stamped on the coin, again, usually the reverse. The word "copy" and the letter "R" can be extreamly small so you may not even notice it until you either scan your coin or look closely at it with a magnifying glass. Some modern replica coins also have a letter 'S' stamped on them, again it is normally to the reverse of the coin, and the letter 'S' is snake like in appearence. Also look on the outer rim of the coin. the words REMO NEDA stamped here tell you that the coin is a modern copy. Be aware that fake coins being sold by dodgey dealers do not have any of these markings on them at all. This is how people get ripped off. Look at the above coins pictured. None of them have any markings telling you they are fake, this is how easy it is for sellers to pass off forgeries as genuine. There is one genuine coin amoungst them, so study them well.
GET YOURSELF A SILVER TESTING KIT!! THE SELLERS OF FAKE SILVER COINS HATE THESE TESTING KITS...
It takes about ten seconds to tell weather or not that lovely Silver Roman coin you have just received through the post is real silver or not.
THE ANCIENT ROMANS NEVER... EVER.... STRUCK COINS USING NICKLE, CUPRO NICKLE, PEWTER OR LEAD FREE PEWTER.
Where can you buy your silver testing kit? These kits can be bought from most metal detecting shops! You can also buy 18 and 24 carat gold testing kits, another useful tool to have these days.;
I strongly urge everyone to buy one of these kits and I can almost guarentee that you will have two or three fake silver roman coins in your collection if not more.
These kits can be used to test all silver items including medieval hammered, Celtic, Greek and Saxon silver coins aswell as jewellery, watches and antiques.
Let's catch the dodgy sellers out, instead of them catching us out!!!
If your coin is not silver then contact your supplier immediately and demand your money back! If you study the silver Roman and Byzantine coins being offered as legitimate coins, especially when there are a few being offered by the same seller, look carefully at the tone of the coin.Forget about what is on the obverse or reverse and about any writing round the edge, just look at the tone and background of the coins, you will see that they all look the same, different to the real silver coins. Spotting fake coins and dodgy sellers is often quite hard but look out for the high bidders section, where you would normally see who you are bidding against. If the coin is legit then why would the user ID be kept private? If they sell other items besides coins then check the feedback. If all of the coins are listed as private but you can see the other items they have sold then what are they hiding? why not show the (Genuine) coins as well? My advice here is do not buy a coin with user ID kept private. I have noticed that some of these sellers are suggesting that these coins are dug finds, ie metal detecting finds, they are not. .
Take a mental note, if nothing else, of some of the amazing coins that are being sold by this sort of seller and you will be surprised at how the exact same coin seems to sell again and again, and for an amazing price of £9.99 What I mean is, the fake coins are all copied from one genuine coin. So you might end up with fifty fake coins taken from this one genuine one, still with me? They all look exactly the same, the same wear marks, the same scratches and cracks, the same shape, struck exactly the same, , all of them. Look carefully at the coins your bidding on and check with forgery network dot com, all one word, and put in a search for the coin listed to see if that exact same coin is there, it probably is. Just go to the search tab and type in Hadrian, for example, and see if your coin is there.
My advice here is please don't be fooled. If you have a gut feeling that the coin is a fake/copy but has been described as a genuine coin, then leave it alone, your probably right. I quote from a negative feedback which was left for a fake silver roman coin 'If somethings too good to be true-it usually is...'
The SQUARE TRADE logo does NOT GUARANTEE that the seller is selling genuine ancient coins!!!! So be aware of this.
Another thing to note is the listing time. Normally items tend to get listed for a seven day period and on some occasions, longer. However, dodgy coins quite often get listed for only a three day period, and at £9.99.... why? Well, there seems to be this loop hole here. If you report to ebay that there is a false listing, it can take 24-48 hours to investigate. So if you list for three days you can slip through virtually undetected and by the time ebay have got around to your dodgy sellers listing, it's too late.
So my advice here is NEVER BUY A COIN ON A THREE DAY LISTING.
Be very carefull when it comes to the coins being listed from Bulgaria!!! MOST FAKES SEEM TO ORIGINATE FROM HERE.....I personally would not buy any coins from Bulgaria...silver or bronze, yes bronze! most of the bronze coins from bulgaria are modern fakes aswell!!!
SO MY ADVICE HERE IS NEVER BUY A COIN FROM BULGARIA.

TAKE A LOOK AT THESE TWO GOLD ROMAN COINS, LIKE THEM? THEY ARE BOTH MODERN FAKES!!
There are books you can buy which go into depth concerning fake coins, how they are made and what to look for. Any of these books are well worth investing in. You can see them at calgarycoin dot com.
BE VERY CAUTIOUS WHEN YOU SEE LISTINGS UNDER 'ESTATE LOTS'
I have noticed a lot of fake coins being offered under this title. Is the term 'Estate lot' starting to be used as a smoke screen meaning that the seller is supposedly selling on behalf of a third party and is therefore, not responsible for the authenticity of the coin ? Be careful here, I do not trust this title by the fakes I have seen so far, so I will not be buying from this catagory.
There are a lot of good genuine coins out there being sold by good, genuine, legitimate people, always check the feedback and check how long they have been selling coins. A good seller will also tell you the weight of the silver coin being sold, this is a good indicator of a genuine coin as the weights can be looked up. A good place to look for correct weights is through ebay member holyportdragon and it is titled Fake ancient coins and correct weights.
Also look out for member profile (private) being used. They're only legitimate Silver Roman coins being sold.....aren't they? Or perhaps there are a few risky ones in there? Dodgy sellers would rather not let anyone know who they really are, so they can hide behind this private profile whilst using a p.o address. Having said this, there are legitimate reasons why sellers use this listing. The main reason being second chance offer scams, 'the best way to get around this for sellers is to state that they never provide second chance offers' My advice here is to use caution on private listings, check the feedback rating and how long the seller has been trading, the longer the better.
Want to see a list of known fake sellers?
maybe that silver Roman coin you want is being sold by someone on this list, it's well worth a quick look. Check it before you buy. This list could save you a fortune!!
TO SEE A LIST OF KNOWN FAKE SELLERS OF COINS, GO HERE http://reviews.ebay.co.uk/LIST-OF-KNOWN-FAKE-SELLERS-OF-COINS_W0QQugidZ10000000006297705 EBAY HAVE REMOVED THIS LIST. DO THEY SUPPORT FRAUDSTERS? Ignor fake sellers lists or 'blacklists' at your peril!! Buy from any seller on these lists and you WILL be robbed...
Check out forgerynetwork dot com this is an excellent site for viewing fake coins and who knows, maybe one of your own coins is listed? lets hope not.
There are also a lot of fake Medieval hammered as well as Celtic staters out there, as I have spotted a few from time to time, I would like to see someone write a guide on spotting fake Celtic!!!.....Here is a useful link on spotting fake hammered
It is not always easy to spot a modern fake coin being sold as a genuine ancient one. Even the best of genuine sellers can get caught out with a fake coin. The best advice I could possibly give out is, start to familiarise yourself with fake coins. Look at as many as you can. Join a coin forgery discussion list site, such as CFDL on yahoo. Save as many pictures of fakes as you can and compare your known fake coin to the known genuine coin and see what the differences are. I wish you all the very best of luck with your collections and if you are just starting out collecting ancient coins, then never be afraid to ask anyone for help in either identifying a coin, or confirming the authenticity of a coin. We all had to start to learn at some point and none of us knows everything...