Stone Island – Spotting the Fakes!
Don't get fooled with cheap Asia-Fakes anymore! This platform is absolutely littered with fake-sellers who advertise their products to be authentic Stone Island. Ever read any of those statements: "Guaranteed authentic or money back!"?? Why would a seller say something like that? It doesn't make any sense at all to promote yourself like that, if you sell genuine products!
Check out our list below, if you wanna be sure to buy the Original, and – to be absolutely100% sure- next time buy at our shop! ;-)
Other than that we can only advice you to let your purchase be checked at a Stone Island store, if you doubt the authenticity!

Signs of authenticity:
- Quality of the material: Stone Island is famous for its very special fibres and high quality fabrics which is true especially for their jackets and coats. As someone who knows Stone Island, you'll easily figure a fake, as a newcomer you should be aware of the fact, that this quality has its price! There is no way you can sell large amounts of one model for a ridiculously low price!
- Serial number: Stone Island serial numbers differ in each and every product, even if it is exactly the same item, they must have differing numbers! Mass production of fakes are not able to produce them like that most of the times.
- Badge: the Stone Island trademark is the compass-badge always on the left arm. The compass has coloured rounding as opposed to the black colour of the badge itself.
- Seller-ID: Stone Island is distributed through certain sellers and each of them has its own Seller-ID. You'll find it on the tag.

Protect yourself from fakes and make sure you buy real Stone Island quality products from honest sellers on eBay! Check out our Trensandbrands Shop, cause with us you're on the safe side! We carry all the European and US high brand labels for reasonable prices with lots of winter specials right now! Register in our newsletter to be always up-to-date.
We'll be happy to answer any further questions!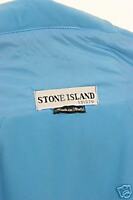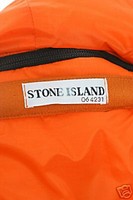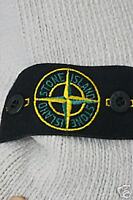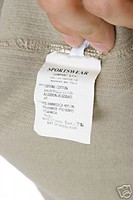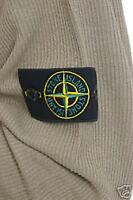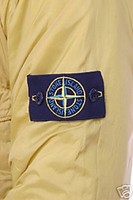 Alle Texte und Bilder sind exklusiv verfasst vom Trendsandbrands Service-Team, das Copyright liegt bei D.G. Fashion GmbH. Jegliche Kopie oder Vervielfältigung des Textes wird strafrechtlich von unserer Rechtsabteilung verfolgt.
Stone Island – Schützen Sie sich vor Fakes!
Niemand muss heute mehr Opfer von Produktfälschern werden, denn die Topmarken der Fashionindustrie sichern sich durch technologisch immer ausgefeiltere Methoden gegen den Betrug ab. Leider tummeln sich auf dieser Plattform unseriöse Verkäufer, die Ihre gefälschte Ware als Original anpreisen.
Unser Ratgeber weist auf die unverkennbaren Merkmale der authentischen Stone Island Produkte hin und soll dabei helfen, Echtes von Gefälschtem zu unterscheiden. Wenn Sie also sicher gehen wollen, kein Opfer von Fake-Händlern zu werden, achten Sie auf unsere Hinweise, und am sichersten: kaufen Sie in Zukunft risikolos bei uns ein! ;-)
Ansonsten kann man nur den Rat geben beim kleinsten Zweifel in einen Laden zu gehen, der Stone Island führt, und die Produkte von zuverlässigem Fachpersonal prüfen zu lassen. Lassen Sie sich nicht von Beteuerungen über 100% Originalität oder positiven Bewertungen täuschen!
Stone Island - Merkmale eines Originals
- Qualität des Materials: Stone Island ist vor allem für seine technisch aufwendig verarbeiteten exzellenten Materialien bekannt, was vor allem für die Jacken gilt. Als Stone Island-Kenner wird es Ihnen leicht fallen, ein billiges Fake zu erkennen. Für alle anderen sei darauf hingewiesen, dass diese erstklassige Qualität auch ihren Preis haben MUSS! Auch dies kann als Indikator eines Originals dienen
- Seriennummer: Ist bei jedem einzelnen Stone Island Artikel unterschiedlich, selbst wenn es sich um exakt dasselbe Modell handelt! Meist werden Fakes auf Masse produziert, wobei man sich diesen "Luxus" unterschiedliche Nummern zu vergeben, nicht leisten kann!
- Aufnäher: Das Stone Island Markenzeichen ist der Kompass-Aufnäher, der immer auf dem linken Arm sein muss. Er hebt sich farblich vom schwarzen Untergrund ab.
- Seller-ID: Stone Island wird über lizensierte Distributoren weltweit vertrieben, die jeweils eine bestimmte Seller-ID besitzen. Sie befindet sich auf den Etiketten.

Schützen Sie sich vor Fake-Käufen, indem Sie auf diese Dinge achten und schenken Sie uns seriösen Verkäufern auf Ebay Ihr Vertrauen. Was gibt es Ärgerlicheres, als später festzustellen, dass man sein Geld für billige Fakes ausgegeben hat, oder - noch peinlicher - sie sogar an jemanden verschenkt hat!
Werfen Sie einen Blick in unseren Shop und profitieren Sie von unseren neuen Winterangeboten und Sonderaktionen. Um immer auf dem Laufenden zu sein, tragen Sie sich in unseren Trendsandbrands- Newsletter ein!
Bei weiteren Fragen stehen wir Ihnen jederzeit gerne zur Verfügung!
Hier einige Links zu 100% Original Diesel, True Religion, 7 for all mankind und anderen Labels
Diesel Damenjeans | Diesel Herrenjeans | True Religion Damen- und Herrenjeans | Stone Island Winter- und Sommerjacken
Rock & Republic by Victoria Beckham | La Martina Herren und Damen | 7 for all mankind | Echte Pullver aus Kaschmir & Seide