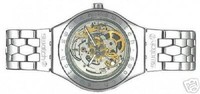 QUALITY TIME II UK
REPLACING A SWATCH WATCH STRAP
SWATCH WATCHES are today as popular as ever, mainly because of their bright colours and off the wall designs. This icon of modern design was originally designed to be disposable, but as they became more popular and collectable, it became increasingly difficult to find a replacement strap when the old one became old , damaged or dirty. Thankfully there are still many original authentic straps still on the market, and a lot of non authentic replacement strap. These range from leather,plastic and metal, all of which have their own merits.
'HOW TO REMOVE AND FIT A NEW STRAP'
All SWATCH WATCH straps are held on to the watch casing by thin smooth strap pins.These can removed by gently pushing them through the case using a thin needle or a specialist strap tool.

Once enough of the pin has been pushed through, using a pair of bull nose pliers carefully pull out the rest of the way. Repeat process top and bottom.
THIS CAN BE DONE FROM EITHER WAY LEFT TO RIGHT OR RIGHT TO LEFT.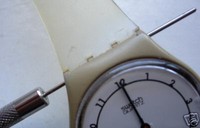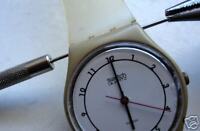 PLEASE NOTE.
GREAT CARE MUST BE TAKEN AT THIS STAGE AS THE OLDER THE WATCH THE MORE BRITTLE THE PLASTIC WILL BECAME, DO NOT BE TEMPTED TO FORCE AT ANY STAGE, AS ONCE ANY OF THE THREE LOCATING LUGS, ON THE CASE ARE DAMAGED IT IS NEARLY IMPOSSIBLE TO MEND. AND THE STRAP WILL NOT BE ATTACHED SECURELY.
Once the old strap has been removed, simply re-position carefully the new strap into position and gently insert the pins.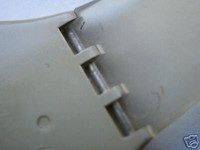 USEFUL TIPS
Always remember to clean the pins before you put them back.
Moistening them will help them slide in easier.
When replacing a new strap the buckle end always goes above the 12, of at the top of the watch.
There is nothing worse than fitting a strap to find it is upside down.
AND THAT IS ALL THERE IS TO IT.
HELP US BY TICKING THE BOX THAT SAYS THIS GUIDE WAS HELPFUL..