With the Galaxy S5 and iPhone 5S, Samsung and Apple have the two biggest smartphones between them. Both are excellent phones in their own right, but which one is best for you?
We tak
e a look at both to help you make the right choice.
Size and weight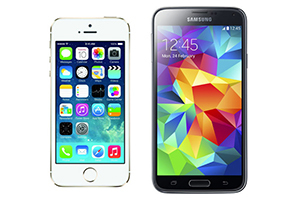 This is one of the biggest differences between the phones. While the iPhone 5S weighs 112g and measures 123.8 x 58.6 x 7.6mm, the Galaxy S5 weighs 145g and measures 142 x 73 x 8.1mm. The difference is largely down to the S5 having a much bigger screen, but larger displays are the way most people are going, so the 5S actually looks small compared to other smartphones.
In terms of build quality, the iPhone 5S wins hands down. Its anodised aluminium case and diamond-cut chamfered edges look fantastic. While the S5 is no ugly duckling, its plastic case doesn't feel quite as well made.
Screen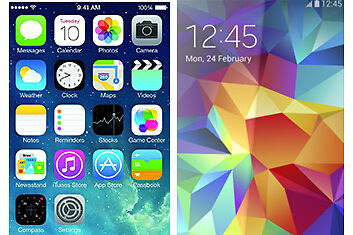 The iPhone 5S has a 4in display with a resolution of 1,136 x 640 pixels, while the Galaxy S5 has a massive 5.1in screen with a 1,920 x 1,080 Full HD resolution. In terms of immediate impact, the Galaxy S5 looks much more impressive with its imposing screen. Its higher resolution means that it can fit more on-screen at once.
In terms of quality, there's very little to separate the two. Apple's iPhone 5S has a Retina screen, which means that at normal viewing distances you can't see the individual pixels that make up the picture; in other words everything looks super-sharp thanks to the high pixel density of 377 pixels per inch (PPI). Samsung's Galaxy S5 has 432ppi. This sounds better, although going by Apple's definition, the extra pixels are redundant, as you can't see them when you exceed 377ppi. What this means in practice is that both phones have screens that are just as sharp.
Quality is very similar, too. Apple uses an IPS LCD screen in its phone; Samsung uses an AMOLED display. Both are great technologies and have their own strengths: IPS is brighter and produces more vibrant colours; AMOLED has darker blacks and uses less power. To be honest, it's a flip-up between which one you think is best.
Performance
Apple uses its own dual-core 1.3GHz A7 processor in the iPhone 5S, which was released last year, while the Galaxy S5 uses a quad-core 2.5GHz Snapdragon 801 chip, which is much newer. Performance is actually very similar, though. The iPhone 5S completed the SunSpider web test in 416ms (smaller is better) and the 3D Mark Ice Storm Extreme test with a score of 14,506 (bigger is better); the Galaxy S5 managed SunSpider in 408ms and 18,438 in Ice Storm. So there's not really enough to separate the two phones performance wise.
Camera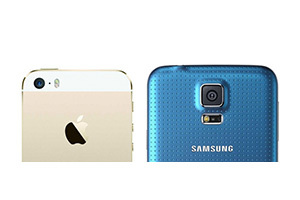 The iPhone 5s has an 8-megapixel, back-side illuminated (BSI) rear camera sensor, while the Galaxy S5 has a 16-megapixel camera. The number of megapixels doesn't necessarily imply better quality, though.
Apple uses a physically larger sensor in its phone, which means that each pixel measures 1.5µm; the Samsung Galaxy S5 uses a smaller sensor, so its pixels measure 1.241µm. Larger pixels mean more light falls on each one, which in turn means less noise in low light. This should result in more detail from the Galaxy S5 in bright light, but the iPhone 5S will produce clearer indoor and night-time shots.
Both phones can shoot Full HD video, although the iPhone 5S can only shoot at 30fps, while the Galaxy S5 can shoot at 60fps. The iPhone 5S has a brilliant slow-motion mode, which shoots video at a resolution of 1,280 x 720 at 120fps. The Galaxy S5's trick is that it can shoot Ultra HD (4K) 3,840 x 2,160 video at 30fps, making it ready for the next generation of TVs.
Both have similar modes and features, but the slightly newer Galaxy S5 just edges out the iPhone 5S.
Storage
There are three versions of the iPhone 5S – 16GB, 32GB and 64GB. By comparison the Galaxy S5 only comes in 16GB and 32GB versions, with no 64GB version planned at launch. However, it does have a microSD card slot, which supports up to 128GB cards, so you can expand the storage capacity later at a far smaller cost than buying a higher capacity iPhone.
With the iPhone you have to buy the storage version that suits your needs, while the S5 means you can buy any version and upgrade it later to suit, which may help you save money.
Fingerprint readers
Both handsets have a fingerprint reader, which can be used to unlock your phone rather than having to type in a security code. Apple also lets you use the TouchID sensor to buy apps from its app store, although no third-party apps are integrated at the moment.
With the Galaxy S5, you can also use the fingerprint sensor to authorise PayPal transactions, and protect files and folders.
Operating system and apps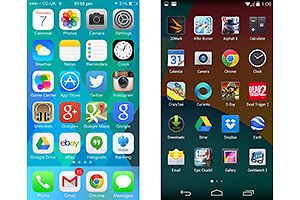 The iPhone 5S runs iOS 7.1. It's an advanced and super-smooth operating system that's easy to learn and use. The Apple App Store is packed full of the latest apps and every major company will release on iPhone first.
Android 4.4 KitKat, which the Galaxy S5 runs, has come on a long way since the first versions of Google's mobile operating system. We have to say that it's not quite as smooth or as easy to use as iOS 7, though, although there's not a lot in it. Likewise, while the Google Play store has a lot of apps in it, not quite everything that you can get on iOS is available there.
Overall, it's very tight, but in terms of OS and App range and quality, Apple just edges out Samsung. The real choice is more likely to come down to what other kit you've got. If you've got an iPad, Mac or Apple TV, the iPhone integrates neatly into your ecosystem; if you haven't, then there's less reason to go with Apple.
4G and Wi-Fi
As you'd expect, both phones support 4G, with both able to run on all of the UK's high-speed mobile networks. There are some minor differences between the two. The 5S supports LTE Category 3 networks; the Galaxy S5 supports LTE Category 4 and LTE Advanced. Technically, it means that the Galaxy S5 can connect to higher-speed networks and get faster data, but you're unlikely to need or have access to the higher speeds during the lifetime of either phone.
With 802.11ac Wi-Fi built-in, the Samsung Galaxy S5 can use faster home wireless networking than the iPhone 5S, which uses 802.11n. Again, you're unlikely to notice any difference when browsing the Internet, though.
Conclusion
As we said at the start, both phones are excellent high-end models. They're roughly equivalent in price, speed and features. Where they really differ is size and weight, so it's really a matter of picking the one you're happy to carry around.
If you're already using an Android handset, then stepping up to the Galaxy S5 makes a lot of sense, since all the apps that you've already bought will be available on your new phone. Likewise if you're already an iPhone user, you'll be able to seamlessly transition to a 5S and keep all your apps and settings in place.
Whichever model you go for, though, you'll have a great, cutting edge, feature packed handset in your pocket.