Santa Claus, Father Christmas, St. Nick, there are many names for him, but they all mean the same thing. He is the guy in the red suit who gifts children around the world with presents every year on December 24. Whether you are dressing up as Santa for a holiday party or a family get-together, wearing a Santa suit is the quickest way to fill the big guy's shoes. Find out how to dress your best this December, and get your family in on the holiday spirit, too.
Deluxe Men's Santa Suit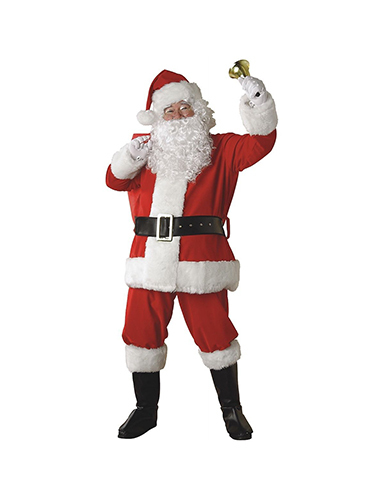 The best way to become Santa is to wear his suit. In this case, a deluxe Santa suit is the closest version to what the real thing looks like. A men's velvet Santa suit is soft, plush, and cosy. A classic Santa suit includes red trousers, a red, fur-trimmed jacket, and a wide black belt. Some suits come with accessories including the red Santa hat with a white fur ball on the tip, white gloves, and a white beard. A good suit includes thick material such as velour, secure, sturdy closures such as zippers, and several size options. Most Santa suits include a standard size, extra large, and a plus-size selection. Pick the one that best fits your chest size; use a soft tape measure to measure your chest before ordering.
Mrs. Claus Costume

Where would Santa be without his partner? Purchase a Mrs. Claus suit for your significant other to make the perfect pair this holiday season. A women's Santa suit consists of a dress, hat, apron, and accessories like gloves, glasses, a wig, tights, and shoes. Women's Santa costumes come in a variety of styles, from traditional Mrs. Claus dresses to contemporary Mrs. Claus style in shorter dresses. Pair with a fur-lined cape, wide belt, and fur-trimmed jacket for the best holiday look.
Babies' and Kids' Santa Costumes
There are few things cuter than a baby Santa outfit or a kid dressed as Mr. Claus. Browse baby Santa suits to find an all-in-one for infants with a Santa suit design, and add a matching hat. Boys can wear the smaller version of the regular Santa suit, with the same look and accessories. Girls find a Santa suit they love with a plush velvet dress, hat, and tights ensemble. Add a pair of black boots and you are ready to go. Another cute option is to dress kids as Santa's elves in elf costumes.
Santa Claus Accessories
Complete your Santa style with black boots, wire rimmed glasses, and fake white eyebrows to look the part of the older man. A bell for ringing a holiday tune is optional, and of course, you need an oversized red velvet bag to haul your presents in. Add a pipe to the look and you are a picture perfect Santa Claus. Optional accessories for women include red and white striped tights, gloves, and a bell.