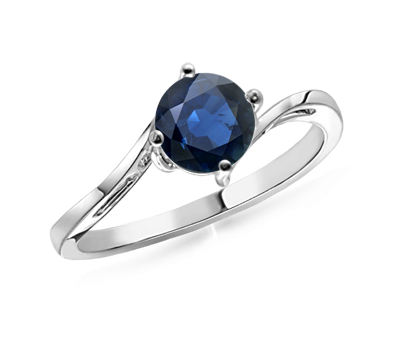 For the buyer who wants something a little less traditional when it comes to an engagement ring, a sapphire is an ideal choice. Sapphires are commonly dark or navy blue in colour, and they reflect the light quite nicely. A sapphire engagement ring is available in just as many types of metals as a traditional diamond ring. The buyer is able to find a sapphire ring made of sterling silver, gold, white gold, and platinum, as well as various cuts and styles.
From a simple, cushion cut sapphire to an elaborate sapphire cluster with diamonds, there are a wide variety of sapphire engagement rings to select from. Although the typical sapphire is blue, sapphires do come in other colours, such as pink, clear, yellow, and red. Sapphire rings vary in price according to the metal which is used, the type of setting, and how large the stones themselves are. The shopper should select a sapphire engagement ring based on a variety of considerations, such as setting, price, colour, and style of the engagement ring.
Types of Sapphire Engagement Rings
As with all other types of engagement rings, sapphire engagement rings come in a variety of settings, sizes, and styles. Once a buyer has determined which style of ring he or she desires, it is easy to narrow down the options to a few rings to pick from. Cost is also a factor; an engagement ring with more diamonds, stones, or made from a costlier metal such as platinum is going to be more expensive than a smaller sapphire set in sterling silver or gold.
Sapphire Solitaire
A solitaire sapphire ring looks quite similar to a diamond solitaire. A single sapphire is set in the centre of the ring, which is the main focus of the engagement ring. The sapphire can be any size, and the ring is made of any type of metal. A sapphire solitaire engagement ring is made up of a small, simple stone or a large, eye-catching gemstone.
The cut of the sapphire may vary as well, which creates an altogether different look for the ring. Some popular cuts and shapes for sapphires are oval cut, emerald cut (which looks rectangular), and princess cut (which is a square-shaped stone). The cut of the sapphire affects how the stone reflects light and how brilliant the sapphire is. A sapphire which has a more elaborate cut has more facets which reflect light more and create an extra sparkling engagement ring.
Sapphires with Diamonds
A popular style of sapphire engagement ring is one which is surrounded by diamonds. There are sapphires with a diamond on either side of the stone or sapphires surrounded completely by diamonds, which is sometimes called a cluster setting. Several small sapphires also make up a setting and are surrounded by small diamonds, or the band itself is made up of diamonds with the sapphire solitaire still the main focus of the ring.
Another option is a diamond sapphire ring with diamonds and sapphires alternating that are the same size. Some sapphire and diamond engagement rings have ornate and decorated bands with engravings on the band itself, or they have diamonds forming a sunburst or flower shape around the sapphire. Diamonds and sapphires complement each other nicely, and there are a lot of options for including diamonds in a sapphire engagement ring which vary in price and style.
Sapphire Bands
A sapphire band is a bit more understated. This is a band made of platinum, silver, or gold which has sapphire and diamonds or simply sapphires embedded in the band instead of having a large stone as the centre of the ring. This is merely one sapphire and several diamonds, or it includes sapphires all around the entire band. This is also called a sapphire eternity ring.
The sizes of the bands and stones vary widely, from quite thin bands with small stones to wide bands with bigger stones and small diamonds surrounding the stones. This is an alternative to a solitaire ring which looks more traditional, and the buyer can select any type of metal he or she desires.
Coloured Sapphires
Sapphires are also found in a wide array of colours. Red sapphire rings, also called Padparadscha sapphire rings, are also pink or orange in colour and are also a bit rare. They are oftentimes quite costly. The settings for coloured sapphire rings are similar to blue sapphire settings; they are available as solitaires or in diamond settings. Yellow sapphires and purple sapphire rings are other types of colourful sapphire engagement rings the buyer might see when shopping for a sapphire ring.
Although some coloured sapphires are lab created, all of these colours of sapphires are natural and some are more rare than others. A true coloured sapphire makes a lovely, unique engagement ring, although it might cost more than a more traditional light or dark blue sapphire ring.
Buying a Quality Sapphire Engagement Ring
When it comes to selecting a high-quality sapphire ring, there are a few facts the buyer should take into consideration. A quality stone costs more, but it is sure to last the wearer for many years and provide enjoyment. When selecting a sapphire engagement ring which has diamonds, the buyer should also look closely at the diamonds as well as the ring setting itself and the clarity and cut of the stones.
A sapphire engagement ring does not have to cost a lot to be of good quality, but the buyer should ensure he or she is getting a good stone that is natural and not lab created. The buyer should also be sure that the stone is not flawed or dyed or has had any unnatural treatments done to alter the colour of the sapphire, aside from heat treatment which is seen as unharmful to the stone, and fairly standard.
Colour

Cut

Metal

Carats

Treatment

Varies

Should be uniform and not uneven in any way

Bright, vivid

True sapphires range from light to dark blue

Rare

Should enhance stone brilliance

Most popular: oval, princess, and round (solitaire) cuts

Should have no visible flaws or inclusions

More facets means more brilliant stones

Ranges from platinum to sterling silver or white/yellow gold

Metal purity goes up as carats go up

Platinum is the most expensive metal

Gold ranges in colour and purity

Weight of actual sapphire stones

Larger stones weigh more and offer more carats

Does not affect the actual stone quality in any way

More carats mean stones cost more

Some sapphires are heat treated to create brighter stones

Rare sapphires are not heat treated

Buyer decides if heat treatment is a factor; it does not affect stone quality, only colour
Sapphires, like most fine stones, range in colour and all are not the same. A light blue sapphire is just as high quality as a dark blue sapphire, and size is not a determining factor at all when it comes to a stone's quality, though size and carats determine the price of a sapphire engagement ring. It is better to purchase a smaller stone with no flaws than a larger, more flawed stone. Diamonds should also be assessed for quality when a buyer seeks a sapphire ring with diamonds.
How to Buy a Sapphire Engagement Ring on eBay
To find a unique and eye-catching sapphire engagement ring on eBay, you are able to search for what you want quite easily. Navigating eBay is simple and functional, and the buying experience does not have to be frustrating at all. Key in general terms such as "sapphire engagement rings" to bring up all of the available options if you are not sure what type of ring you would like. Once you have decided more firmly on a ring style, search more specific terms, such as "sapphire eternity ring" or "sapphire solitaire ring" to bring up only those options for easier browsing.
Narrow your search down to a few engagement rings you like. This makes it easier to compare them by several factors such as price, the condition of the ring, and the ring style itself. Ensure you are getting the exact ring you want by carefully and thoroughly reading the product description for each ring, and ask any questions you might have about the ring before purchasing by clicking the "Ask the Seller" button. Check other buyers' feedback to make sure it is excellent before purchasing an engagement ring from a Top-rated seller on eBay.
Conclusion
Skip the same solitaire diamond engagement ring and opt for something different and dramatic when it is time for that magic proposal moment. A sapphire engagement ring is unique and makes an eye-catching engagement ring which looks great when complemented with diamonds or on its own in a solitaire setting. Purchasing a sapphire engagement ring is very similar to buying a diamond ring, with all of the same considerations to be made, but essentially, choosing an engagement ring of any type comes down to personal preference and falling in love with one special ring.
Getting engaged is one of the landmark moments of everyone's life, and it should be very special. A one of a kind, unique sapphire engagement ring fits the bill nicely. Sapphires are glamourous and elegant, and they offer a bride who does not want a traditional ring something that is still beautiful and represents the love between two people. For a woman, try a sapphire engagement ring which is unique, and that represents her personality as well as her sense of style.