Scalp Psoriasis - Could a hair loss shampoo help with this condition?
Psoriasis is a disorder that affects skin and joints. Although there are several types, about 80% of people who develop psoriasis have plaque psoriasis. This appears as patches of raised, reddish skin covered by silvery-white scale that can occur anywhere in the body but are most common on the elbows, knees, lower back, and scalp.
Until today, the cause of psoriasis is unknown but it is believed to have a genetic component. The exact cause of this condition is still not known, but there are certain things that may act as triggers. Among them are nutritional deficiencies, climate changes, food allergies, severe skin dryness, sunburn, certain drugs, infections, and emotional stress.
Although many treatments are available, it is still difficult to treat because of its recurrent nature. Most people with psoriasis may experience improvement or worsening for no apparent reason. Controlling the signs and symptoms usually requires lifelong treatment.
It was also found that psoriasis is more common in Caucasians and about one-third of people that develop psoriasis have at least one family member with the condition. The earlier the psoriasis appears, the more likely that it will be recurrent and widespread.
Currently, research points to immune-mediated reasons. It is believed that psoriasis develops when the body's immune system tells the body to over-react and accelerate the growth of skin cells. So instead of being shed, skin cells pile up, causing the visible lesions.
Living with psoriasis can be emotionally and physically challenging.
Treatments for Psoriasis:
Many treatments are currently available for psoriasis but no single treatment works for everyone.
One way to deal with psoriasis is by taking systemic medications, but drugs are started only after both the topical treatment and phototherapy have failed to improve the condition. These include retionids (related to vitamin A), methotrexate (a chemotherapy drug), azathioprine (anti-inflammatory drug), cyclosporine (immuno-suppresant drug), hydroxyurea (anti-cancer drug).
However, taking systemic medications for treatment of psoriasis can bring about several side effects. These may include: liver damage, blood disorders, nausea and vomiting, and cancerous growths. Women who are pregnant or planning to become pregnant should not take these medications.
Another type of treatment is phototherapy or light therapy. This can be as simple as exposure to the sun for 20 minutes a day, to UVB treatment under a phototherapy lamp, PUVA or photochemotherapy, to using lasers, one of the newest tools used in phototherapy. However, if you are using phototherapy as treatment, you should always make sure that you are not exposed to risky levels of ultraviolet rays, since sunburn can aggravate psoriasis. Also, phototherapy often involves several and constant visits to the doctor's office which may make it hard to comply with.
Topical treatments, or medications that are directly applied to the skin are usually the first line of defense in treating psoriasis. These may be purchased over the counter or may be available by prescription only.
Tar ointment is the simplest but it not the cosmetically attractive. Coal tar has few known side effects but it's messy, stains clothing and bedding, and has a strong odor. Topical steroids suppress the immune system, reduce inflammation, and relieve itching. Synthetic vitamin D also reduces inflammation and prevents skin cells from reproducing. Vitamin A creams or retinoids are also used but there is also risk of birth defects when used by pregnant women. By themselves, moisturizing creams will not heal psoriasis, but they can reduce itching, scaling, and dryness that results from other therapies.
The goal of therapy is to find a treatment the works the best with the least side effects.
NISIM and Psoriasis:
Recently, it has been found that some people with psoriasis have tried using Nisim Biofactors products to treat their condition and have gotten encouraging and sometimes remarkable results. One particular user suffered from psoriasis for 25 years, trying numerous products without success. It is incredible to learn that Nisim was the one product that finally worked for him. While the Nisim range is not hailed as a cure for psoriasis, we think it is certainly worth a try based on previous successes.Why is this so?
Since one goal in treating psoriasis is to help the skin and scalp recover its natural balance, it is best to use natural and organic skin and hair products. The combination of herbs, amino acids, and vitamins in NISIM has been found to gently normalize and balance the conditions in the scalp. It is for this reason that NISIM has benefited people with psoriasis. Let us analyse these ingredients.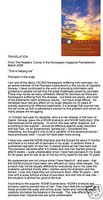 NISIM Shampoo and Psoriasis
(also see transcript below)
The Chinese knew the calming effect of ginseng in healing creams and have been using it since ancient times. Panax ginseng (Korean ginseng) in NISIM shampoo improves the perfusion and acts in a supportive way as in the case of psoriasis, eczema and other disorders of the scalp.
Arnica montana works by increasing the flow of blood in the capillaries under the skin. It has been used and it thereby eliminates the causative factors for both eczema and cellulitis. Some people with psoriasis have also tried it with promising results since it reduces inflammation and helps in healing wounds.
Others have had positive results using Hedera helix since it has been used externally to treat dermatitis, warts, cellulitis and scabies.
Geranium oil is a mild analgesic, both sedative and uplifting. It reduces inflammatory conditions, heals wounds, and helps improve dry skin. It is highly beneficial for all skin types and helps purify the body by stimulating the lymphatic system.
Vitamin B complex are necessary for proper circulation and healthy skin. NISIM contains Vitamin B5 that acts as moisturizer and Vitamin B7 (biotin) that is helpful in allergic skin conditions and rashes.
NISIM Extract in Psoriasis
The Beta-glucan in NISIM Extract is a soluble fiber found in the cell walls of oat kernels. It is known to benefit people with lichen sclerosis and some people with psoriasis. It is very helpful in skin infections and helps improve the general condition of the skin and scalp.
Horsetail extract's healing properties has been known since ancient Roman times, it has a softening and smoothing effect on the skin and has great wound healing properties.
Some people have tried rosemary essential oil for psoriasis of the scalp and found immediate relief from the red, itchy, weeping sores by helping in drying up these lesions. When applied to the skin, it was also found to have a rejuvenating effect. Recent research findings have now confirmed the skin-protective benefits of rosemary.
Like NISIM Shampoo, NISIM extract also contains Vitamin B5 that acts as moisturizer and Vitamin B7 (biotin) that is helpful in allergic skin conditions and rashes.
The chamomile in NISIM extract encourages the healing of wounds and helps improve tissue regeneration. Among the oldest known medicinal herbs, chamomile has been widely used in skin care products to reduce skin inflammation and other skin diseases.
Milk thistle is one of the most popular herbs for psoriasis. Although extensive medical study has yet to be done, it is said to inhibit the T-cell activation that happens to people with psoriasis. Milk thistle has an active ingredient, silymarin, that's reportedly useful in relieving psoriasis.
Goal of treatment
Currently, there is no single cure for psoriasis. However, there are many treatment options that can help in managing psoriasis over time. Each of these treatments has its pros and cons and what works for one patient may not work for another.
In treating psoriasis, it is helpful to set a realistic therapeutic goal. It is quite difficult to achieve complete clearance of psoriasis and only a few patients have actually achieved prolonged clearance. Therefore, the goal of treatment is to minimize the adverse effects of medications, obtain control of the disease, and maintain that control by preventing new flare-ups of the rash.
Treatments that work wonders for a person with psoriasis may have no effect or benefit for another. It might help you to try alternative treatments, with the least side effects and try the organic and natural approach to manage the disease and maybe one of them will be the answer for you.
Translated From The Readers' Corner in the Norwegian magazine Psoriatikeren: March 2006
"This is helping me"
Psoriasis in the scalp
I am one of the about 120,000 Norwegians suffering from psoriasis. As an active member of the Psoriasis Associations in the county of Oppland, Norway, I have contributed to the work of providing information and guidance to people concerning the great challenges posed by psoriasis. There may not be as many remedies offered for psoriasis as there are Norwegians suffering from the disease, - but there are plenty, and most of the treatments claim ambitious results, - but have small effects. No remedies have had any effect on my scalp despite my 25 years of actively searching for effective treatments. It is strange that science has not yet come up with a satisfactory solution to this problem with which so many people are struggling.
In October last year my daughter, who is a hair dresser in the town of Gjøvik, Norway, gave me a NISIM shampoo and NISIM GelExtract. She had received some samples, - to which she was rather skeptical, but - according to the supplier - should be effective against scalp disorders and hair loss. As an experienced "guinea pig" I considered this interesting, but thought it only to be a variation of the several products I have previously tried. I could not have been more wrong.
I have now used the NISIM shampoo and the Extract for about 5 months and there is no trace left of psoriasis in my scalp. In addition there is substantial regrowth of new hair in places where all hair had been lost. The psoriasis vanished after 4-5 weeks and new hair started growing after 6 weeks – quite unbelievable since I have had psoriasis in my scalp for 40 years and no hair at all on the top of my head for the last 10 years.
My experiences are not unique since I have heard of - and seen - that the NISIM products have been very efficient on many other people. The product may not be equally effective for everybody, but in my case the problems vanished shortly after I started using the shampoo and the extract. I now only hope they will continue to work. After 40 years – and now with a scalp without a trace of psoriasis, and with lots of new hair, - the situation is almost too good to be true!
According to the supplier, NISIM Scandinavia, NISIM's products are primarily used to prevent loss of hair. They claim that the combination of herbs provides the scalp with amino acids, herbs and nutrients which carefully normalize the balance in the scalp. The 'side effects' on psoriasis that I experienced are quite unbelievable.
My 25 years in the Association have told me to be very cautious in recommending any types of treatments. We are all the time testing new products that could be of help to the many thousands struggling with psoriasis. Many products have been on the market, but very few actually have good effect on psoriasis. My recent experience may perhaps call for some reconsidering. Maybe science after all has taken a step in the right direction.