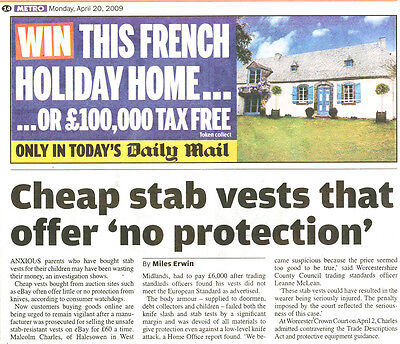 In today's tough economic climate it is very easy to go on-line, or visit a surplus army shop and buy cheap second hand body armour. However when you buy second hand there is no way to identify what kind of life the vest has be subjected to or how old the internal panels may be, and this could seriously impact the protection level, if it still offers any protection at all!
It is always important to ask yourself would I buy something that I cannot guarantee the quality of?
Second-hand armour available on channels such as eBay could be up to ten years old and well beyond its ballistic warranty. Being this old it could have been subjected to treatment that most probably reduces its future performance. The high performance of ballistic materials comes at the cost of a defined performance life, this is rigorously tested and guaranteed by reputable armour companies. The passage of time, and the type of use which a vests sees will impact on performance. Therefore a new vest will always perform significantly better than one which has out lived its warranty period.
In 2009 VestGuard raised awareness to the dangers of purchasing second-hand body armour by demonstrating that you could purchase a second-hand vest via eBay £79.99 which ultimately had little to no ballistic performance, but people are still buying second-hand body armour for there protection. There are no laws against buying second-hand, we would like to reiterate to anyone purchasing second-hand body that its just not worth it, you have to buy new to guarantee the performance of the armour.
If you are looking to purchase body armour, you should demand the best quality as well as a guarantee of performance; this piece of equipment is after all designed to protect your life. Reputable manufacturers, such as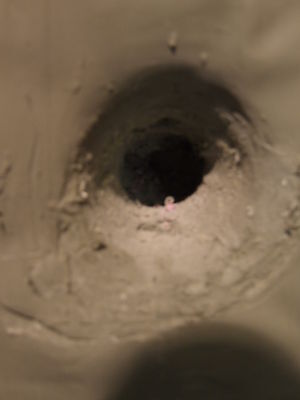 VestGuard, provide regular proof of performance over the life of the vest. Since ballistic materials, subject to maltreatment or extended use degrade, with second-hand armour you would be purchasing something that you believed would stop a 9mm round but when you come up against this threat, the armour is no more protective than the t-shirt you're wearing.
During the research for this article I have found that employers were giving their staff body armour which is up to and sometimes over ten years old. VestGuard UK believes this should not be allowed, as the user of the goods does not know what life this armour has had. Older armour models would not be as light or flexible as those based on newer materials. Old fashioned kevlar vests are much heavier and uncomfortable to wear than recent innovations used such as GoldFlex, which is now used in the most advanced body armour systems.
In the last few years there has been an influx of companies supplying used body armour on eBay and websites. Awareness to these issues has not come quick enough. In a recent case, trading standards apprehended and fined a company supplying German ex shrapnel vests in new outer covers claiming to be cheap stab vests. The information was false and offered no stab protection at all. The comapny was subjected to a heavy fine but does not negate the issues of hundreds, if not thousands of security personnel, doormen and ordinary people now walking around thinking they are protected, when in fact they are not. This kind of negligence cost lives and the very reason we write this, to promote awareness to the public of a life threatening issue and to help educate in the best practice when buying any body armour or protective helmet.
Shaun Ward Founder Vestgaurd