Intro
Without sounding too condescending; if you're buying online and it's a cup or a ball it's pretty obvious from the photos whether it's fit for purpose, a bike or bicycle however is a little more complicated. On a bike you have brake pads, chains, sprockets, chainrings, jockey wheels, derailleur springs, wheel rims and discs that can wear out and in the bike you have brake fluid, cables, wheel bearings, suspension seals, bottom brackets and headsets that can wear out too. So this is what you have to look out for as it all adds up if you need to fix a bargain.

Should the second hand bicycle only have one photo it's really hard to tell whether that bargain really is too good to be true. This is where the BIG difference between buying from a shop or a private seller comes in. A shop like ourselves has a reputation to uphold and are required by law to warranty/guarantee any bike we sell for 3 months starting on the date of purchase, this obviously doesn't cover misuse on the customers part, or damage in transit. Should the item no longer work through no fault of your own during that period then we're there to help fix/replace the item. So you can buy in confidence knowing that we're not selling you a dud.

When we sell a second hand bike we list the items that we've replaced and we even have tools that can measure the wear on components such like chains, tyres, brake bands, hydraulic fluid etc… If it's not listed just ask, we can't lie to you.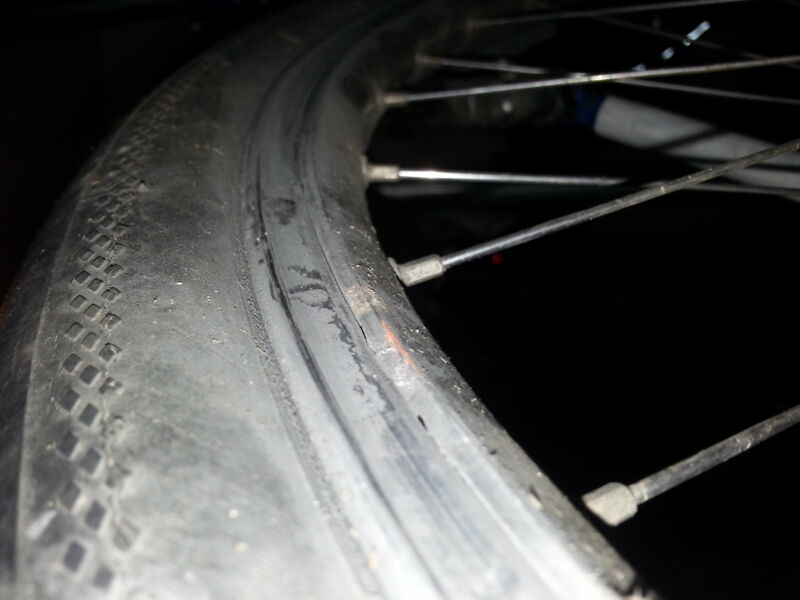 Add a caption
It's not just brake pads that wear out, rims can too.
Check the Bicycle
If you do get a chance to look over the bike you want to check the following:

Chain wear - tools that can do this accurately cost about £10. New ones can cost from £5 to £150 and if the chain is 75% worn then theres a good chance the cassette is worn out too, possibly even the chainrings. The more sprockets the more expensive the cassette and then chainrings, prices vary from 10 freewheels to £250 11 speed cassettes

Tread life - If you know what the tyre looks like new then you'll have a good idea as to how much useful life is left. Also look for cracking in the rubber and wear from poorly set up brakes. Types can cost anywhere from £15 to £60

Brake Pads - these aren't so pad, a set can cost as little as £10 to £30, they often have a wear mark or make a high pitched metal on metal squeak when lightly applied and the bike rolled forward.

Bearings - now there's a lot of these, 2 in the headset, bottom bracket, rear derailleur, each pedal and wheel with another 2 or three in the free hub. now these can range for £3 each to £16 for stainless or much much more for ceramic. If each spin freely and without any 'play' then they're in no immediate threat.

Wheel rims; easily overlooked, first and most importantly you should check how worn they are from applying the brakes, because once the braking surface is worn out the wheel can fail completely. Good wheels have wear indicators, if they're not there then they're gone, cheaper ones if they're significantly conceived then avoid them or haggle accordingly. Wheels can cost as little as £30 and as much as £5000.

Cables - are they stiff and do the gears work better one way than the other, if they are or do then you need a new set which would cost you £5 per cable

If the components are good but it needs some fine tuning here's our very reasonable workshop labour prices for:

- Gear indexing; £15
- Brake and gear indexing £25
- Hub service or bb service or headset service; £15
- wheel true £10 to £15
- Wheel build £25 or £30 if stripping an old wheel first.
- Fork service £80
- shock service £30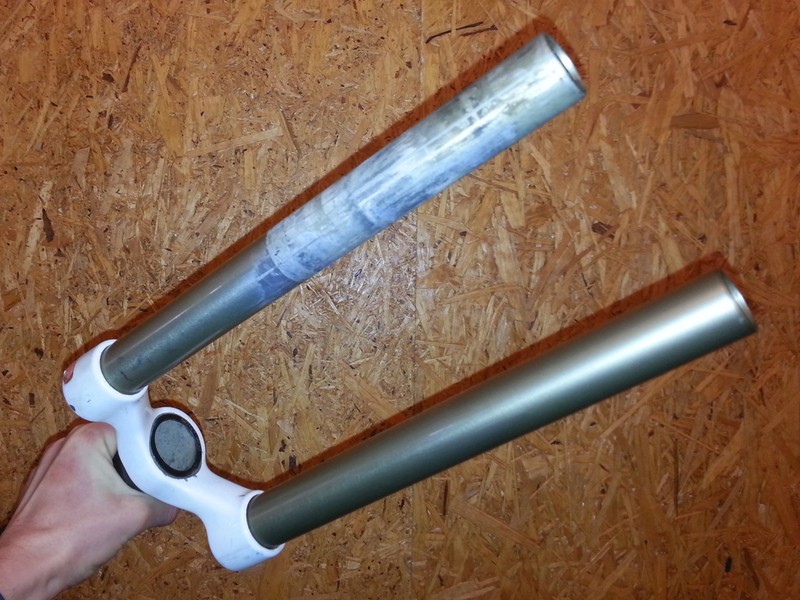 Add a caption
slight dulling on the stanchion might be hiding a bigger problem.
Outro
This isn't intended to scare you off buying second hand bikes as we do sell bikes we've part exchanged, it's more so you can haggle and negotiate the best price for that bargain. No one likes to be ripped off, personally buying 2nd hand cars makes me especially anxious. However with a little bit of knowledge you can gain some powerful leverage over the price.

Should all this have the opposite affect and put you off buying a 2nd hand bike then all new bikes come with a warranty for the original owner. Frames quite often now come with a lifetime warranty against manufacture defects, well most of ours do, components vary from one to three years. So long as you look after it you can ride safe in the knowledge that there's people out there waiting to help you. If however you leave it on your roof rack as you drive into a hight restricted car park… you're unfortunately on your own.

One last thing, if the second hand bike is regularly serviced then their would be receipts and job sheets stored away in a similar orderly fashion, definitely ask for them if they say it's been done.

Knowledge is power, happy hunting