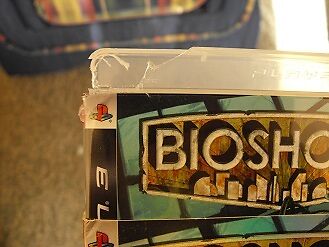 Sellers P&P Costs Overcharged and Goods Arriving Damaged!
Sellers are Overcharging on postage & packaging costs but are not ensuring that the goods we buy are properly packaged.
I can see this problem becoming worse too now due to Royal Mails recent high price increases.
In the past few weeks I have received 2 items that were badly packaged and arrived damaged.
So what can you do about this if this happens to you?
Contact the seller first and DO NOT rush into leaving neutral or negative feedback.
Feedback should only be left at the end of the transaction and after the seller has had a chance to resolve the problem.
If you rush into leaving bad feedback first before contacting the seller then the seller will be less reluctant to resolve your issue!
Attatch a photo (or a few photos) of the damage with the message that you send to the seller as proof.
You can send up to 5 photos with each message.
Any decent seller will accept a return for a full refund and also pay the return postage costs.
Some sellers will offer you a partial refund and it is up to you to decide whether to return for a full refund or accept a partial refund.
Most sellers will respond to a message within a few days.
If the seller doesn't respond then you can open an 'Item not as described dispute'.
Once the issue has been (or not been) resolved you can leave the appropriate honest and accurate feedback.
In addition to leaving the appropriate feedback you could mark the sellers ratings low to warn others.
Low sellers ratings (below 4.6 I think) will result in the seller being further down search results and could mean selling restrictions on future auctions if they continue to remain low.
If as a seller you are unsure what the postage costs will be there are a couple of simple solutions:
1) Package the item up (but don't completely seal it up) and take it to the post office and ask them how much it would be to send.
2) Ask for a free 'Our Prices' leaflet from the post office and use a set of kitchen scales to weigh the item (or buy a set of digital scales for up to 5kg or 10kg).
Don't do what I have done in the past and calculate the postage cost on the unpackaged weight.
You soon learn when the extra postage costs have to come out of your own pocket!
On the other hand if you guess the postage costs and it turns out to be more than what you have put then you can't ask the buyer to pay the extra postage cost once a bid has been placed or after the auction has ended.
I do not have problems with sellers charging a bit more than the actual postage costs providing the item is well packaged.
What I do have a problem with is sellers charging the maximum p&p costs that eBay allow (normally double actual postage costs) and then not packaging it properly.
I recently sadly had to leave a neutral for a seller for this reason which he could have resolved with a partial refund of a couple of pounds.
No partial refund was offered and due to the low value of the item it wasn't worth returning or opening a 'Not as described dispute'.
If you are a seller then please ensure that you package your goods properly and charge reasonable p&p as buyers do not like being ripped off!
eBay has thankfully capped p&p costs but unfortunately buyers are still sometimes being given a poor deal.
A negative or neutral feedback and constant low seller ratings should be enough to have a seller change their attitude and to 'pull their socks up'.
Sadly though some sellers just don't care and it is only a matter of time before they are 'No longer a registered member'.
I hope that you have found this guide useful and please don't forget to vote as it is free to do so and only takes a moment.
The more votes I receive the more inclined I am to spend my valuable free time writing more eBay Guides and Reviews for you.
Many thanks.
If you have less than 5 feedback unfortunately you won't be able to vote (Sorry eBay rules and not mine!)
*** APRIL 2013 UPDATE ***
I received a PS3 game today and it was packaging in just a polythene mailing bag.
The seller had charged me £3.00 p&p when the actual postage cost was 69p (Large letter stamp).
The postage which was overcharged by the seller was £2.31p!!!
Sent 2 messages to the seller and he didn't respond so I had no choice but to leave negative feedback.
I detest rip off postage charges and poor packaging on top!
*** MAY 2014 UPDATE ***
Sadly some sellers are still charging the maximum p&p costs allowed and sending via the cheapest delivery option and still not packaging goods properly!
This has to stop and how they still have almost 5 star seller ratings for p&p is beyond belief!
Please make sure that you leave accurate sellers ratings.
If they are charging 2x the actual postage cost and not ensuring it is well packaged then mark their sellers ratings for p&p down!