Selling your Gold Rings - what you will get asked (and what to do)
As the price of gold is so high at the moment it has caused a buying frenzy on eBay at the moment. Anything gold is going for silly money - so its a great time to sell!!
What to do before you sell
*Check for hallmarks on the ring / piece of jewellery so you know what it is you are selling. If it has a number - this will tell you what gold it is, for example 375 means it is 9 carat (9ct) gold. See the example below.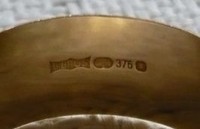 *List as much information as you can (obvious to some people but I've seen descriptions that just say "gold ring"). Such as the size (if you know it), what stones (if any) are set in the ring. If you dont know the size measure across the middle of the ring will a rule and put the diameter on your listing (eg 18mm diameter) so then at least people have a rough idea of the size.
*Take some good photos - easier said than done but it can be easy with a bit of tweaking on your camera. Look for a "macro" setting - this is normally symbolised by a flower sign (see example below). Macro is for taking very close up photos so is ideal for rings and jewellery. Take the photo outside on a contrasting colour background (so black or red is good for gold).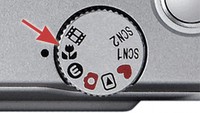 Things you will be asked
I have recently listed a few gold items and been bombarded with emails from the offset. Obviously there are many dealers out there that want your gold cheap. Typical questions:
"is there a buy it now price? - i will pay cash instantly"
"i will buy this and any other gold you have - broken bits, odd ear rings, bangles etc let me know asap"
"how much does it weigh?"
My advice is to be patient and let the auction run - if you have listed the item correctly you should get a good price for it. I listed two 9ct gold rings recently and was offered £40 for the both of them within a hour of listing - they sold for over £40 each.... so i would have been stupid and out of pocket for accepting the offer. Dont let them bully you into doing a quick sale.
Dealers will ask the weight - i think this is a pretty stupid question as if you a private seller like most normal people you are hardly likely to have accurate scales for weighing jewellery - kitchen scales just don't do the job! If someone is really insistant on weight the easiest thing to do is pop into a high street jewellers or pawn shop and see if they will weigh it for you.