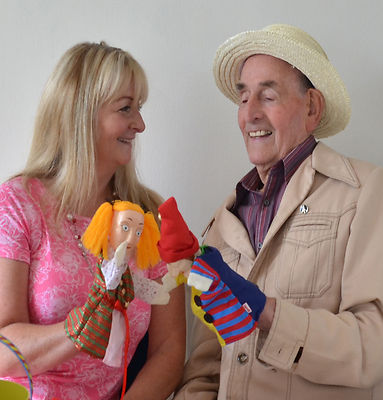 Get to the heart of who they are...
Sensory Toy Warehouse is a treasure trove simply bursting at the seams with interesting and inspiring sensory toys, resources and equipment, providing opportunities for actively engaging adults, the elderly, and people living with dementia, Alzheimer's, Parkinson's, or following a stroke or brain injury, in meaningful and enjoyable person-centred activities.

Participating in activities is essential in the balance of physical and mental well-being of a person living with dementia, and thereby quality of life, reducing levels of depression, challenging behaviour, falls and dependency. Colourful, interesting and fun, our sensory products draw on the long term memory, triggering treasured memories, and a combination of skills including cognitive, physical, social, emotional and sensory skills.

With our extensive choice of age-appropriate and stage-appropriate resources, including reminiscence, nostalgic and classic past-time toys, games and activities, these purposeful, and very often entertaining and amusing, activities help to promote a sense of well-being, achievement, success and independence at all levels.

Sensory activities open a window of opportunity for communication and connection, promoting participation and social skills, improving mood, and reducing agitation, anxiety, boredom and apathy.

Ideal for the challenges faced by Activity Co-ordinators and Occupational Therapists, and meeting the needs of families, professionals, care facilities and communities, our sensory delights stimulate all of the senses, and essentially lead to a more fulfilled, worthwhile and happier quality of life.

A Sensory Diet

"What is a sensory diet?"… A sensory diet is a term used for sensory integration activities that can help an adult get in tune with their sensory needs, enabling them to focus, process, learn, and often also providing general physical comfort. A more balanced state of mind and body can make a profound and positive difference in how an adult experiences the world, enhancing skills, and providing the well-being needed to learn, play, socialize, perform everyday activities, and live up to their full potential.

All learning takes place through the senses… We all know our 5 senses; sight (vision), sound (auditory), touch (tactile), taste (gustatory) and smell (olfactory), but we actually have 7 senses. Movement (vestibular) and body awareness (proprioception), are just as, if not more, important for adults with special and additional needs. You will find the categories in our shop are listed according to the 7 senses, enabling you to search for a product which will specifically benefit the sense you wish to address, whether it be to encourage increased tolerance, or to satisfy a demand or need for sensory input.

The magic ingredients for a sensory diet... Sadly, there are no magic ingredients for a perfect sensory diet, as each and every one of us is wired differently, and we're each totally unique in our sensory intolerance and preferences, to a matter of degree. Therefore a sensory diet has to be developed through observation, practice, and a certain amount of trial and error, learning to work with the individual's over-sensitivities and under-sensitivities to each of their 7 senses, until they are in tune to their unique sensory needs, which will develop a balance of the level of stimulation at which they function best, and empower them to tackle all of life's different challenges. Finding acceptable ways to develop their own ability to tolerate and integrate sensory stimuli should be done working with a professional. However there are many sensory activities and exercises that can be done at home, so you can learn to carry out their sensory diet, and they in turn can learn to recognise their own sensory needs. Much patience is needed, whether to satisfy sensory seeking behaviour, stimulate a withdrawn child or adult who has shut down in order to cope, or calm an overwhelmed individual who has gone into sensory overload and meltdown.

We all get bored, so keep things fresh by trying different activities, and using different toys and products. Try to develop empathy to how the individual experiences their unpredictable and chaotic world, and what they're struggling with. It is quite normal for a person to get annoyed and distracted, both about their environment and their own body's response. Never force anyone to do an activity, slowly work toward tolerance of it. Sensory Integration work can also benefit many children and adults who are agitated, anxious, distracted, and irritable, and who appear to have behaviour issues.

"What is the difference between Over-sensitive and Under-sensitive behaviour?"… Typical over-sensitive and under-sensitive behaviour to the sense of touch, sight, sound, movement, taste or smell can be recognised in children and adults by one or all of the following:

Over-sensitivity: Too loud, inappropriate high arousal, tendency to 'fight or flight', block out/withdraw/ tune out/shy away, avoids physical touch and tactile input, unsociable.

Under-sensitivity: Passive, slow reactions, not active, no arousal or register, excessive physical contact, licking, touching, inappropriate or too forceful, biting, hitting, touching everything, breaking things , craving attention.

However, please be aware that behaviours from both sensitivities can differ greatly at times, and even appear to be the opposite of what they are! Confused?... Please speak to your professional Occupational Therapist who will have years of experience in identifying specific sensory needs.