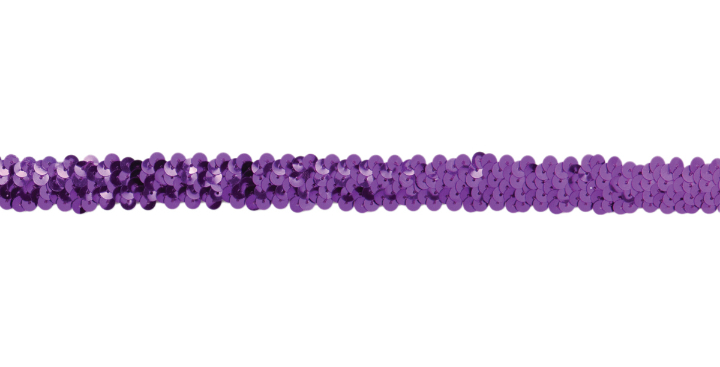 Sequined trim can add glitz and glamour to costumes, outfits, accessories, home furnishings, or craft projects. With the right size and colour trim, sequins make for an attractive and eye-catching embellishment. With a range of ways to attach it, sequined trim can be easy to work with and a flexible, inexpensive decorating option.
Consumers can purchase sequined trim from various sewing and fabrics stores, as well as selected arts and crafts stores. Online, buyers can find an extensive selection of trim types, including on eBay. Here, buyers can search through the many local and nation listings to find the right type and colour trim they require. To ensure they get exactly what they want, buyers are recommended to have some understanding of the different types of sequined trim available, the different ways in which they can use trim, and the things to look for when buying it. In this way, consumers can make an informed and cost-effective purchase decision.
Different Types of Sequined Trim
Sequined trim is often used for embellishing costumes and various types of clothing, such as evening wear. It can quickly add sparkle and elegance to any outfit. Sequined trim can also be used for various other types of creative craft work. For this reason, sequined trim comes in a range of different types, designed to suit any application.
Sequined Trim Appliques
Sequined trim appliques are decorative pieces that are sewn into place onto fabric either by hand or with a sewing machine. Available in a range of shapes, colours, and sizes, sequined trim appliques can be as simple or as elegant as one requires. Flowers, butterflies, fruit, and letters are common types of sequined trim appliques that many consumers like to purchase.
Elasticised Sequined Trim
What is ideal about elasticised sequined trim is that it is able to stretch, making it a great choice for use on clothing and costumes. When used to decorate a large piece, elasticised sequined trim can be far more cost-effective than using other types of embellishments, such as crystals. Elasticised sequined trim comes in a wide range of lengths, meaning the more a consumer buys, the less expensive it is likely to be.
Sequined Trim Tape
Sequined trim tape is very user-friendly and easy to apply. Where elasticised sequined trim needs to be sewn into place, sequined trim tape comes in a range of styles that can be sewn into place, glued, or ironed into place. Easily cut to size, it can be made into all sorts of shapes, letters, or numbers to suit.
Sequined Trim Thread
The benefit of sequined trim thread is that it can be intricately woven into costume or craft fabrics to give sparkle and glimmer. Sequined trim thread can be thick, with the look of wool, or it can be fine like cotton thread. Metallic, bright, or shiny thread can be very eye catching on costumes and craft pieces.
Different Ways to Use Sequined Trim
As mentioned, sequined trim is often used for costumes and evening wear. But it can also be used to embellish home furnishings, such as curtains, pillows and cushions, quilts and bedspreads, and even sofa covers. Many craft makers like to use sequined trim to decorate a wide range of arts and crafts, including homemade photo frames, hats, face masks, jewellery boxes, hair pieces, and placemats. Sequined trim can even be used to decorate and make clothing accessories, such as belts, handbags, and shoes.
What to Look for When Buying Sequined Trim
When looking to purchase any type of sequined trim, there are a few things that consumers may like to consider before making any purchase decisions. Sequined trim is available in various lengths, sizes, colours, and qualities. It is these considerations that can affect how much the sequined trim can cost.
Sequined Trim Length
The length of sequined trim required is dependent on each buyer's unique needs. Fortunately, when it comes to length, sequined trim is often available in a wide range of metres. For small uses, such as on crafts, only a small length is likely to be required. In this situation, consumers may like to purchase trim by the metre. This is an inexpensive way to purchase sequined trim.
For costumes and outfits, buyers are likely to require more than one metre. Therefore, it may be better to purchase it by the roll. Sequined trim is commonly available in 2 to 4 metre rolls, 5 to 10 metre rolls, 11 to 20 metre rolls, and 20 plus metre rolls. When looking at how much length is required, take into account the benefit of having some left over as spare, just in case it is needed.
Sequined Trim Size
Sequined trim can range in width and in overall size when referring to trim appliques. It is a general rule that the wider or large the trim size, the more expensive it is likely to be. The desired trim size required really only comes down to personal preference. With long trim, sewing or attaching wider trim tends to be less fiddly than attaching very thin trim.
Sequined Trim Colour
One of the benefits of using sequined trim over other types of trimming, such as ribbon, is that it offers an eye-catching sparkle and glimmer to whatever it is applied to. Available in a huge range of colours, consumers are easily able to find the right kind of trim in their desired colour. Silver, black, gold, pink, and white are some of the more popular sequined trim colour options available.
Sequined Trim Quality
When considering the quality of sequined trim, look at how each individual sequin is attached to the trim. If sequins look loose and ready to fall off at the slightest touch, then using this type of trim on a costume or outfit may not be the best idea.
Keep in mind that sequined trim used on any type of clothing is likely in need of washing at some point, so a consumer wants to make sure that all the sequins stay attached even after being washed. Good quality sequined trim has strong stitching, holding each separate sequin securely in place. Understandably, good quality sequined trim is more expensive, but it should outlast lesser quality trim by a long way.
Tips to Sewing Sequined Trim
Whether choosing to sew sequined trim by hand or by machine, it can be tricky to attach accurately and attractively. The following table provides a few simple steps to sewing sequined trim into place.
| Instructions | Instruction Description |
| --- | --- |
| 1. Examine the trim | Identify the direction in which the sequins lie |
| 2. Position the trim | Position trim on garment, so it is sewed in line with the lay of the sequins |
| 3. Pin the trim | Pin the trim into place at regular intervals; ensure pins are inserted through the sequin holes so as not to cause damage to any sequins |
| 4. Sew into position | Using medium-length stitches, sew down the centre of trim; if trim is wide or made up of several rows, sew approximately one quarter of the way in from trim edge |
For those who are not interested in sewing sequined trim, they may prefer to glue the trim into place or purchase iron-on sequined trim instead. Although these types of trim tend to be more expensive, they can end up saving one a great deal of time, effort, and frustration.
Find Sequined Trim for Sale on eBay
The easiest way to find sequined trim for sale on eBay is to type "sequined trim" into the search bar. A long list of items is shown, giving you a good overall idea of what is available. To filter this result to some more specific and manageable, you can use the search categories. eBay enables you to search by the type of trim, the quantity of trim required, trim colour, the trim's condition, and even by price range. You also have the option to search for a specific type of trim, such as 1 metre gold elasticised sequined trim. To do this, simply type this phrase into the search bar.
To help you get the most out of your eBay buying experience, eBay offers useful community resources. Including discussion boards, special interest groups, videos, an answer centre, and feedback forum, these resources are designed to help all eBay members to utilise eBay to its fullest potential and have a positive buying experience. A place where you can connect with other users, ask questions, offer advice, and connect with like-minded people, eBay's community resources are certainly worth taking a look at.
Conclusion
Used for a wide range of decorating needs, sequined trim is a great way to add sparkle to any garment or item. Available in a range of trim types, including appliques, elasticised trim, tape, and thread, sequined trim can be used in a number of different ways. When looking to purchase sequined trim, consider the length of trim required, trim size, its colour, and its quality. With a range of application options, sequined trim is relatively easy to attach. For those who want to sew their trim into place, there are a few simple steps to ensure the trim is applied neatly and effectively.
Choosing to purchase sequined trim from eBay offers consumers an extensive selection of trim types, lengths, colours, sizes, and styles. Finding the right kind of sequined trim is easy with eBay's simple search methods, secure payment options, top-rated sellers, and useful buying tools. Not only does eBay make buying sequined trim as easy as possible, but it also offers consumers great value for money.