Watch your favourite movies and shows and enjoy the full cinematic experience on a television with the help of this informative guide, which will aid in picking the perfect TV set for you. This guide is to educate you about the technology of current TVs and to show that there are many factors to choosing your perfect TV, and we'll be sure to list them all below.
Also, Sertronics will offer a range of TVs which will be uploaded onto our store, so make sure you follow us on eBay to stay up-to-date with our stock!
Overall TV Design
The demand for larger screen televisions is evident with TVs now as thin as an inch. As a result, this makes the screen much easier to wall-mount., which is preferred to a TV stand since it takes up less room and it's extremely agile. When selecting the screen size which is right for you, it is important to consider how far you will be sitting away from the screen. Most (if not all) TVs nowadays have an aspect ratio of 16:9. This will allow you to see the whole picture as most broadcasts are now transmitted in widescreen. Also, consider whether you will be mounting the TV on the wall or placing it on a stand. Comfort is a huge factor.


What screen types are there?
There are various types of screens in TVs nowadays, so you have plenty to choose from depending on your preference and budget. These types include: OLED, LED, LCD, 4K (UHD), and Plasma. These newer types of TV screens can range from low-end HD Ready (720p) to high-end 4K/UHD (2160p). All of these screen types each have their own benefits and strengths, but also have their downfalls. In my opinion, the best way to educate yourself on which screen type is perfect for you is to carry out some research on Google and YouTube.
What exactly is 4K?
4K (Ultra HD) is the newest screen technology out at the moment, and it's also the best in the consumer market at the moment. To put it in the simplest of terms, it's the new "HD" resolution. Televisions with a screen type of 4K (UHD) provide a much more improved viewing experience than the older resolution screen, since it has the most pixels in comparison to LCD, LED, etc.
More pixels = better resolution.
However, just because a TV has more pixels doesn't mean it'll be suited for your home. You have to take into account the actual size of TV, and what distance you'll be viewing the TV from. The most comfortable viewing distance is very much similar to the way we view films in the cinema – which is about 1.5 screens away. Translated into a homely scenario, this means that the recommended distance to view a 65" 4K TV is five foot away from the sofa, although this may not be a practical option for many families. Again, it all depends on preference.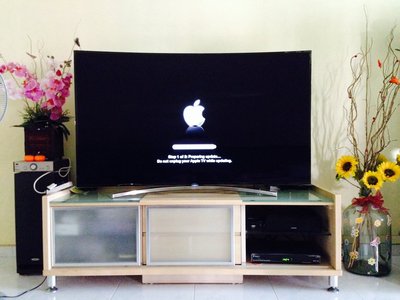 What about curved screens?
Most of the benefits of curved displays come from being in the 'sweet spot': the right balance between distance and position. With a curved screen, you can enjoy a "wrap-around" effect as the screen fills more of your vision. You'll also have each part of the screen an equal distance from the eye which helps to create the impression that the screen is larger than it is, creating a cinematic effect. As a bonus, the concave design helps to cut down on screen reflections when sunlight is creeping through your windows. Curved screens improve side angles by bringing the corners of the screen back towards you so no matter where you are sitting, you'll have the best possible viewing experience. For a video explanation of curved screens, you can view one
here
.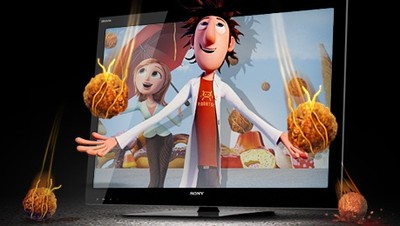 Add a caption
"Cloudy With A Chance Of Meatballs" being shown on a Sony 3DTV.
What are 3DTVs?
3DTVs bring entertainment to life before your eyes. By wearing specially designed 3D glasses, images are given added depth, making you feel as though you're in the middle of the action. Glasses-free 3D TVs have also started to appear on the market, meaning that you can sit back in comfort and watch 3D films without needing any glasses.
3D TVs will even allow you to watch both 3D and 2D video content as they use the same electronic video processing systems to display the images. You'll even be able to turn off the 3D effect in order to watch your programmes and films in 2D, if you prefer. 3D programming is available from Sky, where they present sports, movies and entertainment in all of their third-dimension glory. You can also watch Blu-Ray films in 3D, depending on whether you have a Blu-Ray player that supports 3D or not.
What types of 3D are there?
There are three types of 3D, and these are:
Active 3D
Passive 3D
Glasses-free 3D (auto-stereoscopic, in technical terms).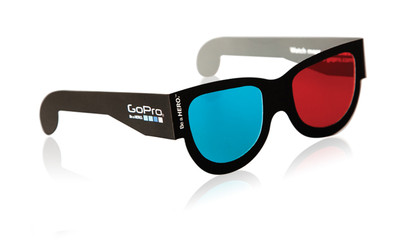 How does 3D work?
All three types of 3D work differently, but similarly.
Active 3D typically offers the greater 3D experience and requires glasses which have small LCD screens. They're typically heavier than passive glasses and will require charging after prolonged use. They're also pretty budget-heavy to purchase.
Passive 3D works by simultaneously displaying images for both eyes. These images then pass through a polarizing filter on the display, which alters the images into vertically and horizontally polarized images. The passive, polarized glasses then filter the incoming images, sending one image to each eye. These glasses are comfortable, lightweight and cheap which is ideal for prolonged 3D viewing.
Glasses-free 3D is the latest type of 3D technology that eliminates the need for glasses altogether. Similar to passive 3D displays, images for both eyes are displayed simultaneously but no polarization is used to separate the images. Also, you don't need any 3D accessories to see the 3D images in all of it's glory.
What do I need to use 3D?
You will need a number of appliances to use 3D to it's fullest potential, and they are:
3D Ready TV
3D Source (Sky 3D, 3D Compatible Blu-Ray Player, Playstation 4, etc.)
The right 3D accessories (depending on what type of 3D your TV is)
HDMI cable to transfer the 3D signal to your 3DTV
Enjoyable 3D-films to watch!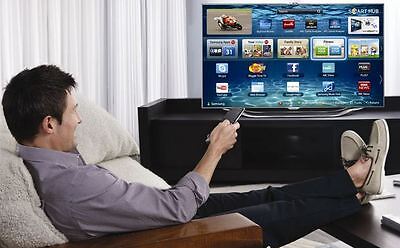 Add a caption
Smart TVs are great to set-up in the living room / family room.
What are Smart TVs?
Smart TVs bring you the best of the web straight to your television screen by seamlessly streaming online content through your broadband connection. With no need for you to hook up a PC, laptop or games console, you can access a world of online entertainment directly from the comfort of your sofa. There are a number of things you can use a Smart TV for, however it does depend on what compatibility and features that certain Smart TV set has.
What do I need to use a Smart TV?
You really don't need a lot of technology to use a Smart TV to it's fullest potent. The only things you'll need is a decent broadband internet connection and a way to hook your Smart TV up to the internet (LAN / Wi-Fi). Once this is done, you and your family / friends can enjoy the features the Smart TV has to offer. Better than everyone being hunched around a computer, isn't it?
Media Streaming
Media streaming is set to become even easier with the uprising of DLNA compatible products. DLNA (Digital Living Network Alliance) compatibility is the ability to access your photos, music and movies from your PC across your home network from a compatible device. For instance, you could play a song you've just downloaded when you're downstairs in the living room, even though the original file is on your computer in the upstairs bedroom.
How can I use media streaming?
You can use media streaming in many ways, and these methods of using media streaming to it's fullest potential are:
Watching movies - Stream your favourite films from your PC to your TV in the living room.
Listen to music - Stream Spotify playlists and your downloaded songs straight to your TV, and have your tunes blasting out of your speakers.
Watch videos - Watch videos from YouTube or catch up with the latest on demand services such as BBC iPlayer and 4oD, all on your big screen.
Look at photos - Stream photos from your device straight to your TV, and set up a slideshow for you and the family.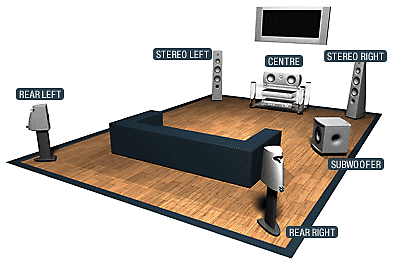 Sound Quality
With the up-rising of 3D TV and 4K in the last couple of years, and the resulting improvement in picture quality, sound has become increasingly important for an immersive viewing experience. Most TVs feature a simple stereo sound or a system that produces a 'virtual' surround sound effect. With TVs getting slimmer and built-in speakers getting smaller - choosing the right sound system is more important than ever. Adding a sound bar or sound base will allow you to create memorable cinematic moments and experiences in your own living room.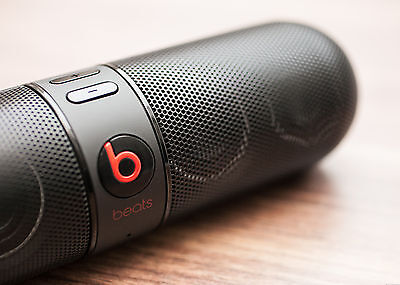 Add a caption
A "Dr. Dre Beats Pill", which is a portable sound bar.
What is a sound bar?
A sound bar is for positioning in front of the television screen, or even mounting it on a wall. Depending on the model, the sound bar will either have a wired or a wireless subwoofer, which enhances bass and depth to the sound quality. A soundbar with a wireless subwoofer has the added benefit of increasing storage space, since no wires are needed.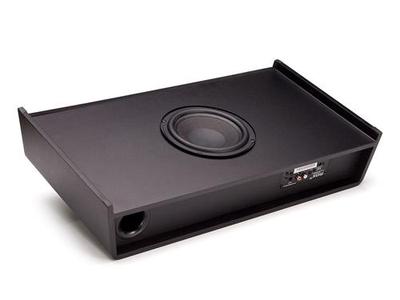 What is a sound base?
A sound base is for positioning underneath the base of the television screen. These are ideal if space is limited or if you would prefer a more discrete sound enhancing option. The sound base has an integrated sub-woofer which replaces the built-in television sound with an enhancing quality, leveraging the wattage and power.
Thank you for reading our informative guide on how to buy the perfect TV for you! If this helped, please don't hesitate to share this with anyone who needs the same advice you needed.
If you have any questions at all, email us and reference this eBay guide in your email, and I'll be happy to get back to you!

(Note: Since eBay doesn't allow external linking, please visit our website which is displayed in the biographies of our social media accounts, which are listed below.)

Twitter: @SertronicsLTD
Facebook: Sertronics LTD
Our website can be found in the biographies of our social media accounts.