Soft, premium denim and the wide selection make Seven for Mankind Jeans 'without a doubt the best jeans ever' for almost every woman who buys them. Varying lengths, rises, and leg widths flatter every figure and come in colours and designs to complement any wardrobe. Most importantly, the fabrics of these popular jeans 'recover' well wash after wash.
The Fits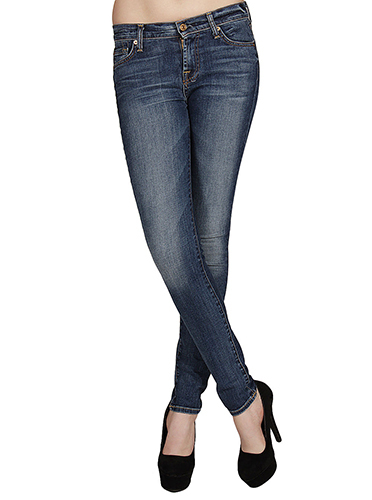 Women's Seven Jeans come in enough style variations that a woman who finds a great look can select several pairs in different colours or choose more than one length in a similar fit. Sizing is generally consistent within the brand, although different cuts may fit differently. Waist sizes range from 24 inches to 32 inches. Various styles offer front rises from 6 inches to 8 inches, inseams from 30 inches to 35 inches, and leg openings from 10.5 inches on skinny jeans to 22 inches on flares.
Popular Styles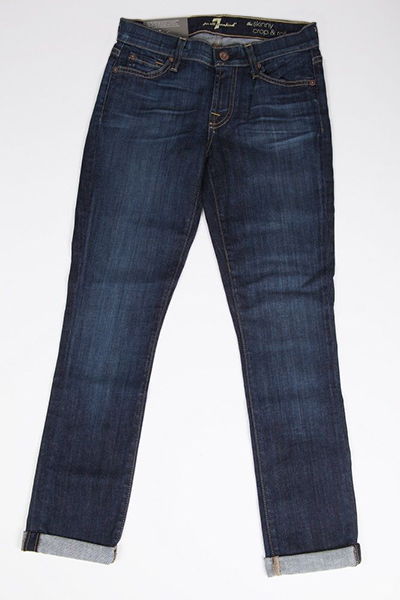 The popular Roxanne, the original slim fit jean, has a 6.5-inch rise, a 32-inch inseam, and a 13-inch leg opening that falls below the ankle. Rozie is the high-waist version, with a front rise of 8 inches and a slightly closer leg opening at 12.5 inches. Cristen goes a bit tighter, with a leg opening of 12 inches and the same 6.5-inch rise as Roxanne. Seven for All Mankind straight leg jeans offer a looser fit, with a 14.5-inch leg opening, a 33-inch inseam, and a 6.5-inch medium rise. Maternity skinny jeans offer an elastic waistband or panel to allow women to continue wearing their favourite styles well into pregnancy.
Fabrics and Colours
Fabrics and colours change with the seasons, but the wide range of choices in women's Seven Jeans is quite reliable. Fabric weaves and treatments begin with the conventional twill, sandwash, and stretch denims. The brand also offers a specifically designed fabric for elasticity that helps provide the excellent recovery everyone wants from skinny jeans. Statement Seven for All Mankind jeans for nights out include jacquard, sateen, pearlescent, painted, metallic, faux snakeskin, faux leather, embossed, and printed fabrics. Black Seven jeans include leather looks and high-gloss versions that stand out under evening lights. Recent seasonal colours included 11 different blues, two greens, four browns, three blacks, four whites, one grey, two pinks, and one red. With selections that match numerous tops and shoes, Seven for All Mankind jeans can carry a woman through the day and into the evening without a fuss.