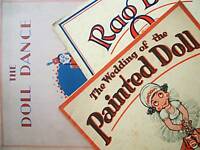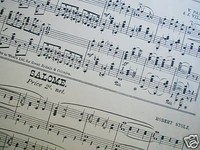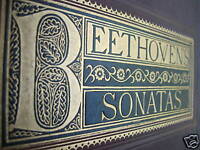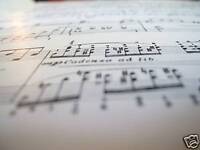 Selling and Buying Old Sheet Music
There are various different reasons people collect and buy old sheet music. Primarily the item is a musical one so the buyer will likely be a musician whether amateur or professional. Like books and other publications, sheet music titles go in and out of print so a musician will often seek out old music simply for the enjoyment of playing. Secondary to this market are those who are not musicians and don't intend to play the music - they want to acquire the item for a different reason. These secondary sheet music collectors have varied collecting interest which cross-over with various other fields. They may be acquiring the item as it is an antiquarian item by virtue of its extreme age, they may see a personal connection (a distant ancestor perhaps was the composer or is on the picture cover) or they may collect a specific topic - for example: Victorian cover art, a specific place, art deco period, early talkies, movie stars, rock n roll singers etc.
The buying appeal of sheet music to the first category of buyer is different to that of the second. To the musician the main concern is that the music is a) complete and b) affordable. It is worth remembering that for most old music, especially classical, a lot of it is perpetually in print via modern-day publishers at a very reasonable price and there are also (available entirely free for download) nearly 30,000 out-of-copyright scores available online much of which comprises interesting obscure and rare material. There is little point trying to sell some tired old book of, say, Chopin's Waltzes for £10 when a new copy can be purchased for less than half. If music is tatty this is anticipated by musician buyers. In the worst cases an otherwise hard-to-find old piece can be photocopied by the buyer to make themselves a working practice copy - it's still worthwhile advertising it for sale. To the secondary sort of buyer musical completeness is a lesser consideration. For the collector who essentially prizes the cover it will be condition that is all important.
As a seller it is perhaps most important to identify who will be you likely buyer for any item. A secondary-type collector will be very unlikely to buy that book of Chopin Waltzes and a musician really won't be much enthused over a bundle of miscellaneous old 1950s music sheets. Once you've thought through who is your target purchaser then you can set about preparing an effective sales advert.
In it's heyday sheet music was big business and, just like any modern day publication, many items are extremely common. Don't waste your time describing something as "rare" - buyers will determine that for themselves and you'll only make yourself look daft if you claim something is rare when it's utterly common (although you may not yourself realise it!). Another thing to be wary of is enthusiastically describing any item as being "signed". Most old sheet music from the mid 1800s through to the 1920s had a rubber stamp copy of the composer's signature stamped on the front cover as a method of showing authenticity in the face of music printing piracy. The signatures are not real - it's just a rubber stamp : sometimes you will need to look very closely. Very rarely there is a genuine signature of someone connected to the piece. Most often the name is that of the original owner.
Expensive postage is the biggest sales killer on low value items such as sheet music. It's worth offering cheap and sensible postage options in order to make purchases viable for the buyer. People really do waver when considering buyer a 99p item only to see the postage is £3.50 recorded delivery courier or somesuch - do this and the sale in not clinched more often than not. Always offer to combine postage to encourage multiple purchase and make this clear.
Photographing the item is straightforward. Try to take the picture in natural light without the flash. Flash photography makes the item usually look worse than it is and artificial light also has the same effect.
Happy music buying and music selling!
Please give your vote if you have found this guide of interest and use!