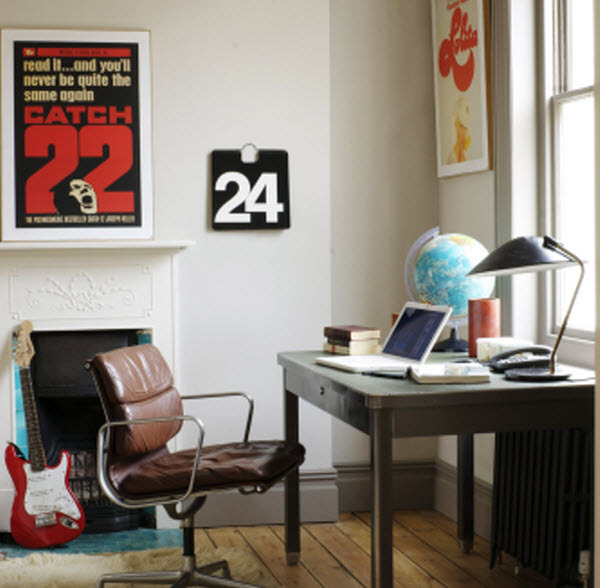 Create a home office that reflects your influences and passions. From new technology to reclaimed furniture, classic literature to music and travel to home comforts, this inspiring space can fit into an existing bedroom or living area to create a dual purpose room for work and play.
Cult fiction
Take inspiration from your favourite books and movies by framing iconic posters.
eBay loves:
Catch 22 book cover poster
Price: £12.90
Reclaimed wood desk
Beautiful, resourceful and environmentally friendly, the warmth of this reclaimed wood desk will keep you working through the night.
eBay loves:
Urban Chic reclaimed wood desk
Price: £382.50
Retro desk lamp
Anglepoise lamps are back with avengeance - the ultimate in style and purpose.
eBay loves:
Contemporary desk lamp
Price: £24.99
Globe trotting
When the work gets too much, it's time to spin the globe and start dreaming.
eBay loves:
Edu Science globe
Price: £27.99
Macbook Air
Light and powerful, all you need for all your work and play is this stunning design classic.
eBay loves:
Apple Macbook Air MD711B 2014
Price: £704.00
Leather swivel chair
Style and comfort combine in this contemporary faux leather swivel chair.
eBay loves:
Leather swivel chair
Price: £44.99
Flokati wool rug
This Flokati wool rug is hand-made in Greece and gives a warm, soft, comforting touch to your study.
eBay loves:
Flokati wool rug
Price: £55.99
Lolita poster
Another beautiful book cover poster that will add charm and style to your home office.
eBay loves:
Lolita poster
Price: £11.99