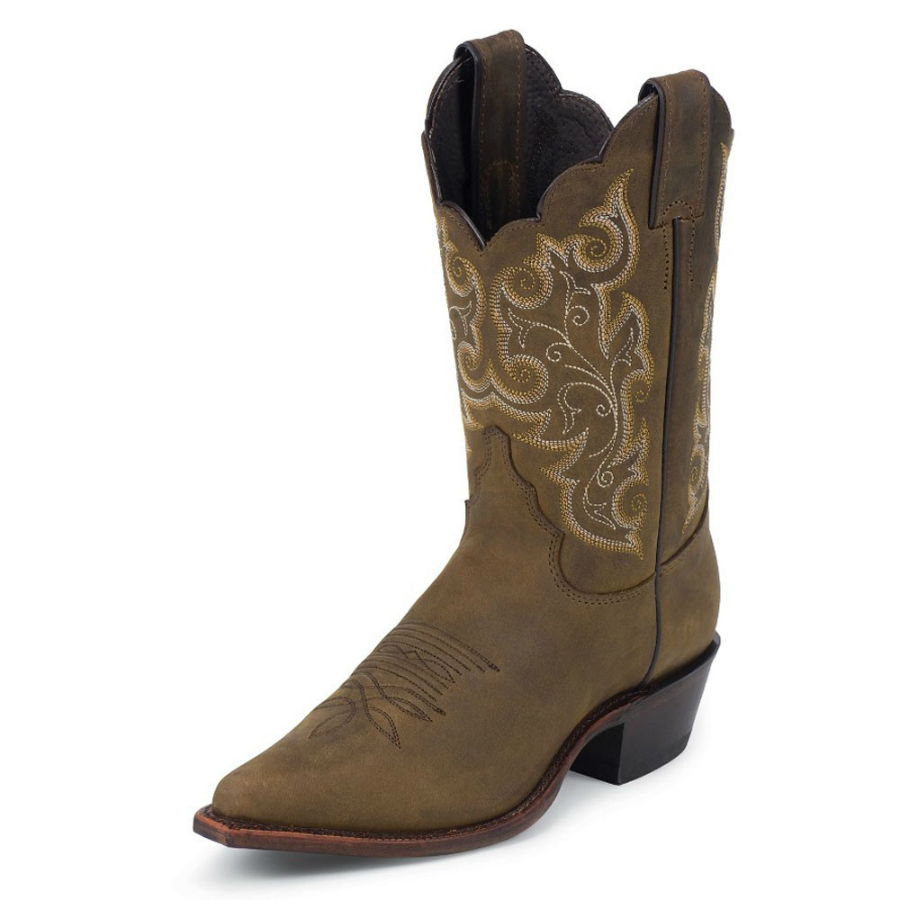 Short riding boots, commonly referred to as paddock boots or jodhpur boots, have short sides that typically pull on, lace, or zip up to right above the ankles. They feature a hard sole and riders or workers generally wear them when cleaning out the horse stable or paddock. Some horse owners and riders even wear them while riding.
Many short riding boots contain an extra layer on the toe that helps protect the toe of the boot, which is tapered or rounded in some way. There are even half chaps available that convert a pair of paddock boots into a tall riding boot if desired. When purchasing short riding boots, shoppers need to take into consideration the type of boot material they want, boot size, the advantages and disadvantages of short riding boots, and how to best maintain riding boots. Shoppers can typically find paddock boots at tack and equipment shops, as well as online at sites such as eBay.
Short Riding Boot Materials
When purchasing short riding boots, shoppers need to determine what material they prefer to wear. This can include a variety of leather options or synthetic materials. The table below explains both material options in more detail.
| Material Types | Description |
| --- | --- |
| | Manufactured of a variety of leather types; a traditional boot material; preferred in more formal, horse show events |
| Synthetic Boots | Synthetic materials offer riding boot wearers more durable materials; riders can find boots made of synthetic materials that breathe easier |
Most short riding boots fit snugly when first worn, but should stretch over time. When initially wearing a pair of short riding boots, shoppers might need the help of a boot hook or boot jack to put the boots on and take them off.
The Advantages and Disadvantages of Short Riding Boots
When comparing short riding boots to full-length boots or sneakers, there are both pros and cons. Benefits include increased comfort and affordability, while downsides of laced boots include snagging hazards and faster wear and tear. The following sections document the pros and cons of wearing short riding boots.
Short Riding Boot Advantages
Wearing short riding boots can give horse riders an advantage versus wearing other footwear, such as full-length boots or sneakers. Not only do they usually cost less, they are easier on the skin and chafe less. Riders can also more easily take short riding boots on and off compared to full-length boots. Other key benefits include added water resistance, protection against outside elements, and increased stirrup grip due to non-slip materials.
Short Riding Boot Disadvantages
The main disadvantages of wearing short riding boots include laces snagging on objects or coming undone, which present potential safety hazards. Also, it usually takes the same amount of time to break in short riding boots as it does to break in full-length boots. Another con to paddocks includes faster wear and tear.
Riders should also keep in mind that they cannot wear paddock boots in most show rings, including Western events, English equitation, and hunter classes. Some classes do allow them inside the ring, including saddle seat classes featuring gaited horses and women's side saddle classes. Make sure to always check the listed rules about footwear before entering any ring.
Measuring for Boot Size
An important consideration when purchasing short riding boots deals with boot size. Shoppers should make sure to measure for the proper size so that the boots fit comfortably with no painful pinching of the toes. To successfully measure boot size, shoppers need a sheet of blank paper, pencil, and measuring device of some sort. The section below provides one way of measuring foot size for a boot.
| Steps | Description |
| --- | --- |
| Step 1 | Sit in a straight back chair with the foot flat on the blank sheet of paper |
| Step 2 | Draw an outline of the foot using a pencil, keeping it against the foot |
| Step 3 | Measure the outline between its two longest points |
| Step 4 | Subtract half of a centimetre from the measurement obtained |
One thing to remember when measuring for a short riding boot: These types of boots run a bit narrow in the width. Riders with high arches or wide feet should go up a size to account for this. Riders can also look for boots with a round toe, as this provides more room at the front of the boot.
Riding Boot Sizing Chart
Short riding boots come in a variety of different sizes. The following chart includes both U.K. and U.S. boot sizes, as well as their accompanying measurements in both centimetres and inches.
| Measurement (cm) | U.K. Size | Measurement (in) | U.S. Size |
| --- | --- | --- | --- |
| 20.32 | 1 | 8 | 2 |
| 20.79 | 1.5 | 8 1/6 | 2.5 |
| 21.16 | 2 | 8 1/3 | 3 |
| 21.59 | 2.5 | 8 1/2 | 3.5 |
| 22.01 | 3 | 8 2/3 | 4 |
| 22.06 | 3.5 | 8 5/6 | 4.5 |
| 22.86 | 4 | 9 | 5 |
| 23.33 | 4.5 | 9 1/6 | 5.5 |
| 23.70 | 5 | 9 1/3 | 6 |
| 24.13 | 5.5 | 9 1/2 | 6.5 |
| 24.55 | 6 | 9 2/3 | 7 |
| 24.60 | 6.5 | 9 5/6 | 7.5 |
| 25.40 | 7 | 10 | 8 |
| 25.87 | 7.5 | 10 1/6 | 8.5 |
| 26.24 | 8 | 10 1/3 | 9 |
| 26.67 | 8.5 | 10 1/2 | 9.5 |
| 27.09 | 9 | 10 2/3 | 10 |
| 27.14 | 9.5 | 10 5/6 | 10.5 |
| 27.94 | 10 | 11 | 11 |
| 28.41 | 10.5 | 11 1/6 | 11.5 |
| 28.78 | 11 | 11 1/3 | 12 |
| 29.21 | 11.5 | 11 1/2 | 12.5 |
| 29.63 | 12 | 11 2/3 | 13 |
| 29.68 | 12.5 | 11 5/6 | 13.5 |
| 30.48 | 13 | 12 | 14 |
| 30.95 | 13.5 | 12 1/6 | 14.5 |
| 31.32 | 14 | 12 1/3 | 15 |
| 31.75 | 14.5 | 12 1/2 | 15.5 |
| 32.17 | 15 | 12 2/3 | 16 |
| 32.22 | 15.5 | 12 5/6 | 16.5 |
| 33.02 | 16 | 13 | 17 |
Depending on the material, shoppers might need to take into account the stretching of the material. Leather boots stretch more than those made of synthetic materials. Boot sizes can also vary according to the manufacturer.
Short Riding Boot Maintenance
To increase the usable life of paddocks, make sure to care for them properly, including regular cleaning and proper storage. Consider the type of material before implementing a cleaning schedule. For instance, if the boots are made from leather, use saddle soap. This helps to prevent the boots from cracking or falling apart. If created with synthetic materials, check the manufacturer's recommendations to see if a machine wash is appropriate.
Inspect boots each day for signs of wear, including any visible holes or splits. Remember to replace laces with appropriate boot laces as necessary.
Cleaning the Outside of Paddocks
Before using any cleaning agent, including on leather boots, make sure to consult the manufacturer's care instructions. If the wrong cleaner is used, boots can become discoloured. Even consider only wearing leather boots for riding, and put on a backup pair of rubber boots or shoes for grooming or mucking out. When cleaning the paddock exterior, remove all dirt or debris. If using a brush to clean the shoe, make sure to use a soft brush that does not scratch or harm the boot material.
Cleaning the Soles of Paddocks
Use remover sprays to rid boot soles of the smells of manure, pet odour, and other unpleasant fragrances. Spray a small amount on a rag and wipe the sole of the boot down. Make sure to avoid getting the spray on the leather or other material. Doing so could cause discoloration of the leather.
Cleaning the Inside of Your Boots
Sometimes, the insides of riding boots get neglected. To make sure boot interiors remain smelling nicely, especially on a warm or rainy day, consider using insoles that charcoal. These insoles can decrease odour significantly. Make sure the boots can accommodate the size of the charcoal insoles before buying them. Wearing special socks that absorb perspiration can help keep the inside of boots cleaner as well.
Buying Short Riding Boots on eBay
When purchasing short riding boots, or paddock boots, shoppers have a variety of choices of where to buy. Those who choose to buy on eBay can start by looking through the available items. They can use such criteria as material, size, colour, cost, and quality among a variety of other options. They can search for items using keywords, such as "Toggi riding boots", "black Jodhpur boots", and "women's paddock boots". For more help with searching with keywords, shoppers can click on the search tips page or go to eBay shops for more options and information about how to search for keywords.
After keywords have been typed into the search bar located on any eBay page, a list of categories comes up. Shoppers can narrow their choices down by clicking on categories appropriate to the product they want to purchase. If they have questions about a product that they have an interest in purchasing, they should click the Ask a Question link located on any listing page. They should also check the seller's feedback rating to see how others have rated their service.
Conclusion
Wearing the proper foot protection while riding a horse should top a rider's must-have list. This includes having adequate protection for the arch and toes to protect them from injury if a horse steps on them. While paddock boots, or short riding boots, primarily serve the purpose of providing protection while cleaning the horse's living area, some riders prefer the lightweight feel that they give while riding.
Before buying, shoppers should measure for the correct size. Too small of a boot could pinch the rider's feet and toes, leading to sore feet and even loss of circulation in the foot. Boots too large for a rider's feet can result in the foot moving around within the boot, causing the rider to fall while walking or slip off while riding. Blisters can also form if the foot rubs against the boot too often. Shoppers should always try to buy boots that fit correctly and provide adequate protection. Local tack supply stores or online marketplaces like eBay sell a wide variety of short riding boots.