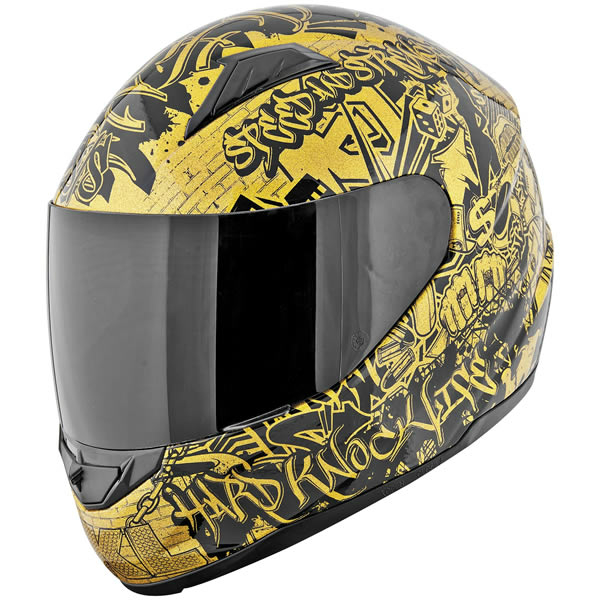 Riding a motorcycle makes your heart beat faster and fills your body with adrenaline. When on a motorcycle, you feel and look cool, and people admire your boldness in hitting the roads. However, as a motorcycle owner, you should always think of safety first, because on a motorcycle you are very vulnerable. Fortunately, motorcycle equipment, especially clothes, can also look cool and can add a lot to your style. The most important part of this equipment, however, is the helmet. A helmet protects your head and can save your life in case of an accident. As the helmet is directly connected to your survival, it should not be chosen only by its looks, although this is also important.
There are two types that you can choose from: flip-front and full-face helmets. Both motorcycle helmet types are available from high street shops that specialise in motorcycle equipment, but you can also purchase a helmet through online auction sites, such as eBay. The features of each of the helmet types, flip-front and full-face, should be studied and considered thoughtfully before buying one to keep you safe on your rides.
Motorcycle Safety
Motorcyclists are more likely to get seriously injured or killed in road accidents than other drivers, mainly due to their vulnerability. If you are a motorcyclist, do your best to stay safe. There are a few things that you can do in order to ensure safety. Before any manoeuvres, glance over your shoulder, in order to know the location and activities of other drivers and to anticipate them. You should be able to slow down and stop if anything unusual happens, so choose your speed carefully and practise stopping. Choose the safest place on the road and maximise your visibility.
Besides wearing protective trousers and gloves, as well as a jacket and boots, you should choose a helmet that meets the safety standards. There are three different standards that a helmet can meet. Your helmet should meet the United Nations Economic Commision for Europe (UNECE) Regulation 22.05 or the British Standard BS 6658:1985. If the helmet meets the British Standard, it should also carry the BSI Kitemark, a registered certification mark that indicates safety and quality. The helmet may also meet a European Economic Area member standard, if it offers the same protection and safety as the British standard and carries a mark that is equivalent to the BSI Kitemark.
The independent SHARP rating system is helpful in choosing the best helmet. This system is part of a British government programme and provides a safety rating on a scale from one to five. These numbers indicate how much protection the helmet can offer you when a crash occurs. The higher the rating, the more protection the helmet provides.
Helmet Features
Many features are the same for both the flip-front and the full-face helmets. These include comfort, noise reduction, visor, material, and finishes.
Comfort
Comfort is essential when it comes to motorcycle helmets, because you are probably going to wear one for a long period. Even slight pressure can become annoying over time, and can give you a headache. The helmet should not squeeze your head in any place. Removable cheek pads, which some helmets have, are useful. You can switch them for pads of a different thickness and thus adjust the size of the helmet.
Noise Reduction
When air rushes past the helmet while you are riding, it creates noise. The wind noise, as well as air turbulence, can be reduced with a proper helmet. As this noise causes stress and can be tiresome, it is worth considering a helmet that can help you reduce it. The wind noise is kept at a minimum if the helmet has a smooth profile without too many air vents and protruding parts. The air is kept outside the helmet if the visor is fitted tightly.
Visor
The visor covers your eyes and protects your face from dust, grit, and rain. However, visors can also get misty inside. In order to prevent this, some helmets have vents, or are covered with double glazing that does not allow mist to build up. The visor may also be treated with special anti-mist products. A visor can also protect you from harmful UV rays if treated accordingly.
Material
The material plays a role in the helmet's weight and in how comfortable it is to wear. Fibreglass is the lightest helmet material, but it can also crack easily. If cracks occur, the helmet should be replaced. Many high-end motorcycle helmets use expensive but durable materials that are also known for their lightness. Thermo-resin is a commonly used material.
Finish
Single-colour helmets are usually the cheapest models available. For best quality, opt for single-colour helmets, because helmets that have the same price, but come with intricate designs, may be lower in quality. You can also choose between matte and glossy finishes. Not all helmet finishes allow you to put stickers on them, because the glue can damage the outer shell.
Differences Between Flip-Front and Full-Face Helmets
A full-face helmet covers the entire head, and therefore this is the safest option available. Full-face helmets protect the lower part of your face, the chin and the jaw. Flip -front, also known as flip-up, system or modular helmets are similar to full-face helmets, as they also cover the whole face. However, you can lift the visor, so you do not have to take the helmet off every time you stop. Therefore, the flip-front helmet is a compromise between a full-face and an open-face helmet, offering the benefits of both. Some flip-front helmets can also be transformed into open-face helmets by removing the visor.
Choosing the Right Size of Motorcycle Helmet
The right fit is very important when it comes to motorcycle helmets. A comprehensive study, which analysed accidents across Europe, found that helmets are often lost during accidents. Based on this, the head should be measured correctly and the helmet chosen according to your head size. Measure your head above the ears and read the measurement from your forehead when standing in front of a mirror. You can also ask a friend or family member for help. Use the measurement to find the corresponding size from the following chart.
| Head Measurement (cm) | UK Helmet Size | Universal Helmet Size |
| --- | --- | --- |
| 52 | 6 1/2 | XXS |
| 54 | 6 5/8 | XS |
| 56 | 6 7/8 | S |
| 58 | 7 1/8 | M |
| 60 | 7 3/8 | L |
| 62 | 7 5/8 | XL |
| 64 | 7 3/4 | XXL |
Note that one manufacturer's M size does not necessarily correspond to another's M size. In order to ensure that the helmet is a perfect fit, it should be tried on. When the helmet is on and the chin strap is fastened, the helmet should be felt against the whole head and there should be no so-called pressure points, or places where the helmet leaves red marks. If the helmet is a full-face helmet, your cheeks should follow its movements without moving away from the cheek pads. You should also try tilting your head backwards and forwards. In any case, the helmet should not move.
Another test you should perform is simulating a crash, in order to find out whether the helmet would roll off in case of an impact. Ask someone to try to roll off your helmet. The person helping you should push from the rear of the helmet at its base. If the helmet comes off, it is not safe for you.
Buying a Flip-Front or Full-Face Helmet on eBay
When you have decided which helmet, either the flip-front or the full-face, you want to buy on eBay, you can start the search by using keywords. Type the relevant keywords into the search box that you can find at the top of any eBay page. You can then sort the initial search results by auction time or price, especially if you need the helmet fast or have a budget in mind. Once you start reading the item listings, pay close attention to the features, especially the safety standards and size, because the helmet has to fit you perfectly in order to provide maximum safety. If photos are provided, browse through them and look for any damage, especially if you have decided to buy a used helmet. You can also specify the condition of the helmet that you require when you perform the search.
Should you have any questions regarding payment methods, refunds, exchanges, postage, packaging, or delivery, feel free to address them to the seller. For best service, opt for top-rated sellers who have high ratings and good feedback from other community members.
Conclusion
Riding a motorcycle pumps up adrenaline and allows the rider to feel and look cool. However, when riding, you are very vulnerable and should therefore wear protective clothing as well as a helmet, because these can save your life.
Although it might be tempting to buy a motorcycle helmet based on the way it looks, safety should come first. A good helmet meets required standards. In the UK, you can evaluate a helmet by its SHARP rating, on a scale from one to five, where five is the highest and safest score.
When buying a helmet, make sure it fits you comfortably and is the correct size. Lightweight helmets, mostly made of fibreglass, are probably the most comfortable models. Some helmets include removable cheek pads that help you adjust the size to your head. In order to reduce wind noise, opt for helmets with a smooth finish and no protruding parts. The visor on your helmet should be of high quality, so you can see through it, but should also protect your face from rain and dust. The difference between a flip-front and a full-face helmet is that you can lift the visor up on the flip-front helmet and do not have to take the helmet off each time you stop. The decision between these two types depends on your personal preferences.