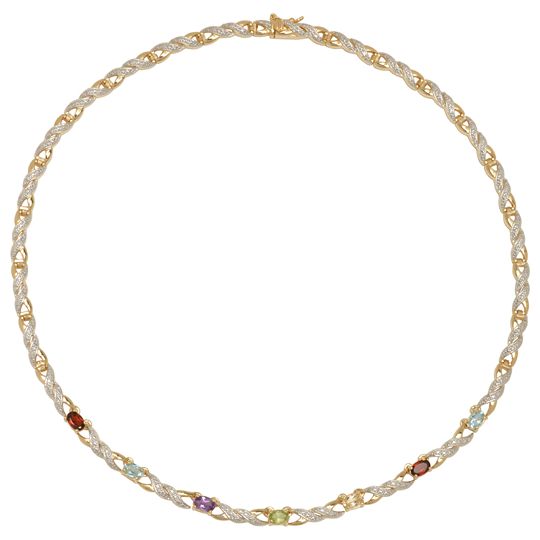 Gold and silver necklaces are some of the most common pieces of jewellery worn by both women and men for casual and formal occasions. In most cases, gold and silver necklaces are made from a series of one of more kinds of links interlocked in order to make a chain. Both gold and silver are precious metals and buyers should opt for the one that fits their preferences as well as their budget.
Gold and silver necklaces come in a wide variety of styles and their price is generally related to the purity of the metal. When one is not decided whether they should buy a gold or silver necklace, they should first make sure of the occasion for which the piece of jewellery is intended, their favourite style, and their budget. By learning more about the different characteristics of gold and silver, buyers can make sure their investment is a wise one.
Gold vs. Silver Necklace: Pros and Cons
Both gold and silver are great metals for a new necklace, since they are precious metals and maintain their value over time. However, buyers should know that each of them comes with its specific advantages and disadvantages. Learning more about these two different metal types may help buyers to buy a new piece of jewellery that features an attractive style and is good value for money at the same time. There are several factors one should take into account when it comes to comparing gold and silver necklaces, with the most important of them being durability, cost, appearance, and care.
Necklace Durability
Even though both gold and silver are durable metals, gold is often more durable than silver, as it does not have the tendency to tarnish quickly and is more scratch-resistant. Necklaces made from gold or silver are never made from pure metals. Both precious metals are combined with other metals in order to form alloys, which are easily moulded into necklaces and more durable at the same time. The chart below illustrates the percentage of pure gold of necklaces made from gold alloys.
| Gold Carats | Gold Purity (per cent) |
| --- | --- |
| 1 | 4.17 |
| 2 | 8.33 |
| 3 | 12.50 |
| 4 | 16.67 |
| 5 | 20.83 |
| 6 | 25.00 |
| 7 | 29.17 |
| 8 | 33.33 |
| 9 | 37.50 |
| 10 | 41.67 |
| 11 | 45.85 |
| 12 | 50.00 |
| 13 | 54.17 |
| 14 | 58.33 |
| 15 | 62.50 |
| 16 | 66.67 |
| 17 | 70.83 |
| 18 | 75.00 |
| 19 | 79.17 |
| 20 | 83.33 |
| 21 | 87.50 |
| 22 | 91.67 |
| 23 | 95.83 |
| 24 | 100 |
The same thing happens in the case of silver, which is too soft for being turned into pieces of jewellery such as necklaces on its own. Different metals are mixed in order to form sterling silver, which is then used for the creation of jewellery. The chart below indicates the purity of silver in some of the most common types of sterling silver used for necklaces.
| Silver Fineness | Common Name |
| --- | --- |
| 999.9 | Ultra Fine Silver |
| 999 | Fine Silver or Pure Silver |
| 958 | Britannia Silver |
| 950 | French 1St Standard |
| 925 | Sterling Silver |
| 900 | Coin Silver |
| 830 | Scandinavian Silver |
| 800 | German Silver |
The durability of a gold or of a silver necklace is not only determined by the purity of the metal, but by the way a piece of jewellery is built. Gold or silver plated necklaces for example are less durable than those made of solid gold or sterling silver. Unlike silver, gold retains a shiny look for a long time, so buyers who are interested in having a necklace from a metal that does not develop a patina should avoid silver. However, silver jewellery can be easily cleaned to remove tarnish, even with common products that one already has in the home, such as sodium bicarbonate.
Necklace Price
In the majority of cases, a gold necklace is more expensive than one made of silver. This is mainly related to the durability and rarity of gold. In addition to this, gold is less likely to cause an allergic reaction and thus is another factor that makes it a more expensive choice. Buyers who are not able to spend too much on a necklace for casual wear, for instance, could opt for a silver one. However, those who are interested in a valuable necklace for elegant occasions or to offer as a special gift should choose gold instead.
Necklace Appearance
The basic colours for gold and silver are yellow and grey, but there are more options to choose from, especially when it comes to gold. The most popular types of gold are yellow and white, but buyers can also opt for rose or green when buying a necklace. Gold is also more popular for models that feature precious stones such as diamonds or rubies. Sterling silver, on the other hand, can work well for those who do not like the appearance of yellow gold and for those who are looking for a cheaper alternative to white gold. In the majority of cases, the appearance of gold remains the same even after prolonged use, unlike that of silver, which tends to get less shiny over time.
Necklace Care
The level of care needed for a necklace varies from one metal to another. Buyers who opt for white gold, for example, should know that most necklaces made from this material need to have their rhodium coat reapplied from time to time in order to maintain their silvery look. Both gold and silver necklaces need to be cleaned on a regular basis in order to maintain their original appearance. Gold necklaces can be cleaned with soapy water, but in the case of silver, one may want to opt for a silver cleaner and a soft cloth. Unlike gold, silver may need to be polished occasionally to maintain its appearance.
How to Find a Gold or Silver Necklace in the Right Length
Just like in the case of the style, the length of a gold or silver necklace is a matter of preference. One may choose to have different necklaces for different occasions and in many cases the price is an important factor to consider when it comes to jewellery made from precious metals. A longer necklace tend to be heavier, which translates in a higher price. The chart below summarises the most common types of silver and gold necklaces together with their approximate length.
| Type of Necklace | Length in Centimetres (UK and EU) | Length in Inches (US) |
| --- | --- | --- |
| Choker length | 40 | 16-17 |
| Resting at the collarbone | 43-48 | 17-19 |
| Resting just below the collarbone | 50 | 19-20 |
| Resting at or above the neckline | 55 | 22 |
| Resting below the neckline | 60 | 24 |
As there are no actual rules regarding the size of a necklace, buyers should pay attention to things such as the occasion and body type when opting for a specific length. For instance, petite women should avoid chokers, which tend to make anyone look shorter. Longer gold and silver necklaces are usually a good choice for special occasions such as the evening at the theatre or a wedding.
How to Find Gold and Silver Necklaces on eBay
Shopping for a gold or silver necklace may take a while simply because there are so many models to choose from. Regardless of the type of metal you are opting for, eBay is a good place to start the search for a necklace made of gold or silver. The variety of styles available from numerous sellers from all over the world makes the website a good choice for browsing for the perfect gold or silver necklace.
In order to start searching for a new or used gold or silver necklace on eBay, you should first decide which metal are you looking for. You can then easily perform a search by typing the words 'gold necklace' or 'silver necklace' into eBay's search bar, according to your preferences. In the majority of cases you get several pages of results and you can easily narrow them down by using the numerous filters provided by the website, such as condition, size, and price. You should also remember to read the product description carefully for every item you intend to buy in order to make sure it is exactly what you need. If you have questions, you can contact the seller before making a purchase.
Conclusion
Gold and silver are two of the most common precious metals used for manufacturing necklaces. Both metals have their advantages and disadvantages and one should choose a gold vs. silver necklace according to their preferences. Budget is also important in making a choice, with one of the most common options being that of buying sterling silver jewellery over white gold. Regardless of the type of precious metal one is looking for, browsing online on websites such as eBay is the simplest way to find the ideal necklace for a certain occasion.
When shopping for gold and silver necklaces online, one has the advantage of being able to browse through hundreds of styles before deciding which one is the perfect choice for their needs, preferences, and budget. By choosing to shop for gold or silver necklaces on eBay, chances are one can find their preferred style in a matter of minutes.