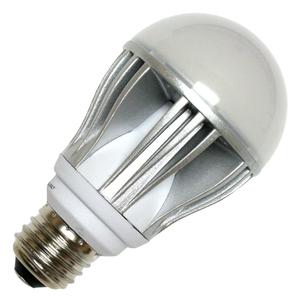 LED bulbs have been embraced by the public as the practical alternative to traditional filament bulbs. Where they began life expensive and somewhat shunned, LED bulbs are beginning to be found in homes around the world as the advantages become more apparent. Saving both money and energy, the future of LED light bulbs looks bright.
About Soft Bright White Light LED Bulbs
LED light bulbs have been around since as early as the 1920s, but it wasn't until the 1960s when they began to be optimised for practical use. Discovering the infrared capabilities of an LED bulb, scientists began to develop red and yellow bulbs; but it was again undiscovered that the LED could be used for illumination in the 1990s. At the turn of the millennium, the LED began to enjoy success as a source of domestic and industrial illumination; rather than as indicating lights and component bulbs. Modern LED bulbs used for lighting homes and businesses are almost predominantly white, but there is more than one type of white LED bulb. The Kelvin scale measures the light temperature of an LED bulb, with those emitting under 3500K considered to be warm white LEDs, and those above 5000K are considered warm or soft white LED bulbs. Whilst warm white is a gentler illumination, with yellow tones more akin to traditional filament bulbs; soft bright white LED bulbs offer a cleaner and crisper spectrum; with far more capacity to illuminate a space.
Choosing A Soft Bright White Light LED Bulbs
Choosing between warm white LEDs and soft bright LEDs can depend upon a lot of factors. Besides personal preference and taste, a few more objective criteria can include the type of lighting, room, material, style, function, and more.
Type of Lighting
| | |
| --- | --- |
| Task | Task lighting is required for certain activities or areas which need very bright or focused lighting. Track lighting and spot lighting are common fixtures to be found here, often with directional bulbs which can be manoeuvred to highlight certain areas. Examples of task lighting might include desk lights, surgical lights, and industrial lights. Soft bright white LED bulbs have such a high light temperature as to emit a very clean and powerful light. These are the best type of bulbs for task lighting, as they offer the greatest illumination without much interference with the natural spectrum. |
| Ambient | When a lower light level is desired, ambient lighting is a good solution to provide a cosier atmosphere. Lounges and dining rooms are often lit with a warmer glow, where filament bulbs have been great to mimic the glow of firelight with their natural yellow or orange illumination. Soft bright white light LED bulbs are too bright for this purpose, a bulb with 3500K or less should be considered as they can more closely replicate the yellow filament glow. If this isn't possible, investing in a glass lampshade with coloured panels could provide the right light levels. |
| Uplight/ Downlight | Uplights are light fixtures which throw their light up toward the ceiling to spread around the room, whereas downlights direct their light downwards for a more atmospheric aura. Soft bright white LED bulbs in uplights will be able to scatter the most light around a room and can provide a great way to lighting a room if traditional fixtures are being avoided. Downlights tend to utilise a warmer light, whether that be a filament bulb or an LED bulb with a lower light temperature. |
Room To Be Lit
| | |
| --- | --- |
| Kitchen | Kitchens,, whether domestic or industrial, almost always make use of task lighting. Alongside the ceiling light, various smaller lights are often found under cupboards and appliances to provide light to crucial areas. Soft bright white light LED bulbs are perfect for those small spot lights which are directed towards kitchen surfaces for the preparation of food and drink. |
| Lounge | The lounge is often a place for socialising which is normally lit by a lower heat. Downlights are popular in the lounge, which can be left on when watching film or television without harming the quality of the screen. Soft bright white light LED bulbs may be too bright an option for this room, as they can over-illuminate and dominate small spaces. |
| Study | Studies are another great example of where task lighting is required. LED bulbs with a Kelvin measurement of over 5000K work well in this environment, providing focused and concentrated clean light toward workspaces. LED bulbs work as well in ceiling lights as they do in lamps for task lighting. |
| Industrial | Industrial environments like factories benefit greatly from the use of soft bright white light LED bulbs. The clean light given off by LED bulbs illuminates more areas than the weaker filament lights, creating a safer working environment for everybody. The energy efficiency of these bulbs also makes them great value for industrial areas where lights may be left on for extended periods of time. |
Materials Of Lighting
| | |
| --- | --- |
| Metal | Metal is very popular in modern light fixtures, particularly aluminium and chrome. Brass and precious metals have been used for more traditional fixtures, but these will look better with filament or gentler heat LEDs. Aluminium and chrome work very well with bright white light LED bulbs, they are also made more viable by the lower temperatures that LEDs operate at; lessening the risk of burning on the heat conductive metal. |
| Wood | Wood is a less popular choice for light fixtures, but varnished bamboo like that commonly seen in salad bowls and serving cutlery is beginning to be used. Wicker and rattan has been used for many years to provide a less intrusive light shade when more light is needed. Wood and LEDs are generally not found together, as they represent different design movements though artificial wood like MDF and plywood which has been coated in a high gloss finish works well. |
| Plastic | Plastics are very popular with modern and minimal design movements, along with soft bright white LED bulbs as the vibrant colours look great with the bright illumination. Matte finish plastics tend to work better with filament or lower temperature LEDs. |
| Paper | Paper is used in cheaper lighting fixtures and shades, or where more light is required in a room. The soft bright white light LED bulb gives off some of the brightest illumination, making it an unsuitable type of bulb for paper. These bulbs will provide an incredible amount of light against the thin paper, making them great for task lighting, but not for many other functions. |
Style of Lighting
| | |
| --- | --- |
| Traditional | Rooms with a traditional decor or traditionally styled lighting fixtures are complimented better by filament bulbs. The sometimes 'harsh' light from soft bright white LED bulbs can seem at odds with the colours and patterns of more traditional designs. LED bulbs with a light temperature of 3000K and below can work here, but filament bulbs will always provide a softer glow for these situations. |
| Modern/Minimal | LED is the champion of modern design movements, including the popular minimalist decor. Favouring materials such as high gloss plastic and brushed aluminum, the bright white light of LED bulbs complements the modern design perfectly. This style of decor is often described as a 'clean' approach, which is one of the reasons why the very white glow of a soft bright light LED bulb works so well. |
Find Soft Bright White Light LED Bulbs on eBay
Finding soft bright white LED bulbs on eBay begins on the homepage. Once there, click the All Categories link on the left of the screen and then open the Home, Furniture & DIY directory. Within this, hover over the Furniture & Living tab and click Lighting from the sub-menu. In the left hand navigation menu, select Light Bulbs and then further define the search by clicking the LED option under Type. Other options include the different sockets of LED bulbs, brand, condition, price, and more. Don't forget that the search bar at the top of all eBay pages is useful for more specific criteria such as "soft bright white LED bulbs." Using the search bar along with the Advanced button to the right is the key to finding the right product on eBay.
Conclusion
Soft bright white LED bulbs are fantastic advances in technology, offering a much brighter light than has been accessible before. Whilst it might not be as suitable for the more relaxed or cosy atmosphere, the soft bright white LED bulb definitely represents a cheaper and more energy efficient option to filament bulbs. Industrial atmospheres particularly benefit from these types of LED bulbs, as replacements for the power hungry and dangerous fluorescent tube lighting. Finding the perfect LED bulb is made easy with the eBay marketplace and its facilities.