There are a lot of cheap silicon hoses for sale on eBay.
What we did not realise and we suspect that most customers do not realise, is that these hoses can be considerably shorter than the industry standard length.
If you look at the attached photo of a 90 degree x 32mm elbow, the bottom hose is of a length normally supplied by SAMCO or RMD, the top hose is the cheap eBay equivalent, in an isolated photo the 50mm difference in length is not obvious, but 'side by side' it is revealing.
The shorter hoses may not reach the mating parts and the leg length may not be sufficient to support the clamp especially if intending to double clamp.
Many of our customers have been fooled by this blatant rip off. The 2014 Rally Design catalogue lists the outside length for every hose size and type, which is close to the norm for the industry.
Our hoses are stocked in blue or black, other colours are available so please check listings and ask us if you have any questions.
We would suggest that customers always ask the outside length before ordering.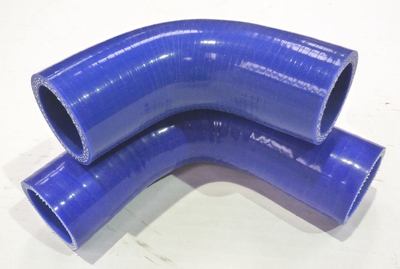 RALLY DESIGN Ltd.