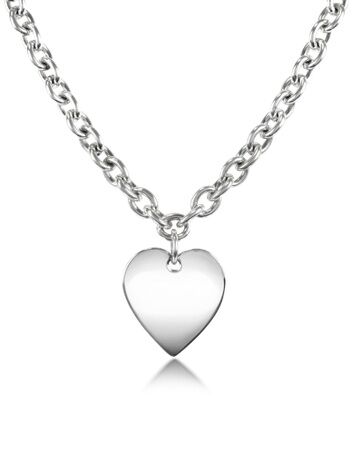 There is nothing more beautiful and delicate than a silver heart necklace. Chains and hearts may vary, but the sentiment is the same: it is a beautiful testament to love, an open heart, or simply a trinket that comes as a gift from someone that loves the buyer. Buying a silver heart necklace can be a lot of fun, and there are a lot of choices, from antique silver hearts or chains, to sterling silver heart necklaces. There are even silver heart necklaces that include diamonds or other precious gems for a more sophisticated silver heart necklace.
A pretty silver heart necklace can add pizzazz to a simple T-shirt, or be a wonderful accessory for a buyer that wants to add sparkle to a party dress or other formal outfit. Silver heart necklaces can be as simple as a small silver heart charm on a chain, to more intricate, filigree hearts that are more elaborate. A special silver heart necklace may even be monogrammed or engraved for the buyer to make a special gift even more memorable. There are many types of silver heart necklaces and it is a lot of fun to shop for one.
Types of Silver Heart Necklaces
When it comes to shopping for silver heart necklaces, the sky is the limit on what types of styles are offered. There are very delicate necklaces with small hearts, and silver heart necklaces that inject more of the buyer's personality in them and may include diamonds, other charms that dangle along with the silver heart, or even fancy filigreed designs and scrolled silver wires that compose the heart.
The silver heart necklace the buyer chooses should be representative of the buyer's taste, as well as a piece she can wear with many items in her closet. It can even become an everyday favourite piece of jewellery, since heart necklaces can be either casual or dressy depending on what they are paired with. They are very versatile and come in costume designs as well as finer designs. Sterling silver heart necklaces are recommended because they are keepsakes that can be passed down through the generations.
Closed Hearts
Some silver heart necklaces offer a closed heart charm. They can be on any size or length of chain, and the hearts themselves can also vary in size. Some closed hearts can be engraved with a special message or date. Some closed hearts may be covered with designs, flowers, butterflies, or stones. Closed heart necklaces can look three-dimensional, or simply be flat.
Lockets
A locket is a type of closed heart necklace that opens to reveal a secret enclosure. This space can be used to put a small photograph or memento in. A heart shaped locket can come in different sizes and styles, and offer either a plain front to the heart, or a more elaborate, decorative, and ornate style. Lockets make a wonderful choice for a family heirloom, and a vintage locket can make a beautiful gift. Put a special photo inside the locket before giving it to make it even more special of a present for the recipient.
Open Hearts
Open heart necklaces are sometimes called floating heart necklaces, because the heart can be dangling from the chain in a way that it appears to be floating. These hearts can have an open space or be completely closed. An open heart necklace can be a charm that hangs from another, smaller clasp or a heart that is slid onto the chain by itself. An open heart silver necklace can also range from simple to elaborate, and some can be bought that have more than one heart together.
Filigree Hearts
A filigree heart necklace has a very elaborate silver heart on it. These are usually three-dimensional and see through, and have a pattern to them that looks similar to lace. They are very delicate and pretty. A filigree heart necklace can come in any size, but they are generally simple and only include the heart charm, since they need no other additions.
Diamond Hearts
Some heart necklaces offer the buyer a bit of a fancier option: diamond hearts. A diamond heart necklace can be encrusted with diamonds or crystals and be very beautiful. These can either be open or closed heart necklaces. An open heart necklace with diamonds may have diamonds all around the edges of the heart, and a closed heart necklace with diamonds may have a few accent diamonds on the front of the necklace.
Another option is an open heart necklace that has a large diamond in the centre that appears to be floating. A closed heart necklace could also have its surface completely covered with diamonds for a more decadent, elegant look. Diamonds are not the only stones a buyer may see on a heart necklace; some other stones may be seen as well, such as rubies, emeralds, or sapphires. A locket can also be emblazoned with stones or diamonds.
Heart Charm Necklaces
Another type of silver heart necklace that is quite popular is the heart charm necklace. These have links, similar to a charm bracelet, but they are long enough to wear as a necklace. Charms can be added to customise the charm necklaces, and they generally have a heart charm near the clasp or as a clasp. These are a fun option for creative women that like customising their jewellery, and make a fun gift for young women.
Juicy Couture heart charm necklaces are one example of this style of heart necklace, and Tiffany & Co. heart charm necklaces are quite common as well. These are made of sterling silver and last a long time.
Hearts with Additional Charms
Some heart necklaces have additional charms hanging alongside the heart, such as butterflies, wings, animals, crystal hearts, or other items such as colourful beads and stones. These can add some visual interest to a silver heart necklace and make it a bit more exciting. The addition of bows, small dangling charms, and hearts of different sizes can make a silver heart necklace even more engaging and unique. The necklace could even be made more personalised with the addition of extra, fun charms.
Chain Options
When it comes to types of chains for a silver heart necklace, it is up to the buyer. Chains can range from very delicate and short, to thicker or longer. Some necklaces may already come with a chain, but the chain could be changed out to suit the buyer's preference. Chains can have small or large links, or be herringbone chains, which have no open links. Some heart necklaces may be on other types of chains such as string, cord, leather, or suede. This creates a more casual, unique look to a silver heart necklace, because only the heart charm itself is silver, while the cord or chain may be a different colour and material.
How to Buy a Silver Heart Necklace on eBay
There are so many options on eBay when it comes to buying a silver heart necklace. Search silver heart necklace to bring up thousands of options, or do a more tailored search for what you are looking for, such as a silver heart locket or silver heart charm necklace. Heart necklaces vary greatly according to what type of silver is used, if there are diamond enhancements or other charms, or what type of chain can be purchased with the necklace. Buy a beautiful silver heart necklace from a merchant on eBay that is a Top-Rated Seller,, and has many positive reviews from other buyers that are satisfied.
Ask the seller if they are offering any other items that can be bundled with your silver heart necklace for a reduced shipping cost, such as charms, chains, or silver polish. Add some sparkle to your wardrobe, or get a wonderful gift for a woman or girl in your life when you purchase a silver heart necklace. This is a flexible piece of jewellery that can be worn anytime and with most any type of outfit.
Conclusion
For consumers looking for the perfect silver heart necklace, eBay is a great place to shop. There are heart necklaces for every budget, taste, and style, including necklaces that can be engraved or personalised by adding charms, as well as more high-end designer necklaces from brands such as Tiffany & Co. that can add sophistication to simple heart necklaces. Most everyone enjoys hearts in their simple beauty, so it is just a matter of finding the heart necklace that seems right for the woman that is purchasing it.
Buy a heart necklace that small charms can be added to in order to create a necklace that is representative of the buyer's personality, or buy a beautiful vintage heart locket for a mother or grandmother with pictures of her grandchildren inside. A heart shaped necklace can be a very special gift that the recipient can treasure forever, or it can be a beautiful, sparkling or simple jewellery addition for a woman that enjoys the beauty of silver and heart jewellery. These necklaces can be purchased for women of every style and even be further customised, so a heart necklace is a great gift and great addition to any woman's wardrobe.