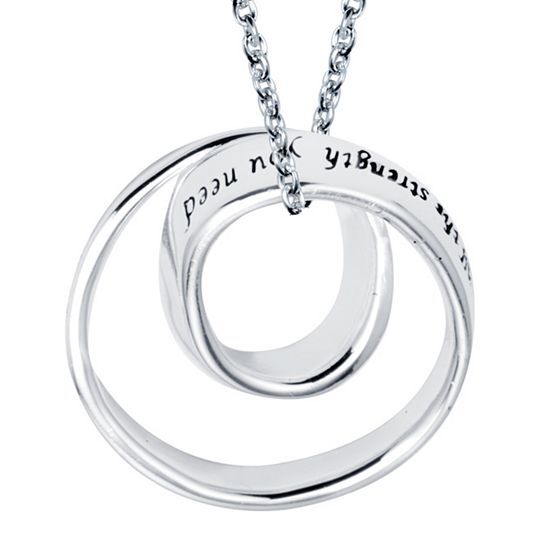 The perfect silver pendant necklace adds the finishing touch to any outfit, especially when the pendant worn coordinates with the outfit and other accessories. But in order to find the right silver pendant necklace, many things have to be taken into consideration, from the style of the setting and the quality of the stone, to the length and design of the necklace which the pendant will hang from.
Silver pendant necklaces are purchased from many different places. Of course there are high street jewellry shops, and even many department stores have jewellry departments which sell good, quality silver jewellry. There are also many different places online to purchase quality silver pendant necklaces; often at lower prices than the high street retailers. eBay has a large selection of silver pendants available in many different styles and designs to suit all tastes and budgets.
Types of Silver Pendant Necklaces
Traditionally a pendant necklace comes in two pieces: the chain and the pendant; and both are usually sold separately. Purchasing a silver pendant necklace this way allows the consumer to decide on the style and length of the chain, and then he or she is be able to add almost any pendant to create an individual style. While pendants are still purchased this way, many jewellry stores also sell 'ready-made' silver pendant necklaces that include both the chain and the pendant.
However the pendant necklace is purchased, there are a few key components of this type of jewellry which the consumer should take into consideration in order to find the perfect necklace.
Chains
There are many different chain styles available, and almost all of them are available in different lengths. The many chain choices allow the consumer to create his or her individual silver pendant necklace that will always be slightly different from another necklace which has the same pendant hanging from it.
| Type of Chain | Description |
| --- | --- |
| Curb Chain | Interlocking links which lie flat; available in many different widths |
| Figaro Chain | Several small, round links interspaced with a long oval link |
| Mariner Chain | Alternating small, round links with larger oval links |
| Rope Chain | Twisted links that resemble a rope |
| Snake Chain | No visible links, instead there are small rings which fit tightly together so that the chain appears to be a flexible tube with a snakeskin texture |
| Box Chain | Squared off links |
| Link Chain | Individual links of the same shape, with an open middle area |
| Fancy Chain | Chains with a unique link pattern that do not fit into any of the other categories |
Because of the vast amount of chain styles available, it is quite normal to have more than one chain style and length in a jewellry box. This allows the user to create a number of different looks.
Pendants
A pendant is an adornment for the necklace chain. The most popular styles of pendants are crucifixes and lockets, but there are many other pendant styles to choose from. Most pendants are made from precious metals and then decorated with gemstones, precious minerals, or engraved with patterns. Pendants are ideal jewellry pieces to wear with an outfit which has a plain neckline. Pendants can also be worn with beaded necklaces and strand necklaces to add a little pizazz to more casual outfits.
Strand Necklaces
Strand necklaces are a little different from regular chain necklaces, because strands often have some embellishments incorporated into them. A good example of a strand necklace is a string of pearls. Other types of strand necklaces often incorporate gemstones, beads, diamonds, and very detailed metalwork. Strand necklaces are often much more dramatic than chains, but can easily be worn with beautiful silver pendants.
Choosing the Right Chain Length
The length of the chain is really a matter of personal preference, but it is advisable to have a variety of different chain lengths to ensure that the wearer has the perfect style and length for any outfit. When purchasing a silver pendant necklace online, it is hard to see exactly how it will fit. However, in order to find the perfect necklace length, the consumer can measure his or her own neck and then choose a chain that is between 2 and 4 inches longer. This ensures that the chain lies along the collarbone. There are a few different styles of necklace length that work well with silver pendants. The chart below illustrates the different necklace lengths.
| Necklace Length | Description |
| --- | --- |
| Choker or Collar | Typically 16 inches or less; worn around the base of the neck, above the collarbone |
| Princess | Typically 18 inches long; worn over the collarbone, and ideal for displaying a pendant |
| Opera | Typically 24 inches long; usually worn over a shirt or blouse while displaying a pendant |
| Rope | Typically 30 inches or longer; draped over clothing, and often worn looped several times around the neck; rarely used with a pendant |
While there are many different necklace lengths to choose from, some work better with a pendant than others. Some only work well with certain types of pendants.
Popular Pendant Types
Pendants are most often used as a highlight or centrepiece for a necklace, and there are many different styles of pendants available in a variety of shapes and colours. Some of the most popular pendant styles include a crucifix, locket, solitaire, diamonds and gemstones, and all metals.
Crucifix
A crucifix is a cross which has a representation of Jesus on it. The crucifix is an extremely popular pendant style, especially with a wearer who is religious or faithful.
Locket
A locket is a type of hinged pendant that opens. There is usually a small space inside the locket which is often used to store a photograph of a loved one, or another small keepsake, such as a lock of hair. A locket is often given as a gift to a loved one on a holiday such as Valentines day or to celebrate occasions such as weddings and christenings.
Solitaire
A solitaire pendant often uses a single diamond, but other gemstones are also used. A solitaire is a very romantic choice for a timeless gift. A solitaire usually has a very simple setting which allows the beauty and brilliance of the gemstone to shine through. A diamond solitaire pendant is found in almost any cut, but the most popular cuts are princess, round, and pear cut.
Diamond and Gemstone
There are many different styles of diamond and gemstone pendants, and they can be extremely simple, or very elaborate. Three stone pendants often either feature only diamonds, or they showcase a beautiful centre diamond, flanked by two other precious gemstones, such as sapphires or rubies. Modern diamond and gemstone pendants often feature small stones set into a particular shape such as a heart, circle, or star.
All Metal
All metal silver pendant necklaces are a popular design which work well as accessories for everyday wear. There are many different designs of all metal pendants available, ranging from very simple to exquisitely elaborate. Popular styles include circular patterns, monogram initials, and heart designs. For a personal touch, all metal pendants are often engraved with a short message, initials, or a name.
How to Buy a Silver Pendant Necklaces on eBay
Buying silver pendant necklaces on eBay is very easy. Your search should begin on the eBay homepage or any internal page on eBay's website. Once you are at the correct page, you will see a search bar. You can use this to search for the perfect silver pendant necklace. Good search terms to start with are "silver pendant necklace", which will return every item listed on eBay that matches that description. However, if you are looking for a particular style of silver pendant necklace, you can refine your search by using more specific keywords. For example, if you are looking for a diamond solitaire, simply type "silver diamond solitaire pendant &". The results which are returned will be much more specific, which can make it much easier to browse and find the ideal pendant. You can refine your search even further by using the menu to decide on carat weight, diamond colour, condition, price, cut, and many other options.
There may be a time when you need to communicate with the seller of an item; for instance if you have a specific question about details that are not covered in the product description. It is very easy to contact the seller of an item, as every item's listing page has an "Ask a question" link that takes you to an easy-to-use web form that you can use to contact the seller.
Conclusion
Buying a silver pendant necklace should be a pleasant experience and relatively easy. Whether you are purchasing the chain and pendant or simply buying a pendant to add to a chain, there are many options and styles available to you.
A consumer may find that purchasing a silver pendant necklace at an online retailer, rather than a traditional, local store saves time and money. Purchasing a silver pendant necklace online allows the consumer to compare many different styles and designs from different manufacturers side by side, which is something that you are not able to do in a traditional jewellry store that may only stock jewellry made by a few manufacturers. Shopping for a silver pendant necklace on a website such as eBay also gives you the option to browse both new and used jewellry at the same time, which often means you can find an antique or heirloom piece at a fantastic price. This is something you will not often see in a regular jewellry store.