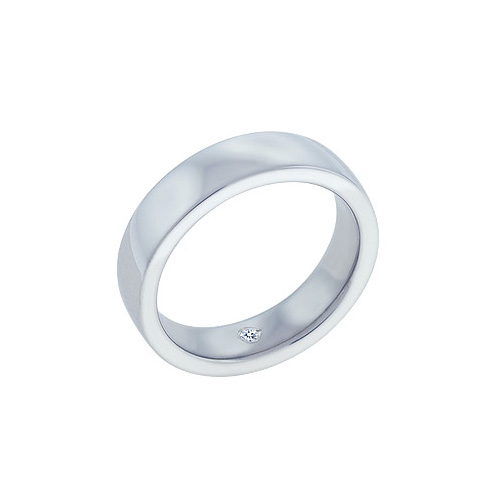 Deciding on a wedding ring is a difficult and important task, which is why the buyer should be informed of all the options before buying. Although silver is not the traditional choice for a wedding ring, many women still opt for this metal for a number of reasons. Silver is an excellent option if a bride prefers white metal jewellery, and it might match her other jewellery and wardrobe better, as well.
Even if a woman narrows her search down to a ring made from silver, there are still many other decisions to be made. For example, the buyer needs to decide on the type of silver because this affects the look, price, and durability of the ring. Furthermore, the buyer needs to think about the design of the ring. This includes the cut of the stone, if there is one, the style of the setting, and the band design. It is also important for the buyer to know how to properly care for a silver ring. Silver is generally not as sturdy as other kinds of precious metals, so the wearer should learn how to properly clean and care for this kind of ring. Buying silver wedding rings is simple by visiting jewellery stores or shopping online at marketplaces like eBay.
Types of Silver
One of the things that needs to be decided is the type of silver for the ring. The choice depends on the buyer's budget, as well as how durable the ring needs to be. Pure silver is way too soft to be crafted into a wedding band. Sterling silver is one of the best options. Sterling silver is made of 92.5 per cent silver by weight along with 7.5 per cent copper. Sterling silver may also be treated with rhodium plating to make it even more durable and shiny.
Silver wedding rings may also be put through a process known as flashing. Flashing occurs when the band is coated with a thin layer of fine silver that is almost pure silver. This makes it look even more beautiful, but it may wear off quickly with everyday wear. Rings may also be made from what is known as Mexican silver, which is a silver alloy that ranges between 90 per cent and 99 per cent silver.
Elements of Design
There are a number of elements that need to be considered when it comes to the design of a wedding ring. This includes the cut of the stone, the style of the setting, and the complexity of the design. With the number of options that are available, a buyer can choose or create a stunning and unique design that is perfect for the occasion.
Wedding Ring Cuts
Many wedding rings are sold in three-piece sets with one of the two rings for ladies containing a stone. Stones for these rings come in a variety of cuts, all of which are stunning. Some of the various options include emerald cut, asscher cut, cushion cut, marquise cut, heart cut, princess cut, pear cut, and round cut.
Stone Cut

Description

Oval with pointed ends

Rectangle with corners that have been cropped

Stair-like layers on the edges

Similar to emerald cut, but it is square shaped

Looks kind of like a throw pillow

Square with rounded edges

Classic shape and a popular choice for wedding rings

Square stone that creates a stunning impact

Shaped like a teardrop

Can make the wearer's finger look longer and more slender

Uncommon cut

Cut in the shape of a heart
Other rare cuts are available in addition to these more popular cuts. A buyer can choose one of these cuts to complement the silver of the ring.
Wedding Ring Settings
When choosing what kind of wedding ring to purchase, the buyer also needs to think about what kind of setting to choose. Setting styles include pave, bezel, channel, and gypsy. These are some of the most popular settings available, but a number of other options are also available.
Setting

Description

One of the first stone setting methods developed

Stone surrounded by a thin piece of metal

Two pieces of metal laid parallel like tracks

One larger stone surrounded by smaller stones that are set close together

Group of stones that are very small and closely set

Stone set flush with the surface of the ring

Smaller stones set around a larger stone

Stone is raised with metal prongs

Catches more of the light

Metal bars separate each stone

Stones are separated by prongs
The settings noted in the chart are not the only settings available. Many buyers also opt for special custom settings for their ring designs, as well. Additionally, the setting of the stone or stones depends on how many stones are included in the ring.
Wedding Ring Designs
A buyer can choose from a wide range of designs that range from basic to complicated. Silver is a good choice of metal if a woman wants a complicated or intricate design because the metal is very malleable. For instance, rings that have an intricate Celtic shape are usually made from silver. Alternatively, a buyer may want to get a two-tone ring that contains both silver and gold.
Advantages of Silver
If a buyer is torn between silver or other metals for a wedding ring, there are some good reasons to choose silver. Silver is a good option for individuals who want a white metal ring but cannot afford one made from white gold or platinum. Over time, silver develops a patina that is very interesting, and it is a good option for everyday wear. Individuals who feel they may want to change rings in the future may also want to think about starting with a less expensive silver ring. Because silver is easier to work with than a lot of other metals, it is often easier to find a larger variety of styles made from silver.
Caring for a Silver Ring
After purchasing a silver wedding ring, it is important to take excellent care of it. Silver is a naturally soft metal, which is why it is important to store it separately from other pieces of jewellery. A silver wedding ring should not be worn during heavy cleaning or any activity that requires strong chemicals, such as bleach or ammonia. Silver can also be damaged by seawater, so it is a good idea to avoid wearing a silver ring while at the beach.
A silver ring should also be cleaned regularly to remove tarnish that builds up. Tarnish is generally unavoidable because it happens when silver reacts with sulphur and hydrogen sulphide in the air. However, wearing a silver wedding ring all the time actually helps lessen the magnitude of tarnish build up because friction between the hands and other objects helps keep the tarnish levels down. Tarnish can still build up in hard-to-reach areas, but it can be removed with a special cleaner and a soft cloth. A ring can also be cleaned by washing it gently in soapy water. The owner should also consider keeping a silver wedding ring in a special bag when it is not worn to diminish tarnish and damage.
Finding Silver Wedding Rings on eBay
If you are looking to find silver wedding rings on eBay, you need to explore the keyword search feature. To use this search method, you simply type keywords, such as 'silver wedding ring&', into the search box. You can then browse through the results for rings that catch your eye. There may be other filters that can help you narrow down the search results so you can more easily find the ring you want. If you are not satisfied with one set of search results, you can continue trying various alternative search terms or browse through the various categories.
If you are using eBay, you should also learn about the feedback feature. This feature helps you determine the reliability of sellers before making a purchase. You should look at both the feedback comments and the overall score when evaluating a seller. After you have made a purchase, you can also provide feedback of your own to let future buyers know about the buying experience you had with that seller.
Conclusion
Although they may not be as common as gold, silver wedding rings are a great modern option for a bride who enjoys the look of silver, wants something to complement her other jewellery, or wants a very intricate design. Finding the right wedding ring is a very important choice, and it is necessary for a bride to make this decision carefully. The buyer needs to think about what type of silver to use because the ring needs to last for many years. Pure silver is too soft to be practical as a wedding ring choice, but both sterling silver and Mexican silver are good options.
There are various factors that go into choosing or creating a ring design that suits the buyer. This includes the style of the setting, the cut of the stone, and the complexity of the design. There are many different options, and it is rather easy for a bride to find a design she loves. A buyer also needs to properly care for a silver wedding ring, and this includes taking it off for potentially damaging activities, as well as polishing it to prevent tarnish from building up. A silver wedding ring can easily become a lasting heirloom with the proper selection and care.