I bought a silverline inverter 700Watt from member transtools on E bay, over a Year ago to use with my wind turbines, and found it an extremely efficient product.
These aren't as cheap as imported Chinese Inverters, often 30-40% dearer , but what IS most impressive with all this range of units, is the level of A.C. "smoothing" , for anyone who hasn't used an inverter previously you connect the crocodile clips onto any 12volt battery, or better a battery bank, switch it on and you get 230 volt, but often if you use them for T.V. or other digital equipment you can sometimes get a faint buzz or one or two lines accross or at the bottom of a T.V. or plasma screen, as they use a "modified" sinewave.This can vary from being barely noticeable at all, to being really quite irratating , depending on the build/ design quality of unit your using.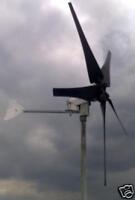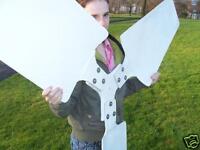 6ft 7 inch BLADES FOR FUTURENERGY AND RENEWABLE PMG'S
MORE ENERGY HARVESTING SURFACE AREA, AND HIGHER RPM THAN NOISY THIN LONGER BLADES.
Not the case with these units, it happily runs the microwave 42 inch T.V., Virgin box, laptops everything i have tried so far with no noticeable drop in performance at all, and no interference as with some Inverters. so if you are considering buying an Inverter i would recommend paying a little extra for one of these.You also get an extra years warranty
Turbine with pmg fitted +black rotor £670 delivered.
1Kwatt plus 2kw@40 mph with 48v pmg (a customers data logging figures) uses futurenergy black rotor & pmg rectifier all wired up ready for mast, plus a U.K. made charge controller above

, including delivery to your door £740.00!!!. SIMILAR ELSEWHERE WOULD COST £1,000 or more.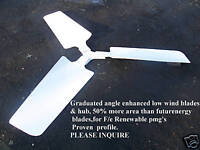 High area proven efficient Blades, for Renewable 2200 or Futurenergy pmg's.