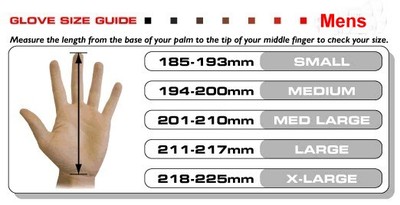 For men's, ladies or junior golf gloves try these simple to use charts to help you choose the correct glove size.
Also remember that if you are buying a glove for a right handed golfer they typically wear the golf glove on the left hand, while left handed players wear the golf glove on the right hand.
Golf gloves are designed to fit like a second skin, snugly around your hand and fingers. The size chart above will provide an estimated size based on measurements; If your measurement is between sizes, choose the smaller size, as golf gloves typically need to have a snug fit.
A well-fitting golf glove provides many benefits when playing a round of golf. Most notably, a golf glove helps the player maintain a firm grip on the club. Wearing a golf glove will also help prevent blisters on your hand and provide moisture control when playing in warmer temperatures.
Golf gloves are soft and comfortable to wear. Your golf glove should fit snug on all areas of your hand. There should not be extra material bunching up on the palm or in between the fingers. Extra material is an indication that your glove is too big for your hand. If the glove is hard to get on or feels too tight, then you might want to consider moving up a size.
Golf gloves come one to a package.