Introduction
So, as you're probably aware, vintage clothes sizing can be a bit of a minefield. Some clothes are labelled, some clothes aren't. Some of the labelled clothes can say a size that's totally different from what it would be today! It could be due to sizes gradually getting larger over the years, or maybe it's just the washing and wearing that's changed the size a bit. Either way, it's difficult to know what's going on.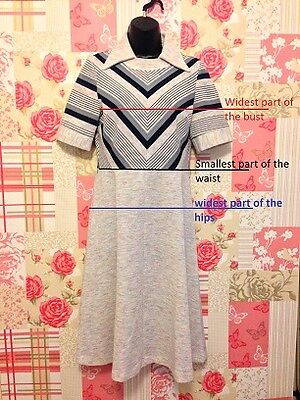 Measurements
As you can see from the image to the left, you need to measure the widest part of the bust and hips, and conversely, the smallest part of the waist. We do this by laying the item flat on the floor, measuring across and then doubling it - i.e. measuring 17" across on the bust would then be doubled to give you a 34" measurement all the way round the garment. The shoulder-to-shoulder measurements are sometimes provided, and these are straight across, and not doubled.

Shown below is a sizing guide that illustrates how these measurements then give you the size (in today's equivalent). Sometimes you will find that the measurements do not fit neatly in to one particular size - it's really best to know your own measurements when purchasing vintage clothing, rather than relying on the size stated in the garment.