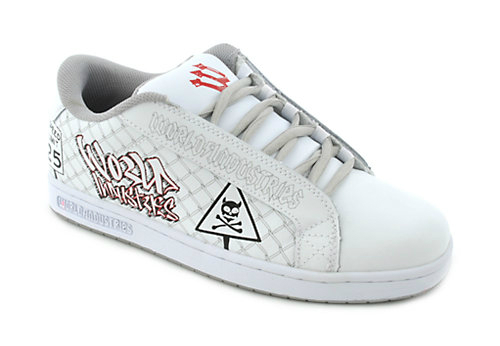 Skate shoes, also called skateboarding shoes, are typically low-cut and designed specifically for the sport of skateboarding. Although these were made for the sport, their trend has spread all around and they are now a popular shoe to wear all the time. The shoes are wide with loose lacing and a thickly padded tongue. Their soles have very little, or no tread but the materials used to make them, like polyurethane and rubber, are designed to still grip the ground.
When skate shoes first came to the market back in 1970, they were considered to be only appropriate for teens and skateboarders. In general, skateboarding was considered to be a youth's sport. This is not the case anymore and the shoes, as well as the sport, are highly popular for all age groups. Keeping in line with the shoes' intended purpose, this guide will focus primarily on how to buy skate shoes that are functional and stylish for skateboarding. Those who would like some skate shoes purely for the look can still buy these, or they can get ones with fewer features for a lower price.
Selecting shoes for skateboarding is a multiple-step process that involves finding the right size, selecting the type of skate shoes, and choosing ones with useful features that will enhance the skater's performance and comfort as well as keep them safe.
History of Skateboarding
Skateboarding is a fast paced sport in which the people ride around on a small board with wheels, and perform stunts and tricks. The boards are also used as a means for transportation on flat roads. Skateboarding actually originated in the 1940s when surfers wanted something to do during the times that there were no waves to ride. Who invented the first board is unknown because multiple people made them around the same time. The first skateboards were wooden boxes with roller skate wheels on them. They then switched to planks and then to the decks of compressed wood we see today. At the time this activity was called "sidewalk surfing".
In 1970, Frank Nasworthy developed skateboard wheels that were made out of polyurethane instead of clay. The improvement in traction and performance was so immense that several other companies put together teams to figure out how to improve the boards even more. Unfortunately, the improvements made it possible for the teens to do more dangerous tricks which lead to many skateboard parks getting sued over injuries. The high amount of liability involved with the parks caused the majority of parks to close and the popularity of skateboarding to decline for many years before coming back in the 1990s.
Get the Right Sizes
Before shopping, it is important for skaters to verify their shoe size. Skateboarding requires a lot of difficult movements, which means that the shoes need to fit perfectly. If they are too large, the feet will move around inside and cause the skater to slip and fall when he loses traction. Shoes that are too small will be distracting and uncomfortable.
Types of Skate Shoes
Manufacturers make four types of skateboarding shoes that each are designed for different styles of boarding. Some focus more on comfort with extra padding for repeated impacts, while others are thinner to allow the person to feel the movements of the skateboard better.
| Type of Skate Shoes | Description | Intended Use |
| --- | --- | --- |
| Slip-On | Slip-on shoes have elastic laces or an elastic band that holds the feet inside. They have no ankle support but allow for the greatest amounts of movement and flexibility | Best used for flatland cruising or mid-ramp skating |
| Low-Top | These shoes come up just below the ankle bone and provide minimal ankle support. The shoes are thinner to allow for a better board feel and some come with a reinforced toe section | Best used for flatland cruising or mid-ramp skating. Avoid high impact skating due to the thin construction |
| Mid-Top | Mid-top shoes have a cushioned heel for impacts and often have a velcro strap that holds the laces down. They sit over the top of the ankle bone and are usually made with high quality materials that provide a lot of support | Ideal for skaters who do a lot of jump tricks |
| High-Top | High-top shoes have the most support and sturdiest construction. Their soles are specially designed with high amounts of grip | Ideal for half pipes and ramps |
Skaters should select the shoes that best match their skating style. Versatile boarders that have multiple styles should invest in more than one pair of shoes that they can switch between.
Features of Skate Shoes
Skate shoes may come with a surprising list of features. These extra features are designed to increase their durability and flexibility so that they can maximise the skater's performance by giving them support and comfort. The chart below discusses the features that the skate shoes can have.
| Skate Shoe Features | Description |
| --- | --- |
| Action Leather | Action leather is manufactured to be highly durable, soft, and scuff resistant |
| Air Cushions | Skating is hard on the feet because of the hard impacts and the long hours of standing. Some shoes have air cushions placed within the heel to help absorb impacts and make it easier to stand for long periods of time |
| Asymmetric Stabiliser | Provides more central support |
| Cup Soles | A combination of rubber and foamed EVA that provides lightweight cushion for comfort and easy movement |
| DGT | Dynamic grip technology consists of light grip around the outside of the soles and tough grip on the heel. The varying grips provide maximum traction |
| EVA | Moulded ethylene-vinyl acetate in the midsole for comfort and durability |
| Fusion Grip Rubber Outsole | Another grip technology that improves control of the board with soles specifically meant to grip the skateboard while still being durable, flexible, and comfortable |
| Lace Loops | Loops that hide the shoelaces so that they do not fall out and get caught in the wheels of the skateboard |
| Shoelace Protectors | A velcro flap that covers the shoelaces and holds them in place |
| STI Foam | Put into the mid and outer soles to offer more protection against impacts |
| Super Suede | A mixture of leather and plastic that lines the inside of the toe cap for extra strength |
| Vulcanised Rubber Soles | Sulphur is added to rubber to make it more durable, grippy, heat resistant, and waterproof. It lasts much longer than regular rubber and sticks to the board better |
All of these features are good choices for serious skaters who want durable, comfortable shoes that will grip their board and still be flexible enough to allow movement. Skateboarding can involve complex movements that have to be precise or the skater will fall. The last thing that should trip them up or hinder them is their shoes.
Where to Shop for Skate Shoes
Since skate shoes have become popular for everyday wear, people can find them at general shops. However, the shoes there are only intended to be fashionable and not functional. For serious skateboarding shoes that will hold up against the wear and tear, buyers have to go to shops that specialise in sports gear to find them. No shop can stock all of the shoe brands with all of the various styles and features, though. There are far too many for any one shop to have. The best way to shop for any item is to see everything that is available before making a purchase decision. This is why a lot of skaters choose to go online to websites like eBay where they can browse through all of the shoes and find the ones that are perfect for them, rather than just buying what is available at their local shop.
How to Purchase Skate Shoes on eBay
Before you go to any shops, visit the eBay website and look at all the skate shoes that are available. The selection is nearly limitless because there are sellers and manufacturers from around the world that list their items on eBay. To view what's available, type the name of what you are looking for into the search bar and then click Search. For general searches, type "Skate Shoes" or "Skateboard Shoes". You can also look for specific items by typing something like "Vulcanised Skate Shoes" or "Mid-Top Skate Shoes". Another way to quickly find what you are looking for is to do a general search and then sort the listings based on your preferences. For example, you can enter in your shoe size, select Skate Shoes in the Style section, choose the condition of the shoes, enter your price range, select the colour, how it fastens, and the preferred brands.
Conclusion
Skateboarding shoes are not only stylish, but they are specifically designed to cater to the needs of the boarders. Almost all sports have their own specific shoes that they use to give better footwork and more comfort. Selecting skate shoes only involves a few decisions, such as which type of shoe to get and what features to include. Beginner skaters who are not on their board a lot may not need to invest large amounts of money in top of the line footwear, while the expert skaters usually find that it is a worthwhile investment. There are a lot of good skate shoes available in all price ranges so let the budget, the style of skating, and the features needed determine which shoes to purchase. Whether purchasing at a local store or on eBay knowing what to look for, and knowing the right questions to ask, is the smartest step of all.