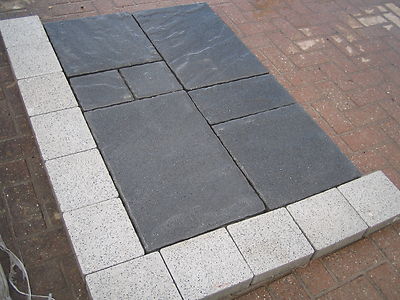 Flags / slabs for use on a drive
For many years, the experienced team here at Barton Fields have had requests for a suitable slab/flag product to lay down as part of a new driveway. Not everybody wants to go for tarmac, block paving, concrete etc. Our advise was that it could be done using a number of products BUT would prove very costly due to the installation and preparation of an adequate sub-base (this is mainly due to the fact that flags and slabs are manufactured to a thickness of 30mm-40mm and are not up to the weight of vehicles without significant sub-base work etc.
Now, Barton Fields have the answer with a new range of Driveway Flag. At 60mm thick the slabs are ideally suited as an alternative to block paving. Not only that, they can be laid quickly and easily on a sand screed (having knibs on the side of the flag enables these to be laid like a conventional block paver).
Available in a choice of colours, the flags also look fantastic with the granite range offering a modern and contemporary driveway solution.
Colours:-
Black Granite
Silver Granite
Rustic
Goldon Blend
For more information you are welcome contact the team at Barton Fields