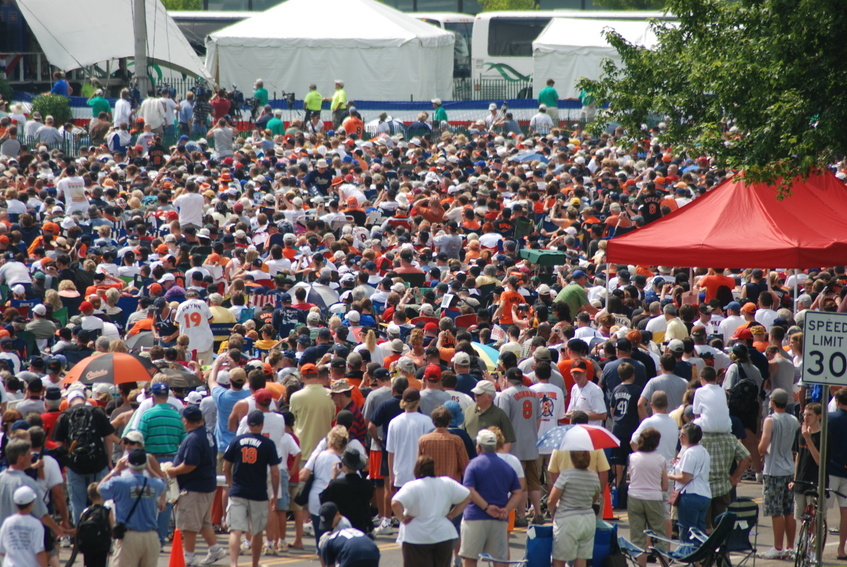 The Slam Dunk Festival is scheduled during the Spring Bank Holiday, a perfect time to get out and enjoy some music with mates. Since its beginning as a club night organised by Ben Ray in 2001, it has grown to a multi-day event that moves from place to place, allowing many times more people to get down with their favourite bands. In 2013 for the first time, a competition was opened to allow several local bands to perform on each local stage.
Of the several locales the festival has included in recent years, the North generally sells out first. Venues typically accommodate at least 5,000 persons and have generally offered 40 or more bands on five to seven stages. Music begins at 3 p.m. most years and continues until 10 or 11 p.m., with an after party continuing until 3 a.m. Festival-goers must be aged 14 and up, with the after party open only to those 18 and older.
Those seeking tickets for the festival should seek them as early as possible, since sellouts are always possible for this very popular event. One good place to obtain tickets, even last-minute, is the eBay marketplace, where people who find themselves unable to attend often put their tickets up for sale. Buyers can also purchase tickets from the venue and bands directly as well.
Venues for the Slam Dunk Festival
The Slam Dunk Festival has been so popular that it has added not just more bands and more hours but more and more venues. Even so, the Leeds site sells out consistently. Here is a summary of how the festival has grown since it moved from an in-house event to a one-day festival to a gigantic movable feast of punk, emo, hardcore, rock, metal, club, R&B, soul, hip-hop, rap, indie, ska, and other music from around the world.
| Year | Location(s) | Details |
| --- | --- | --- |
| 2006 | Leeds Millennium Square | One day, Spring Bank Holiday, 2-10:30 p.m., sold out |
| 2008 | Leeds University Union | One day, Spring Bank Holiday, more than 20 bands, after party for 18-plus starts 11 p.m.; sold out |
| 2009 | Leeds University Union | One day, Spring Bank Holiday, more than three dozen bands on six stages; after party for 18-plus 11 p.m.-3 a.m.; sold out |
| 2010 | University of Hertfordshire, Leeds University | One day at each location, Spring Bank Holiday weekend; more than 40 bands; music from 3-11 p.m. with aftershow continuing to 3 a.m. |
| 2011 | University of Hertfordshire, Leeds University | One day at each location, Spring Bank Holiday weekend; more than 40 bands; music from 3-11 p.m. with aftershow continuing to 3 a.m. |
| 2012 | University of Hertfordshire, Leeds University Cardiff University, O2 ABC | One day at each location, Saturday through Tuesday starting Spring Bank Holiday weekend; more than 50 bands; music from 3-11 p.m. with aftershow continuing to 3 a.m. North sold out |
| 2013 | Main festivals: University of Hertfordshire, Leeds University, Wolverhampton Civic Hall; side festivals: Cardiff University, Wales; O2 ABC, Glasgow; The Academy, Dublin | Main festival Saturday through Monday of Spring Bank Holiday weekend; side festivals preceding and following; more than 40 bands including local bands in festival cities; music 1-11 p.m. at main festivals, 5-11 at side festivals; after parties until 3 a.m. |
During 2012, four festivals were run. In 2013, the organisers pulled back to three main festivals in England with shorter side festivals in Wales, Scotland, and Ireland. Bands from the U.S., Australia, Canada, and France, as well as the U.K., were scheduled to perform in 2013.
Accommodation During Slam Dunk Festival
Slam Dunk is a one-day festival so many people do not even worry about accommodation. There is no need to bring a festival tent along and camping is not available at any of the festival sites anyway. Those who wish to stay over may find many hotels, hostels, and other guest houses prepared to accommodate those who travel to the festival communities. However, for those that wish to keep the party going, campsites are available a few kilometres from any venue.
Accommodation

Features

Relative Cost

Hostel

Lets concert-goers come and go

Enables concert-goers to meet like-minded people more easily

Lets guests stow their bags for safe keeping

Chance of sharing a toilet and bath

££

Hotel

Gives concert-goers freedom to come and go

Private toilet and bath

Possibility of a hotel van transporting guests to and from venue

£££

Camp

No neighbors or bunkmates

Certain sites offer electric and water

Possibility of a shared toilet and bath

Numerous people can stay in the same place to keep costs low

££
Regardless of where concert-goers opt to stay, it is important to keep safety in front of all other considerations. If travelling alone, a shared hostel room might not be the safest options. However, a hotel is a more expensive option for a single room.
Car Parks for Slam Dunk Festival
Depending on the festival location attended, separate tickets may be required for a car park. If driving to the festival, check whether the location offers nearby parking or if a separate ticket must be purchased to the car park.
Festival Merchandise and Memorabilia
The Slam Dunk Festival does not make a large effort at producing merchandise to underwrite programme costs. At the event or in advance, it is possible to purchase T-shirts or vests with official festival logos, as well as an official Slam Dunk wristband. Those associated with past festivals sometimes offer for sale various Slam Dunk Festival music memorabilia, especially posters associated with various bands that played during the event.
Slam Dunk Records
Each year Slam Dunk artists change, with no two years every identical copies of previous years. That said, purchasing records from each year lets the concert-goer enjoy their favourite artists long after the concert is over. Whether purchasing events for the North, South, or Midlands, the sound is different at each venue. Purchasing live renditions, or studio copies, of tunes prolong the nostalgia.
Buying Slam Dunk Tickets on eBay
Even if tickets to a particular Slam Dunk Festival venue have sold out, it is often possible to obtain tickets on eBay. In many cases, people who have discovered they cannot make the event after all are offering their tickets for sale. Some tickets may be on resale by touts, especially those to the North event, which always is a sell-out. In either case, eBay is an excellent ticket resource for anyone who is seeking tickets for this major annual event. Tickets appear in several categories on the eBay marketplace. Be sure to search for Slam Dunk under Concert Tickets as well as Festival Tickets, since some people list it either way. Alternatively, searching for Slam Dunk under Events Tickets brings up all of the listings.
How to be Sure of Receiving Tickets on Time
Buying tickets for the festival is of no use if they do not arrive on time. When purchasing from eBay sellers, check how they are committed to ship the tickets and whether they guarantee on-time delivery. If the seller has made no note about how the tickets are to be shipped, a buyer may use the 'Ask a Question' feature on the Product page to request information and confirm that the ticket has been shipped securely and timely.
Seller Feedback
After each sale, buyers are prompted to leave feedback once their goods have been delivered. If the seller was exceptionally helpful, you should be able to review their feedback from previous buyers. However, if they have been exceptionally helpful to you throughout the process you should also leave feedback to help other potential buyers determine what kind of vendor they are doing business with.
Conclusion
Purchasing tickets can be a daunting task, particularly where there are so many venues and concert options to choose from throughout the UK. Determining what bands are most important, what venue is most convenient, and what accommodations suit your budget and schedule is a delicate task of balancing everything until it comes to fruition. Going with friends or family is a great way to help defray costs of overnight accommodations as well as private transportation costs. However, aligning schedules may prove difficult if the group is too large. Travelling solo may push you to make new friends or meet people at the venue, but be prepared for higher costs of transport and accommodation unless you plan in advance.
Always purchase tickets for the Slam Dunk Festival ahead of time as they tend to quickly sell out. Further, if you know you plan to stay over night be sure to call the hotel, hostel, or camp ground ahead of time as that will also sell out. Whether purchasing tickets on eBay, memorabilia, or autographed pictures and tickets, eBay provides all you need and more. You can easily keep the memory of the concert alive with a few clicks of your mouse. With potential free shipping from top sellers, the decision is a slam dunk.