Getting enough good sleep ought to be simple. You do enough stuff during the day to make you tired, crawl into bed, turn off the lights, close your eyes and wake up eight hours later fresh as a daisy. If only that were the case. The reality can be a very weary world away.

So what can you do to improve your slumber? Thankfully, in this new era of connected gadgets and wearable tech, there are plenty of innovative bed-based solutions to help you achieve longer, better quality sleep each and every night.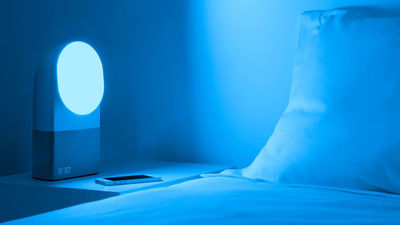 Withings Aura
The French technology start-up has a great range of health tracking tools, but the
Aura
might be the most beneficial to your overall wellbeing. The system features a powerful and advanced motion-sensing pad that slides under your mattress, supplying vital movement, heart rate and breathing data to an iPhone app.
The final part is the connected alarm clock, which uses a gentle combination of light and sound to wake you up during the lightest part of your sleep cycle for a more natural re-entry into the land of the living. All of the data the Aura captures can then be used to better understand trends and adjust your habits in order to get a better night's sleep.
Jawbone Up Wristband and App
Many wearable
fitness trackers
offer sleep tracking by sensing your slight movements throughout the night, converting that into feedback on the length and quality of your sleep.
The Jawbone UP
does just that, giving you a great snapshot that becomes extra useful when you combine it in the Jawbone Up's companion smartphone app with objective insights like the hour you hit the sack, when you had your last cup of caffeine, how many glasses of red you sank watching Netflix, your food intake and your exercise for the day.
You'll learn trends based on the data and be able to adjust your habits to try and improve your sleep. The app also gives you bedtime targets in order to reach your sleep goals. Just like the Withings system, the wristband itself can also act as an alarm clock, waking you gently with a vibration at the lightest part of your sleep cycle.
Nightwave
If you're feeling stressed, or your mind is over-stimulated by watching TV as you nod off, you're probably not going to get a good night's sleep. This is where the
Nightwave sleep system
comes in. It attempts to prepare you by regulating breathing and encouraging you to stay still once you turn out the lights. The gadget projects a blue light onto the ceiling, which slowly rises and falls. The idea is you breathe in and out to the cadence of the light, helping you to relax and quieten your mind… "and the next thing you know, it's morning."
Phillips Wake-Up Light
Is there a worse way to start the day than being rudely awoken from sumptuous sleep by the most annoying sound in the world? Scrambling for the alarm snooze button is enough to ensure whichever side of the bed you fall out of, it's the wrong one. The
Philips Wake-Up Light
offers a gentler approach by mimicking a sunrise, bringing you out of deep sleep gradually before sounding the dreaded alarm.
Beddit Sleep Monitor
A wearable device that you actually don't have to wear, the
Beddit Sleep Monitor
can be strapped onto your bed, on top of the sheets or underneath the mattress protector. The strip runs the width of the bed and is able to measure your heart rate, breathing patterns and movement throughout the night.
After chronicling the times you woke up, it syncs all of the information back to the partner mobile app, which will give you an overall sleep score. The app will then helpfully offer bedtime improvement ideas, such as losing weight to reduce snoring. Charming.
The Alarming Clock
We haven't been excited about an
alarm clock
since those football-themed ones you could through at the wall to turn off. The Alarming Clock changes everything. First of all, the numbers are on the bottom of the clock, so no more interminable clock watching, and secondly this attractive wooden block mimics the sound of a woodpecker tapping against a tree. All you have to do is touch it to turn it off.
The real win is the way it sleep routine setting that helps get you ready for bed and better sleep. You set the clock when you want to wake up and The Alarming Clock will tell you when you need to begin your wind down routine for the evening. It's just like being six years old again.
Sleep Number i8 Mattress
If you're really willing to invest serious money in a better night's sleep, then the Sleep Number i8
Mattress
featuring the company's Sleep IQ technology could be the solution for you. The mattress comes with a remote control that allows you to pre set the firmness.
Then, in the morning you get a Sleep IQ score, reporting on how well you slept, how often you got up, etc. With a bit of trial and error, you can find the perfect firmness to translate to the best night's sleep. It also has two chambers for you and your partner to set individual levels, but for $3,500 you'd expect it to, right?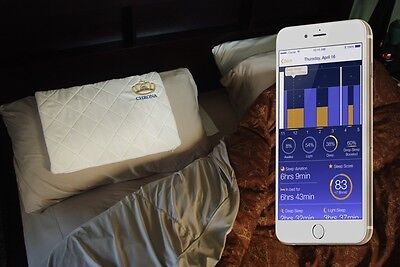 Chrona Sleep Elite

Forget those gimmicky pillows with the terrible built in speakers, this is the smart sleep you've been waiting for. The Sleep Optimisation System will help you fall into a deeper sleep by sending you low-frequency sounds, or help you wake up with higher frequency sounds. The idea is you get better quality sleep in the same amount of time and won't feel groggy when you wake up.

A memory foam insert full of advanced sensors, that means it can be fitted to any existing pillow without having to switch our your favourite head rest, the Chrona Sleep Elite, which will cost a cool $169 when it launches.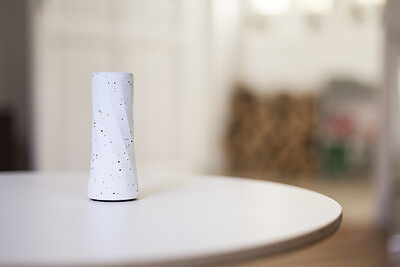 Hyperalarm

Getting a great night's sleep is fantastic but you also need to make sure you're not zedding so well you miss your wake up call. The Hyperalarm concept from Think Big Factory is designed to ensure heavy sleepers don't ignore their alarms.

It uses high frequency sounds with interwoven pitches, which your brain hates so much you can't fall asleep again. It is also connected to your phone via Bluetooth, meaning the only way to turn it off is to physically get up and take your phone to another room. The company idea is seeking Indiegogo funding to help make this tough love technology a reality.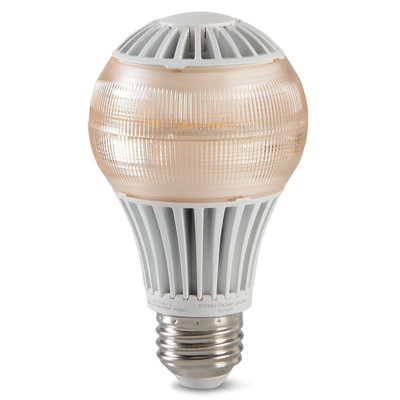 The NASA Sleep Promoting Light Bulb

If it's from NASA it's got to be good, right? I mean, this is the lightbulb the Space Agency uses to help astronauts sleep… in space. The makers, the awesomely-named Hammacher Schlemmer, suggest you use the bulb like a bedside lamp for half an hour before you go to sleep. Why? Because it encourages the production of melatonin, the hormone that aids sleep, of course. Where as other bulbs emit blue light that hinder sleep, the NASA bulb reduces it by 50 per cent. Sleep like an astronaut!