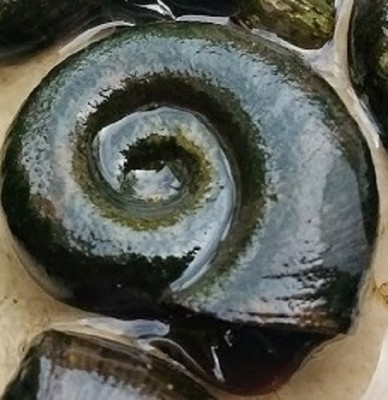 Snails are often overlooked but they are an important part of any pond's ecosystem. They clean up the environment and recycle material by feeding on algae, decaying plant leaves, dead animal material, and uneaten fish food. They are themselves eaten by larger animals, such as big fish and some aquatic birds. Plus they are also rather cute and fun to watch! If you don't have the space or the time to keep fish in your pond, how about having a few shelled residents - several of our native snails are large and some are surprisingly colourful.

Ramshorn - Planorbarius corneus.

The largest British ramshorn species, Planorbarius corneus reaches a maximum adult size of more than 3cm (over an inch) at the widest point of the shell. They are dark-shelled with a jet-black body, and found in still or slow-moving water across most of England. They eat algae attached to stones or pond sides, as well as the decaying leaves and blooms of plants, but, unlike some species, will not eat significant amounts of live plants. Great ramshorns are hermaphrodites, so any two snails can breed with each other.

Great Pond Snail - Lymnaea Stagnalis
Great Pond Snails will be a real asset to your pond or cold water aquarium, as they will keep algae under control, eat other decaying matter and keep blanket weed down. No matter how severe your algae problem Lymnaea Stagnalis are a recognised ecologically safe way to control algae and rehabilitate your pool without chemicals. Great Pond Snails can live in and clean up pools that are too oxygen-poor for fish to survive. They are extremely hardy and can even cope if your pond freezes over during the UK winters! They breed approximately twice a year and can reach up to 60mm in length over a few years, depending on the size of your pond.