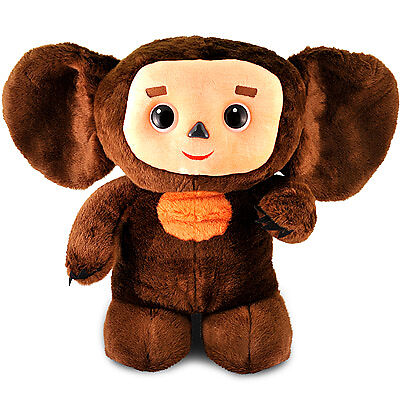 From the Furry to the Fantastic
Firm friends for life can be hard to reach as we grow older and move around. But for kids, oftentimes their best friend is no farther than an arm's length away. Soft toys make wonderful companions for youngsters and can provide hours of enjoyment for older collectors still susceptible to a good dose of cute.
eBay lists an extensive range of soft toys, from new soft toys to second-hand, including a large variety of vintage and rare collectables. This guide will serve as an introduction for some things to consider when buying soft toys.
Soft Toys for Toddler's Temperaments
As any parent will no doubt know all too well, children grow up quickly. A huge array of skills and abilities develop as our infants mature, and soft toys can play an important role in helping encourage them in this. Language, problem solving and social skills can all be positively influenced by appropriate soft toys at the right stage in an infant's development.
It's good to research the different abilities that emerge and adapt as a child grows, then think creatively about which sorts of toys may excite their growing faculties most. Of course, many soft toy manufacturers produce toys with specific age brackets in mind. Soft teething toys, soft toy rattles and hand puppets are all examples of great toys suited to stimulate different stages of a child's development.
Shopping for Vintage and Rare Soft Toys
Not every soft toy is intended to end up gnawed by the happy mouths of toddlers, or dragged around parks in a pram. Thousands of vintage and rare soft toys valued for reasons other than their play-factors are listed on eBay.
The values of collectible soft toys are determined by a number of factors. First and foremost in these is the rareness of the soft toy; it all depends on how many were made and how many are available to buy. Limited edition versions of soft toys from well loved brands can command impressive prices. The second consideration is the condition of the toy. Soft toys sometimes come in packaging - especially true with limited editions. Tags may be another important factor for certain brands. The ultimate mint condition soft toy should be as close as possible to brand new - all packaging, tags and labels included and unblemished. In general, the better the condition and the rarer a soft toy is, the greater its price.
Safety with Soft Toys for Kids
Children seem unique in their abilities to dismantle most anything the minute you're not watching. It's from this starting block that soft toys for children are commonly designed.
There is nothing more important than a child's safety, which is why regulations exist to help protect kids from unsafe toys. All toys bought and sold within the EU must conform to the Essential Safety Requirements of the Toy Safety Regulations 1995. These are designed to ensure that:
Physical & Mechanical Properties
Must be sufficiently strong to withstand the stresses to which it would normally be subjected;
Be designed & constructed so that any edges, protrusions, cords, fastenings or moveable parts do not inflict injury;
Toys & component parts intended for use by children under 36 months shall be of such dimension to prevent accidental swallowing or inhalation;
Toys & their packaging must not present a strangulation or suffocation risk;
Flammability
Toys are to be composed of materials which are not readily flammable and inhibit the spread of flames.
Paint and Protective Coatings
Levels of Antimony, Arsenic, Barium, Cadmium, Chromium, Lead, Mercury and Selenium must not exceed specified maximums.
Electrical Properties
Toys must not have a power source exceeding 24 volts and must be adequately insulated and protected to prevent shock or burns.
Hygiene
All toys must meet hygiene and cleanliness requirements to prevent the risk of infection, sickness & contamination.
Radioactivity
Toys must not contain radioactive elements likely to be detrimental to the health of children
It is only when a soft toy satisfies all of these requirements that it can obtain the 'CE' mark. The 'CE' mark indicates that the manufacturer and importer of the toy judge it to adhere to all the above requirements. The mark should be clearly and permanently displayed on packaging and the toy itself, and also list the manufacturer or importer who has decided the toy meets the Essential Safety Requirements. Toys unsuited for infants less than 36 months old should also carry this additional warning beside the 'CE' mark. Most commonly these safety marks are included on a small fabric label attached to the toy.
If unsure about a soft toy's safety marks, or have any other questions about the item, eBay make getting an answer very easy. Simply go to the profile of the seller of the item and click on the "Ask seller a question button" which is on their profile page.
Making Your Own Checks
The final decision that a soft toy is suitable for a child rests with their parent, carer or guardian. Different toys vary in safety for different age ranges. More complex toys suited to 7-8's are oftentimes not suitable for newborns. Do research; double check the integrity of the toy before judging whether it is suitable for an infant or young child. This is especially important for second-hand toys which may have already been worn down through previous play.
When Things Get Messy
It's common knowledge that young children and babies have nearly the same capacity as adults for messing things up. Soft toys intended to be played with by infants will inevitably get mucky at some point, so it's best to check they're cleanable when buying.
Sometimes a small dust off with a brush or vacuum is enough to freshen up a toy. For muddy puddles, ketchup or PVA glue accidents though, the toy will probably have to be washed. Both the outer fabric and the inner stuffing need to be suitable if you're to give the toy a good wash with detergent in the washing machine.
Most soft toys display their cleaning information on a small label attached to the toy, usually next to the 'CE' mark label.
Towering to Tiny
Soft toys range in size from tiny pram attachments to towering plush toys bigger than most children. The scale of an item is not always clear from pictures of it, so to make sure to buy a soft toy a child can snuggle, remember to check the size of the toy in the item description.
How to Buy Soft Toys on eBay
Now that you've worked out which soft toys you want, find them quickly on eBay. To start shopping, go to the Toys & Games category. Click the Soft Toys & Stuffed Animals portal.
Categories: The Categories list on the left side of each page will help narrow down the listings by item type. There are links for Disney, Unbranded, Walt Disney, Russ, Gund and Steiff . As you refine your search you'll be able to narrow down your choice by subcategory.
Product Finder: Use the Soft Toys Finder to quickly narrow down item listings by type of Sub-Type, Brand, Theme, Status, Type, Material and Age.
If you can't find exactly what you want, try browsing eBay Stores or tell the eBay Community what you're looking for by creating a post on Want It Now, or save a search on My eBay and eBay will email you when a matching item becomes available.
Buy Soft Toys with Confidence
Make sure that you know exactly what you're buying and understand how eBay and PayPal protect you.
Know the Item
Read the details in the item listing carefully.
Remember to add delivery costs to the final price. If buying a high value item, check that the seller will insure it until it is delivered.
for more information, click the "Ask seller a question" button on the seller's profile or the "Ask a question" link at the bottom of the item listing page.
Always complete a transaction on eBay (with a bid, Buy it Now or Best Offer) otherwise you will not be covered by eBay Buyer Protection.
Never pay for an eBay item using an instant cash wire transfer service like Western Union or MoneyGram. These are not safe ways of paying someone you do not know.
Know the Seller
Research the seller to feel safe and positive about every transaction.
What is the seller's Feedback rating?
How many transactions have they completed?
How many positive responses do they have?
What do buyers say in their Feedback?
Are they positive about the seller?
Most top eBay sellers operate like retail shops and have a returns policy.
Do they offer a money-back guarantee?
What are their terms and conditions?
Buyer Protection
In the very unlikely event that you do not receive your item or it is not as described, eBay Buyer Protection covers your purchase price plus original delivery cost.