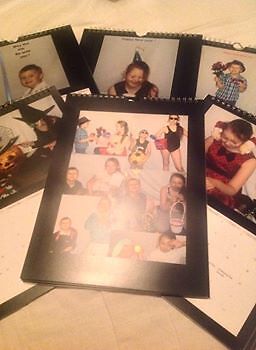 A personal gift for christmas...
Let be honest we've all been here.... We want to get something special from the kids to give to their grandparents for Christmas but get stuck for ideas! So they end up with the same old things, socks, chocolates or some smellies!
So i had a good think this year and decided to make something that would be useful but also personal to both them and us! I decided to do a calendar which contained pictures of the kids showing them in different themed scenarios for each month.
Where to start?
I'm always a great believer of writing down ideas, so i started by thinking of what each month could be represented with and created a list. There are also many websites that give great ideas and suggestions you can use. Below i have listed a few ideas to get you started.
Any Month as appropriate you can use kids Birthday's or grandparents Birthday's
Jan * Winter * New Year
Feb * Valentine 's Day
Mar * Mother's Day * Easter * Spring time / lambs * St Patrick 's Day
Apr * April Showers * Easter
May * May Flowers * May pole * Star Wars day! / "May the 4th be with you"
Jun * Father's Day * Wimbledon * Summer / Holiday / Beach theme
Jul * Wimbledon *Summer / Holiday / Beach theme
Aug * Schools out for Summer! * Summer / Holiday / Beach theme
Sep * Back to School * Fall leaves/ foliage theme
Oct * Halloween * Fall leaves/ foliage theme
Nov * Harvest theme * Fall leaves/ foliage theme
Dec * Christmas / Hanukah * Winter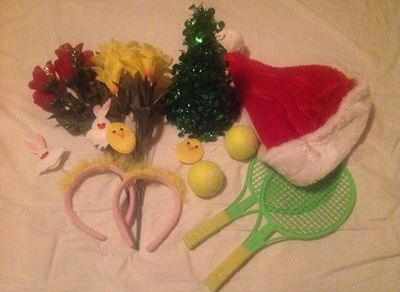 Source your props
Now this part can be very daunting especially when trying to source a Christmas hat in June or an Easter egg in November!
My top tip here is don't panic! You'll be surprised what you can find on eBay. You may just find some Easter head Boppers being sold in December as someone has finally decided to have that clear out!
However start with the basics, think of what props you may already have stored away in a cupboard or the loft then start searching for those you don't have.
If the worst happens and you really can't find what you need don't be afraid to compromise or have a think about how you might be able to make them. Again eBay can be a great source for craft materials and have a search online for tutorials on how to make them.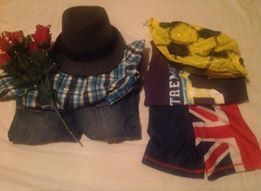 Preparation is the key!
Never was a truer word said than "never work with animals or children"
My top 10 tips for a successful photo shoot
1) Be prepared in advance by ensuring you have all the outfits and props for each month set up and ready to go.
2) Have an idea of what you want to achieve from each picture. If necessary create a story board but be prepared to change if the kids won't conform to your ideas
3) Leave the messy pictures until last. If you plan to use confetti or chocolate its better to leave them until last than have the kids waiting around whilst you clean up!
4) If you have more than one child get help by a relative or friend to help get the kids ready for each shot
5) Mix and match the outfits then shoot the months which incorporate the same outfits / props back to back. There is no reason months cannot be shot out of order!
6) Create a neutral background for shots that can be taken inside. A sheet or blanket can be pinned to the wall to give a better image.
7) Use your natural surroundings, if its summer use your local beach or park for the picture or if its Autumn use the changing leaves as a natural back drop!
8) Take lots of pictures, its better to have 3 or 4 shots to choose the best from than take one then notice something is wrong after the event
9) Allow plenty of time to take your pictures, don't expect to be finished in an hour and find you have to rush to finish
10) Don't be afraid to stop! If you find your kids are becoming distracted or bored of the process, its better to stop and carry on another day than continue and end up miserable faces on the pictures.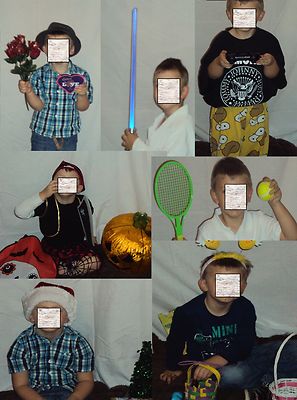 Create your calendar
Now this part depends on how creative you want to be.
Firstly you'll need to select 12 to 13 pictures for your project. One for each month then one for the cover alternatively you can make the 13th "cover photo" picture a combination of the pictures you used for each month as shown.
Once you select your photo's its time to make the calendar......
There are plenty of free software packages available to create and print your own calendar or you can buy calendars ready made for you to slip your printed photos into.
However if you want to go for the more professional look there are several online sites that allow you to upload your pictures too, use their editing software to create your calendar then they will send the completed project in the post. I would recommend comparing these sites for prices and offers they are running at the time.
Whichever method you use you'll now have an unique gift for your parents / grandparents to cherish and hopefully you and your kids had lots of fun making it too!


Thank you for taking the time to read my guide. I hope that it has helped you with some ideas on how to make your own personalized calendar gift and don't forget the most important part is to have fun!...

Written as part of a bzzagent campaign