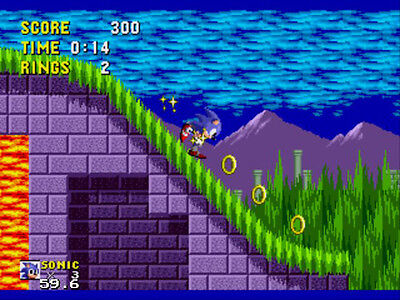 Sonic the Hedgehog Review
The classic platformer that sold the Mega Drive and made Sega millions overnight. Sonic 2 and Sonic 3 are superior games in some respects, but it's the original that boasts the iconic levels and hits all the right nostalgia buttons when played today. As a bonus, Sonic the Hedgehog doesn't feature the annoying sidekick characters that would come to dominate the Sonic franchise in later years. Still thoroughly enjoyable, it has kept it's appeal and is the first game on the Sega bundles on Xbox, Wii, PSP, PS2 and PS3 consoles.
There was a real rivalry back in the Nineties as to what was the best game - Mario on the Nintendo or Sonic on the Sega. For me I think Mario just and I mean just beats Sonic. The thing that swayed it was the extra characters that Sonic amassed versus the characters that Mario amassed. The secondary characters were much better on Mario and there is no comparison to Mario Kart vs. Sonic Racing.

Played it today for this review and when you load the cartridge, you hear the 'SEGA' voice play and then Sonic zooms across the screen, then the sound of rings and you are taken back to your childhood. This is certainly one of the best games to ever grace the Sega Mega Drive and a must for any true gamer to have.