I have recently purchased one of these amazing phones. But is it a phone with a camera, or a camera with a phone? Either way I am delighted.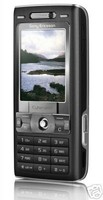 Technical specification:
3.2 Megapixel camera
64 Mb internal memory
AMR ringtones
Bluetooth technology
colour screen
Dual Band on 3G networks
FM radio
infrared connection
Java capable
MP3 player
polyphonic ringtones
Supports Sony M2 card 1 Gb
Tri Band on 2G networks
Video Calling
Video Messaging
Weight 110g
Size 105 x 47 x 22 mm
talk time 7 hours
standby 14 days
Also known as the Cyber-shot, the camera has autofocus, image and video stabilizwe and built-in Xenon flash which is always ready. There is a feature called BestPic where 9 photos are taken in quick succession with one press of the button (amazingly 4 before you pressed the button). You can choose the best one or save them all. There is a panoramic feature, but not the standard one. You take your 1st photo and the righthand part of the photo is shown in the lefthand part of the screen so you can line up the 2nd photo. Sounds complicated but is really easy to use. You end up with 3 joined up photos. There are many other features which are simple to follow. I have not used a digital camera before but have had no problems using it.
The phone itself is beautiful. A friend of mine bought the k750i a couple of weeks before I bought the k800i. I thought mine was basically the k750i with a better camera, but it is so much more. Although on the market only a year later is looks far more modern. As my friend says, the k800i is sleeker and sexier. The software has been upgraded and looks more attractive. My previous phone was an ancient Nokia 3310, so this was quite a jump for me, my first time with icons. But it is really intuitive to use. I have hardly referred to the manuals at all. Are you used to having several entries for one person e.g. Dave home, Dave mobile, Dave work? Well not any more, you have one entry for Dave then scroll sideways for his different numbers.
The radio and MP3 player means that you can at last have all your gadgets in one device. MP3 was another new one for me, but I have got tunes on it no problem. If you think Bluetooth is all about wearing an earpiece that makes you look like a Borg then think again. You can use bluetooth to send messages, photos, mp3s etc wirelessly up to 10 metres and for free.
Have I conveyed yet just how much I love this phone? I've only had if for just over a week, so there are features I haven't used yet, but would be happy if it only had what I've used so far.