Soundware Beginners' Guide to...
...Music Software.
There is a huge range of music software available on the market. Most claim to be the only piece of software you will ever need to buy, but in reality each has its strengths and weaknesses. Before choosing music software, think carefully about what you want to be able to do. Do you need to record your own instruments or vocals, or do you want to create tracks using loops or create your own synthesized sounds? Different software is also designed with different genres of music in mind; do you have a specific interest in rock, hip-hop or dance music? Or do you simply want to make accompaniment tracks to play along with or make spoken word recordings? Budget is also a consideration - many high-end music software manufacturers make cut-down versions at a fraction of he price, but often more advanced features are removed in these versions.
Types of Music Software:
Sequencers
Cubase SX3
A sequencer in its most basic form allows the user to program MIDI commands to make music. However, most sequencing packages are much more complex than this, and include the option to use VST instruments to produce higher quality sounds, to import samples and loops, use soft synths, record audio tracks, add effects, mix and export finished tracks.
Examples of Sequencers:
Steinberg Cubase - Audio and MIDI recording and editing, available in SX (professional), SL(intermediate) and SE(budget) versions.

Ableton Live
- Audio and MIDI recording and editing, includes remixing features useful for DJs.
Apple Logic
- Audio and MIDI recording and editing - Mac only. Available in Pro and Express (budget) versions.
View Sequencers in our Shop...
Soft Studios
Reason 3.0


Some pieces of software take the advanced features of modern sequencing software a step further, by creating what is effectively an emulation of a hardware-based studio. They include a sequencer as well as various loops, samplers and VST instruments, allowing entire songs to be produced within one program. Designed to be easy to use, they often feature detailed graphical interfaces based on hardware studio layouts.
Examples of Soft Studios:
Propellerhead Reason
- Rack-based soft studio – very user friendly. Also available – Reason Refills: sound library expansion packs for Reason.
View Soft Studios in our Shop...
Audio Editors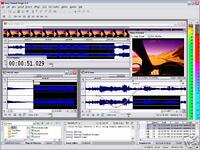 Sound Forge 8.0


Audio editors allow you to do just that – import and manipulate audio files. Good for cropping, converting, removing clicks and pops and adding effects to many different audio formats.
Examples of Audio Editors:
Sony Sound Forge
- Professional digital audio recording and editing application. Available in Professional or Lite versions.
View Audio Editors in our Shop...
Samplers
NI Kontakt 2.0


Samplers are effectively programs that play back segments of digital audio. They can manipulate the audio to play back at different pitches, and some can perform more complex manipulations such as envelopes and filters. Most have all the same features as hardware samplers, as well as being more flexible and user-friendly. Soft samplers can often be incorporated as VST plugins into sequencing packages.
Examples of Samplers:
Native Instruments Kontakt
- Sampler incorporating five different modes, enabling classic sample playback as well as more complex pitch shiftng, time stretching and drum loop slicing.
View Samplers in our Shop...
Effects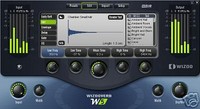 Wizooverb W5


Sequencing software usually comes with effects packages of its own, but separate effects can be bought and added to the sequencer as VST plugins. This allows you to use the external software within the sequencer as if it was part o f the same program. Effects plugins range from reverb and distortion packages to advanced EQ's and vocal tuning applications.
Examples of Effects:
IK Multimedia CSR Classik Studio Reverb
- A suite of four high-end studio-quality reverbs modeled after popular outboard classics.
View Effects in our Shop...
VST Instruments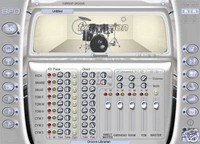 Fxpansion BFD
Virtual instruments emulate real instruments, and range from software emulations of vintage synthesizers to full orchestral simulations. They often use high-quality sound samples recorded from real instruments, or may be fully synthesized. Most virtual instruments can either be used as standalone applications or integrated into sequencers as VST instruments.
Examples of VST Instruments:
Fxpansion BFD
- High quality drum samples recorded from real kits. Each sample is recorded with up to 11 microphones at once, and allows you to change the sound by adjusting the mic positioning! Includes extensive groove library.
View VST Instruments in our Shop...