A Guide and some tips not in the instructions.
The SpinClean record cleaning machine is an inexpensive, effective and simple to operate cleaning system for the main sizes of vinyl and (shellac) 78rpm records. It comes complete with instructions, rollers, brushes, cleaning fluid, cloths, cleaning well with lid and is in a useful storage box. The Cleaning Well is very stable and even with a disc between the brushes is difficult to tip over on a flat level surface. Replacement fluid and brushes are available from the manufacturers. You need to hand wash the cloths to increase their absorbency before first use and wash from time to when they look grubby.

The instructions say tap water is acceptable but I really wouldn't. Tap water and bottled spring water contain various impurities that might be good for humans but are exactly not the sort of thing to rub into the surface of your precious vinyl. Use distilled water, sometimes called de-ionised water, available from hardware and car accessory shops. Or, if you have a dehumidifier the water condensed out of the atmosphere is also good and pure. Pour one dose of the magic SpinClean fluid over the brushes then add the water over the brushes (to get an even mix) into the well up to the 'fill to' line that keeps the solution clear of the record label.

Think about the relative muckyness of the records you are going to wash and start with the cleanest ones. Slide in the record between the brushes onto the rollers and turn steadily and slowly by hand three times one way, then three times again the other way. As you clean you will see the dirt collecting at the bottom of the well. I've found that more spins don't really add make a record cleaner. However, once cleaned if you think it could be better when you play the record, a second session will usually improve the sound.

The level of solution will drop significantly if don't drain surplus fluid back into the cleaning well after spinning, so hold the record over the cleaning brushes for a few seconds after you pull it out. Rinse the disc by hand (buy and keep a plastic bowl dedicated for the purpose) and again use de-ionised/distilled water.

Get a toast rack (the thick wire sort no sharp edges see photo) to stand the records up in to drain for 5 minutes-ish. Spin 5 or 6 discs and let them drip while you dry the first. Use a linen tea towel to rest the vinyl on and then dry each side with the 2 cloths provided. I use one as dryer and the other as a final dry and polish. It is advisable to leave the disc to air dry for 24 hours before playing. (That is the one drawback with SpinClean. Where do you leave up to 20 12" records to dry for a day? I haven't had a problem with not doing this.)

Final stage; with a carbon fibre record brush wipe the vinyl for 3 revolutions as a final dry. If you feel the brush drag or it comes back wet to the touch you are not drying thoroughly enough with the cloths. Leave to air dry for as long as you can.

Now play your freshly cleaned and polished vinyl. You may find yourself smiling widely at the new clean sound and extra detail! SpinClean is best used with old and well cared for records, even these pick up a layer of dirt that can muffle the signal, and a SpinClean really does bring an old favourite back to life. Moderately dirty but undamaged records also fair well, a SpinClean session restoring that warm and clear vinyl brightness. More severely dirty records should be prewashed to prevent the brushes picking up grit from the muck that they will only grind into the next disc cleaned.

Overall results are impressive but lets get one thing clear. No system on earth can repair damaged records. Cleaning a badly scratched or worn record can make it sound worse because removing the grime will reveal more noise (scratches and wear) as well as opening up the signal. How much that noise bothers you is always a personal call.

I have tried cleaning one very old 78 with moderate results. I think 78s will respond better to a more vigourous brushing than that provided by SpinClean. Some shellac 78's are best kept away from water altogether.

For any collection of from new well cared for vinyl I'd rate SpinClean as a near must have. Equally if you buy a lot of vinyl of uncertain history (eg been kicking around somebody's boot sale box for years) again SpinClean is a pretty near must have. I've used my own effective cleaning system for some years now for new purchases of old vinyl but SpinClean is much better. The secret is probably the SpinClean fluid but the whole system is well designed and works very well.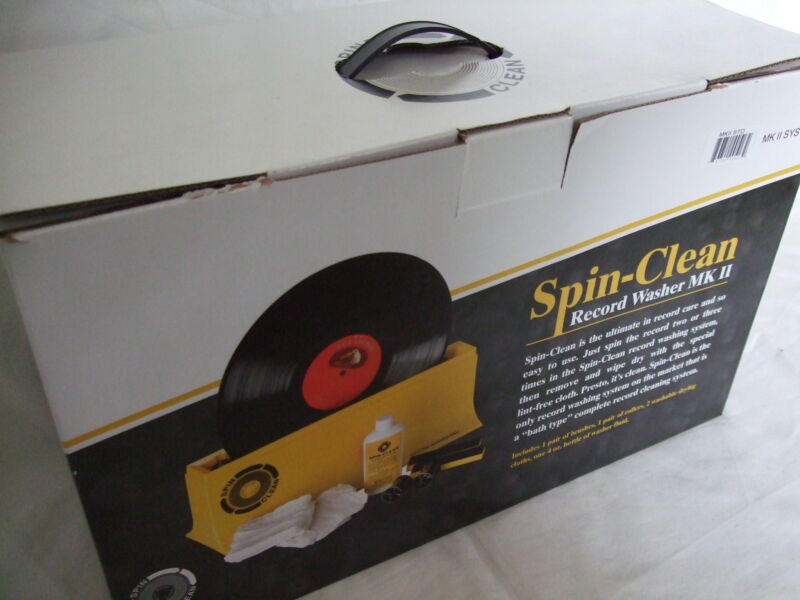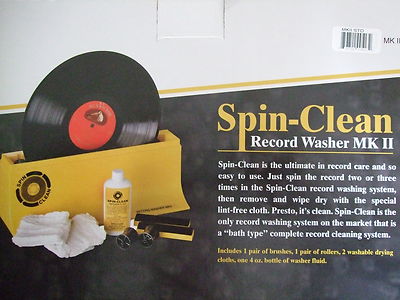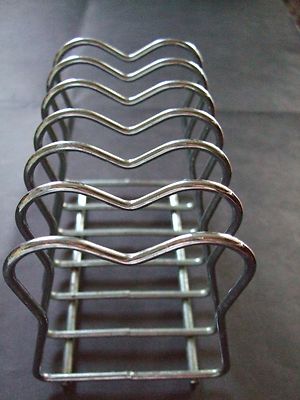 Add a caption
Box illustration shows contents. A round wire toast rack is a great help for draining disc after rinsing.