Spink Standard Catalogue of British Coins
Previously
Seaby's Standard Catalogue of British Coins
Coins of England
Publisher: Spink
New 2007 Edition
As we published this guide, the new 2007 edition was due for imminent release, and it has now arrived in stock. This guide is based on the 2006 and previous editions (all 40 of them).
The 2007 will, for the first time ever, be in full colour. The cover price will also increase from £20 to £25, at which price we believe it will still represent good value.
We will add further comments to this as we get time to examine the new edition, but it looks good so far.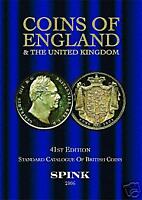 Coins of England Front Cover 2007 Edition
The Coin Dealers Bible
First published in 1929, we have been using this book, almost as our "bible", since the 1962 edition. It is simply the most complete, accurate, and reliable catalogue for British coins. Over the years, many other catalogues of British coins have been produced, some easier to use, some with extra features such as mintage figures, others less expensive, but none have yet matched "Seaby's" as it is still often called, despite having been published by Spink for a number of years now.
It would be difficult to find a British coin dealer who does not use a copy of this book.
The 42th - 2007 Edition
The 2007, or 42th edition has been substantially revised with new illustrations and many other small changes throughout, in addition to the annual updating of current prices, and is now in full colour.
Contents
It is worth reading the opening sections of the catalogue before starting to use it.
The introduction explains the very logical arrangement of the book, explains that the values given in the book represent typical dealers selling prices, and explains the main factors affecting value, including condition and demand.
There is a brief but useful "Beginner's Guide to Coin Collecting", which gives very sensible and useful advice.
There is a "Market Trends" review.
The main portion of the book is a priced catalogue of coins from Celtic, through coins of Roman Britain, British imitations of Roman coins, Anglo-Saxon, hammered, milled and modern coins up to year 2000, including proof and specimen sets.
Most coins are priced in at least two different grades, some in as many as four grades. This is a useful feature because it reminds the reader, particularly those who ignore the advice to read the introduction, that coin values depend very largely on their state of preservation.
The paragraph or two at the start of each period or reign are a concise and useful source of background information about the period.
Well illustrated. Incidentally one of the most stolen books from British libraries!
Now about 550 pages.
Still good value at £20 - Increasing to £25 for the 2007 edition.
No Longer Available by eBay Auction - Thanks to PayPal
As from late April 2008, we will no longer be offering this excellent book by action on eBay. This is because eBay are making it mandatory for almost all sellers in almost all categories to accept PayPal, and to do so at no extra cost despite the extra charges (up to and sometimes more than 5% extra), and extra administration time, and its well-known lack of security for both buyers and sellers. Although we may decide reluctantly to accept PayPal for a much reduced range of items, we believe eBay's actions are uncompetitive, an unfair contract term, unethical, and only possibly because they now have an almost universal monopoly of internet auctions.
Other Guides
You may be interested in viewing our other guides:-
CGT Capital Gains Tax Exemption on Gold Sovereigns Britannias UK Coins

How to Photograph Coins - Advice, hints, tips & more...
1780 Maria Theresa Silver Thaler Restrike Trade Coin

Krugerrand - One Ounce Investment Gold Coin

Buffalo - 9999 Fine Gold US Bullion Coin - 24 Karat Au

Pink Diamonds - One of Nature's Rarest Gemstones
Sniping - Is It Good Strategy or Tactics for Winning eBay Auctions?
£2 Two Pound Coins Queen with Necklace Rumour & Facts

Winning Auctions - Or Spending Money?
Definition of Investment - VAT Exempt (Tax Free) in UK & EU

Second Chance Offers on eBay - Should You Use Them?
Spellings - Is Good Spelling Important - A Few Howlers

Famous People (Celebrities) Who Collected Coins

Heads Upside Down on Coins - Medal & Coin Alignment

Identifying Coins, A Brief Guide to Help Identify Coins

BNTA - The British Numismatic Trade Association

Gold Coins Which Are Not Gold - Including German & € Euros

Postage Packing Shipping Insurance Charges - Fair or Excessive?
The Difference Between Proof and Uncirculated Coins
London Gold Fixing Price
Gold Bullion Bars For Investment

Author & Copyright Notice

This page was written by Lawrence Chard of Chard Coins, and is extracted from our "Gold Sovereigns" website. We hope you find this page useful and informative, please feel free to use the information we have provided, but please note we retain copyright on all contents including both textual content and images. Please do not copy our text or images without our prior written permission.
Was This Guide Useful?
If you found this guide interesting, informative or useful, please spare few seconds of your time to vote for it by clicking on the "Yes" button below, thanks.