Hi, I'm BBChaz!
I'm the webmaster for the website
http://www.Billionaire-Boys-Club.co.uk & for a new site http://www.BeUnequaled.com

My website centres around helping people find authentic BBC, Ice Cream and A Bathing Ape apparrel and has since grown to help you find authentic items from other limited edition/exclusive brands.
I will be updating this guide whenever I get the time to add new information so keep checking back!
You may have seen other guides that help you spot fakes that have actually referenced my site, but there are so many more things to look for!
This review
has the main details for spotting fake BBC T-shirts and Ice Cream shoes. The information was actually taken from the following webpage:
http://www.billionaire-boys-club.co.uk/realfake.php
OG / Season 0 / Pre-launch
The above guide only deals with the original BBC T-shirts, which can be seen in the picture below.
(picture taken from http://fashion.cchana.co.uk)
Fakes of these shirts have become less common over the past year since the brand officially launched. Only 5900 (of each colour I believe) were created. This makes the chances of finding a 100% authentic one very hard, but not impossible. The most important thing is to inspect the quality of the logo. The Real or Fake section on my site also has a flash movie that compares the differences between a real and a fake BBC t-shirt. The black one is 100% authentic, whereas the pink one has been labelled as an "authentic replica"! I was actually sent the pink one by an online retailer who was trying to prove it's authenticity! The quality of the pink shirt is very bad. The cut is wrong and the print is very thick and plastic rather than well applied and far more natural. What I didn't show was the astronaut on the back. Rather than being clearly defined, it is chunky and has lots of jagged shapes!
The number of fakes of this particular shirt is actually quite small now. There was a time when every single one on ebay was fake as they released the fakes before the real ones were made available!
The shirt came in just three colours: black, white and brown. any other colour is 100% fake!
Hoodies!
Billionaire-Boys-Club.co.uk Bish100 suggested I added some basic information on hoodies that catch a lot of newcomers out when they're buying BBC/BAPE for the first time.
Hoodies are made of 100% cotton, they do NOT have a fleece lining. If the inside looks even remotely fleece like, it's fake!
I believe BAPE have made fleece hoodies before so obviously, there are exceptions to the rule, but if it's supposed to be a full zip hoody it should have a woven look similar to the inside of a pair of jeans, just in the main colour of the hoody.
The zips should also be metal on the hoodies. Plastic zips are cheap and fape.
Season 1, 2 &3 / 2005 A/W onwards
In November/December 2005, Pharrell and Nigo finally unveiled the Billionaire Boys Club brand to the world. Soon after, there were hundreds of fakes on ebay. Unfortunately for consumers, the fakers have faked nearly EVERY design! It's very hard to pick out authentic items when searching for particular items
.
Here's an examples of an authentic Season 2 item: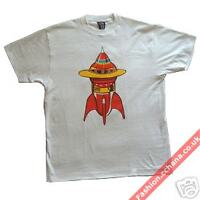 Major Tips

Here are some general tips for you to think about when purchasing BBC/Ice Cream/BAPE on ebay (an online generally).
Check the Official Retailers list. This can be found at bbcicecream.com or http://www.billionaire-boys-club.co.uk/bbc.php

You can find the list of BWS (Busy Workshops) at bape.com

Compare the print and labels to the official website
Has the design been printed?! - you'll be suprised how many fakes are of non-exixten designs!
Look at the quality - fakes are 99% on low quality t-shirts to help reduce costs and icrease profit
For Hoodies, look at the colours. fakes are often very light or very dark or have too much contrast between the two when compared to real items.
Check the sellers feedback for signs of fakes - this is never foolproof as probably 60% of people buying fakes don't mind owning lower quality items or they are really desperate to get an item that they'll even buy fakes and the other 30% is made up by people not knowing the items are fake! The last 10% is usually made of people being tricked into buying fake and they usually leave negative feedback!
The price - is it too good to be true?!
The labels - fape sellers usually use other peoples pictures so the tags can vary from picture to picture!
Tags - does the persons tag in the picture match their ebay id?! (you'll be suprised how often this happens)
Does the dustbag have a silver backing? - fake!
The paper tags should be in a certain style - appart from the size, they have been almost perfectly faked.
Only BAPE has the ape sleeve tag, BBC does not come with any sewn on sleeve tags
Post a link here: http://www.billionaire-boys-club.co.uk/forum/viewforum.php?f=10
Take a look at a list of recommended sellers that is available on my website

Keep in mind that there are many different people and companies producing fakes so fakes can vary from design to design and even the colours can vary. Fakes often have small details missing, very thing prints, fake labels, fake tags or an ill fitting cut.
The biggest thing to remember is:
If it's too good to be true, it usually is!
This isn't to say that there are no bargains to be had, just make sure you don't pay over the odds for a fake! Remember, these are high end boutique items, despite being casual wear, they fetch high prices when new and even higher prices when re-sold. They're produced in limited quantites so it's hard to get that bargain (not impossible though!)
If you're ever in doubt there are other ways to get confirmation. As I mentioned before, my website Billionaire-Boys-Club.co.uk is there to help you find out authentic items. Feel free to register in the forum and post auctions in the Real or Fake forum where our members will help you identify authentic items. The url for the Real or Fake forum is: http://www.billionaire-boys-club.co.uk/forum/viewforum.php?f=10
We do our best to help and you will always get an honest answer. When posting, it's not necassary to post the auction link, but post as many pictures and details as possible!