Introduction
Hi folks! I had some good feedback from my 2015/16 Arsenal shirt guide, so I thought that perhaps a guide for the 2016/17 shirt would be helpful to some folks out there. I am basing my guide on what I know from last year, and from closely studying photos of different fakes...I have also had my hands on a 'really good' fake as well as the actual real, genuine article. So hopefully I should have spotted most of the tell-tale signs!
Things to look out for

Fake shirts often have last year's cardboard tag...so the Puma swing tag will say 2015/16 rather than 2016/17. Dead giveaway. In short, if the cardboard tag is wrong, don't touch it.

Manufacturing location is important. Real shirts I've seen are made in Georgia...this will be printed in English & French inside the neck below the size...fakes are often made in Turkey or Thailand. Of course, Puma does have several factories and it is entirely possible that there are genuine shirts with different locations, particularly in markets other than the UK...but you should be extra careful & check the additional pointers I've mentioned.

If the sticky label with the barcode that is stuck on the cardboard puma swing tag just says 'puma shirt' it's fake...real shirts will say something like 'AFC home shirt high risk red/white' I.e. There will be some specific reference to Arsenal.

The inside of a real shirt looks light-coloured (almost pink;) fakes look red. Think it may be something to do with the thickness of the fabric.

Even the 'really good' fake I saw had black trim on collar & sleeves rather than navy. Although it is a dark navy,it is most definitely navy...so if it looks black, it's a fake! Can be tough to tell in a photo though...much easier if you have the item in hand.

Some fakes have the puma cat printed...should be embroidered

Pay attention to the club badge...lettering should be crisp and even. Last year's badge was made of a plastic-type material rather than thread...this year's is thread.

If the shirt you are buying has Premier League badges, remember that the logo for 2016/17 has changed. A shirt with the wrong sleeve patches is not necessarily a fake, but it certainly is a bad mistake for a sports shop or an individual to make and I wouldn't want to own it! It may be possible to remove the sleeve patches & change them, but the new materials they use now are more difficult to work with than the old 'flock' Lextra, so no guarantee it can be done without causing damage to the shirt.


A few photos- real shirt- tags & neck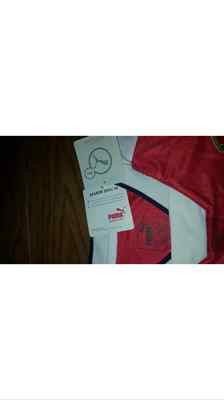 A few photos - fake shirt tags & neck
In this photo you can see last year's (2014/15) swing tag. You can also see the bright red fabric inside the shirt (which on a real one is pink/white.). You can also see that it was made in turkey.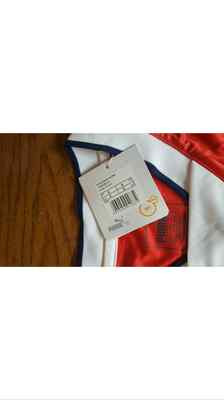 Here you can see that the barcode sticker on the cardboard tag has no reference to Arsenal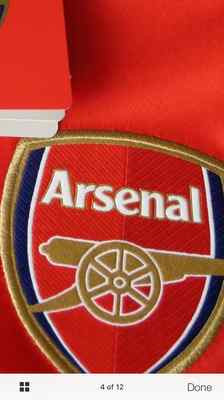 Real shirt photo - badge
You can see that the stitching is crisp & even. Colours are vibrant. Note the direction of the threads on the red background, too - fake ones are often different. The cannon on a real 2015/16 badge was made of a rubberised material...this year's is thread..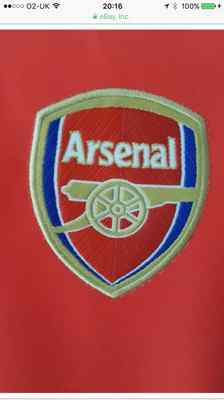 Fake shirt photo - badge
You can see that the colours are not as bright, the lettering & border is not quite even, and the threads on the red background of the badge are going the opposite direction to the real one. The cannon on a real 2015/16 badge was a rubberised material, while fakes were embroidered...this year the material isn't the rubberised stuff, but it isn't embroidered either...just sort of smooth. The white parts of the cannon are slightly recessed (i.e. not level with the gold;) hard to spot unless you physically have the shirt in your hands though.
Conclusion
I hope this guide is of some help. If I find any more information I will update it. Happy bidding & COME ON THE GUNNERS!
UPDATE
I promised I would update the guide if I found any further information. Well, today I received an extremely convincing fake. Most of the usual signs I mentioned above were OK. There was a 2016/17 cardboard swing tag on it, manufactured in Georgia, club badge appeared real. But there are more subtle signs I was able to pick out. I have tried to illustrate and explain these below.
UPDATE-CHECK STYLE NUMBERS

If you look at the images below, you can see a real tag in the first image. Notice that it says 'AFC Home...High risk red...' etc. Also note the style number 749712.

the second image shows the swing tag from the fake. It just says 'puma shirt' (no reference to Arsenal) and the style number given is 744288 01. If you google that number, you find that this number refers to an Italy home shirt!

The third image shows one of the tags sewn into the seam of the fake. 749821 is actually the number of a 2016/17 Borussia Dortmund home shirt!

The final image is another sewn-in tag on the fake...the style number here is the correct one.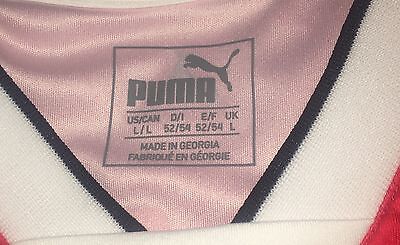 UPDATE - NECK
The fabric is the right colour, the manufacturing location is correct...but the size marking for US/CAN is the giveaway here. It should say L/G (for large/grosse) but instead it says L/L.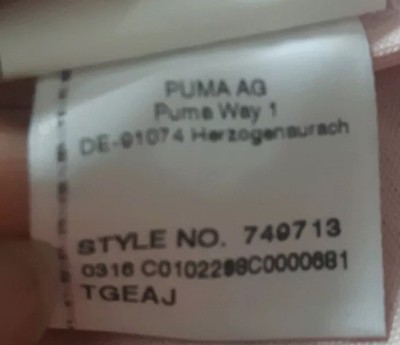 Add a caption
Genuine seam label with silver strip of thread in it
UPDATE - Label in seam
As well as style numbers, another thing to look out for in one of the labels sewn into the seam is a silver strip of thread, much like that seen in banknotes. A genuine one is pictured here. If it isn't there, the shirt is fake. This strip is present on home, away & training shirts this year.