Introduction
Since the Northern Ireland football team's amazing achievement of qualifying for the Euro 2016 finals in France, Northern Ireland shirts have risen in popularity. Of course, this means that there are lots of fakes out there!

Now, I know that some people are ok with a fake shirt...they just want something cheap to show support for the team. But others (like myself!) want the real deal because they plan to keep it as a collectable...who knows when we will again feature at the finals of a major tournament?!

One sure-fire way to get the real deal is to purchase from the official outlet, i.e. JD Sports. But, if like me you want to try & pick up a bargain on eBay, you need to know what to look out for! I am hoping that this guide will be of some help in your search.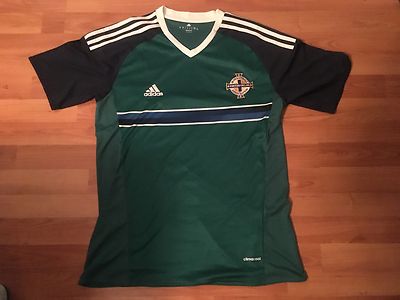 Real or fake?
Looks good, right? WRONG! I wasn't sure at first, but a little investigation & I determined it was indeed a fake.

But how did I figure it out? It has the logos (even the climacool!) so not that obvious. But I'll tell you what to look for.
What to look for - material & fit
First, the material is pretty flimsy. Not what you would normally expect from a company like Adidas.

Next, the fit isn't great...it's pretty clingy. What you might call 'slim fit.' If you try a fake and then the same size in a genuine one, you can notice that the genuine one is much looser. (I've noticed some sellers describing the shirt as slim fit - alarm bells should ring if you see this, I think!)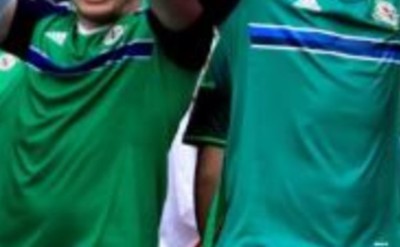 What to look for - colour
Third, the colour. Can be tricky to tell from a photo, and even if you were to see one on its own you may not be able to tell. But compare (most) fakes with the real thing and the colour difference becomes apparent. (You can see the difference from the photo here.) Most fakes are a darker green, like the shirt on the right of the photo. The real thing is a bright, emerald green, like the shirt worn by the fan on the left.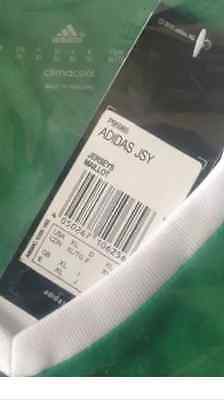 What to look for - tags & labels
Adidas shirts have a small label inside at the back of the neck, slightly to the left of centre (from the perspective of the wearer.). This little label gives the month/year of manufacture. The fake I saw had a date In late 2014. Dead giveaway, case closed. The shirt in question was not released until November 2015, so you'd expect to see a date on this label sometime just before then. (Example; I have an away shirt which I purchased from JD Sports, the official supplier. Date is 09/15. Away shirt was also released in November 2015. So it would be reasonable to assume the home shirts should have a date around the same time.)

Another good indicator is the cardboard swing tag on the shirt. A real shirt will have some reference to Northern Ireland. (On an away shirt, for instance, it has a sticker that says something like NI A16 JSY WHT S...it also has the same style number AI6625 as is on the label inside the shirt neck.) A fake one is likely to say simply 'Adidas Jersey' or similar. The item number on the tag is very important here too. If you do an Internet search for the number 'P95985' (which is on the tag pictured above) you will find that this number appears in relation to various shirts (including 2010/11 Real Madrid away shirt and a Chelsea shirt) on various Asian websites. Very suspicious.

The manufacturing location can be helpful too. It is printed inside the neck of the shirt, at the back. All fake ones I've seen state 'made in Thailand.' Real ones I've looked at though all seem to be made in Vietnam. (However, training kit I got from JD Sports is made in China and Cambodia!). However it is possible that Adidas use more than one factory for making these shirts, so it's not necessarily a sure-fire way of knowing.
What to look for - IFA badge
Often, the badge on a fake shirt is a dead giveaway because it is very poorly made. On the Northern Ireland fakes I've seen though, the badge is pretty convincing. The shamrocks are maybe a little less distinct than on the real thing, but overall it's not that obvious unless you have something to compare it to. I wouldn't rely on this.

The badge is applied as a 'patch,' there is no stitching visible inside the shirt. If yours has visible stitching, it's not real!
Conclusion
Well, that's all I've got for you at present. I hope some of it is useful. If I get any further info, I'll update the guide. If you notice any mistakes or have any info to add, please drop me a line, I'd be delighted to hear from you!

Happy bidding...oh, and COME ON NORN IRON!!