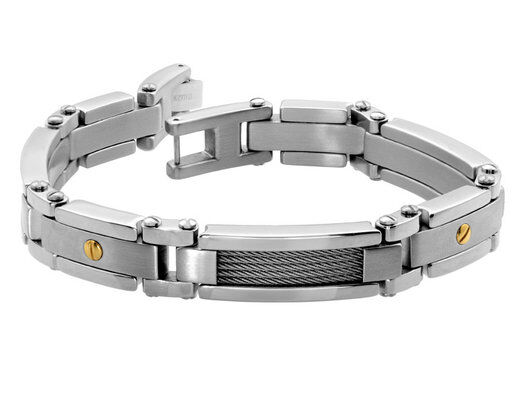 A bracelet is a piece of jewellery that is worn around the wrist. They can be constructed from several different types of materials including metal, leather, plastic, cloth, wood, and more. Fine jewellery is usually made from precious metals such as gold and silver. Other casual pieces of jewellery can be made from a less expensive metals, like stainless steel. People often choose stainless steel bracelets because they are durable and have a shiny and attractive appearance.
Choosing a stainless steel bracelet should be done with the same care as with any other piece of jewellery. In order to find the best stainless steel bracelet, shoppers need to take the time to evaluate the different styles, find the right size, and examine the price and condition of the bracelet before purchase. eBay is an online marketplace that has a wide range of jewellery for sale, including stainless steel bracelets, to suit anyone's budget or personal taste.
Why Choose Stainless Steel Bracelets?
Stainless steel bracelets are an affordable alternative to other precious metals. Although they are not as valuable as other bracelets, they still have a nice metallic appearance and are extremely durable. Stainless steel can handle moisture without corroding, and a stainless steel bracelet won't tarnish over time. This means that the bracelets are easy to clean and maintain. Stainless steel is most commonly used to make bracelets for men because of its appearance and durability.
Stainless steel bracelets are also a good option for people who have allergies or sensitivities to the other precious metals, such as sterling silver in particular. Sterling silver as well as white gold bracelets often contain nickel. This metal gives sterling silver and white gold their light-coloured appearance. Some people are allergic to this metal and so if they wear bracelets that contain nickel, they can develop rashes on their wrists. Stainless steel does not contain nickel, so people can wear these bracelets without having to worry about allergic reactions.
Styles of Stainless Steel Bracelets
Stainless steel bracelets can be styled in a variety of ways. They don't have to be made entirely from stainless steel. Some just use stainless steel clasps or decorations rather than another precious metal. The price of the bracelet depends on the amount of stainless steel used as well as the other materials used to construct the bracelet. When shopping for a stainless steel bracelet, shoppers should find the style that suits them as well as fits within their budgets.
Bracelets Made Entirely of Stainless Steel
Bracelets made entirely of stainless steel are perhaps what most people think of. These types of bracelets come in a wide range of styles to suit a variety of tastes. Beaded stainless steel bracelets are constructed from several beads that are strung together on a thin chain or linked together as chain links. The beads can be round or moulded into various shapes. Hip hop--style stainless steel bracelets are designed with several links. They have a more casual look than the beaded bracelets and some even resemble thick chains reminiscent of bicycle chains. A solid stainless steel band is another choice. It might be a smooth and simple band, or it may have designs or words engraved into it.
Bracelets With Stainless Steel Clasps
Some bracelets may just have a stainless steel clasp. This is more common with costume jewellery. The bracelet might be made of beads, leather, or fabric and then is held together with a stainless steel clasp. These types of bracelets are perhaps the most affordable depending on the materials used to make them. Because the clasp is made from stainless steel, it is also more likely to hold up well against wear and tear.
Bracelets With Stainless Steel Embellishments
Casual bracelets made from leather or rubber might be embellished with stainless steel decorations. These are often in the form of a stainless steel plate with an engraving on it as seen in ID bracelets. Some jewellers custom engrave these bracelets with a personalised inscription or design. Other bracelets might have a large decoration made from stainless steel and other gems or beads.
Bracelet Sizes
When shopping for a bracelet, it is important for the shopper to find one in the proper size. A bracelet that is too small is uncomfortable to wear. A bracelet that is too large can fall off unexpectedly. The average size of a men's bracelet is 20 cm in diameter. The average size for a women's bracelet is about 18 cm in diameter. People who have smaller or larger than average wrists should be sure to adjust the size accordingly. Some styles of bracelets are one-size-fits-all. They might have removable links or can expand and tighten as needed.
Measuring Wrist Size
Before choosing a bracelet, it is important to measure the wrist. A shoppers can use a soft tape measure to measure the distance around the wrist, right below the wrist bone. A few centimetres should be added to this measurement to allow for a little bit of wiggle room. Shoppers should also take into account the type of clasp and the size of the beads. Larger beads and clasps can reduce the amount of room on the inside of the bracelet. If possible, a shopper should try on the bracelet prior to purchase to ensure that it is the proper size.
Tips for Buying Stainless Steel Bracelets
When shopping for a stainless steel bracelet, shoppers need to do more than just choose a style that they find attractive. They need to make sure that the jewellery that they choose is worth the investment. Also, they need to make sure that it has a nice enough appearance to be worn for the occasion that it was purchased for. When shopping for stainless steel bracelets, a shopper needs to take the time to compare prices and examine the condition of the bracelet when purchasing a pre-owned stainless steel bracelet.
Evaluate the Price
Stainless steel jewellery is usually less expensive than the other precious metals, which is why many people opt for this type of bracelet. One thing to keep in mind is that stainless steel is harder to work with than other metals, so depending on the shape and size of the bracelet, it might end up being more expensive than a similar bracelet made from another metal. A shopper should take the time to compare the price of a bracelet to other similar bracelets made in both stainless steel and other metals. This helps them determine if the bracelet is a good deal or not.
Examine the Condition
Rather than investing in a brand new stainless steel bracelet, some shoppers might look for used jewellery. Stainless steel holds up well over time and when exposed to various elements, so even with minimal care, a bracelet can still look nice even if it was previously used. Bracelets that have been worn heavily may have a scuffed or dull appearance. Shoppers should avoid these bracelets, especially if the price does not reflect the wear and tear.
How to Buy a Stainless Steel Bracelet on eBay
You can find both new and used stainless steel bracelets on eBay. This online marketplace allows people from all over the UK to buy and sell all types and styles of jewellery with ease. You can find some great deals on stainless steel bracelets and most are often priced well below the retail price. The key to finding the bracelet that suits your style and fits within your price range is knowing how to search and refine results properly.
Searching for Bracelets
A search bar is located on each eBay page to make it easier for you to search or start a search over no matter where you are on the site. Use this search bar to enter keywords that describe the bracelet you are looking for. Be sure not to be too vague, or you may have to browse through potentially hundreds of listings. Select options such as the style, material, and condition to narrow down the results. The Advanced Search feature can be used when you are looking for a very specific bracelet. This feature allows you to specify several options and exclude keywords from the search before you get started.
Conclusion
Stainless steel bracelets are popular pieces of jewellery for both men and women. The metal used in these bracelets has many benefits over other precious metals, especially when it comes to durability and price. Additionally, stainless steel does not provoke allergic reactions like the nickel in sterling silver and white gold does. While these bracelets don't usually meet the requirements for formal dress, they make lovely accessories for casual attire. When shopping for a stainless steel bracelet, shoppers should take their time and find one that suits both their style and their price range. This can be done by evaluating the different styles available and wisely choosing the materials that the bracelet is made from. Although stainless steel bracelets are usually more affordable than other precious metals, shoppers can save money on the purchase by finding a pre-owned bracelet that is still in good condition. All of this can be done on eBay, where thousands of jewellery selections are up for sale every day.