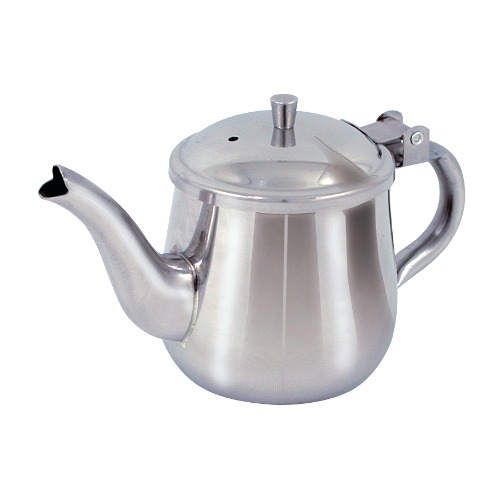 Of the many types of teapot available for the modern kitchen, the stainless steel teapot is a popular choice among those looking for a teapot that not only looks sleek and stylish, but is made from a material that has useful tea-friendly properties.
About Stainless Steel
Stainless steel is an alloy of steel that is formed by chemically treating the steel during production by the addition of chromium. The chromium reacts with the atmosphere to form an invisible coating of chromium oxide. This coating protects the steel underneath from the corrosive effects of air and water (and tea) that otherwise would eventually appear in the form of unsightly stains or rust.
Stainless Steel Teapots
The practical advantage of using stainless steel in the manufacturing of teapots is that it is impervious to those same corrosive effects of air and water, and it is also highly resistant to the slightly acidic corrosiveness of the tea itself. This is a major selling point. The non-reactive characteristics of stainless steel ensure that no chemicals within the body of the teapot can react with the tea and spoil its taste. Stainless steel teapots are easy to clean, too. They can be regularly washed, and many makers are quick to point out that their teapots can be washed in a standard dishwasher.
Stainless Steel Teapot Design
Various models of stainless steel teapot have features that make them more attractive or less attractive to individual customers, depending on the particular features that they're looking for in a teapot and feel would be most useful. These features include the following:
Finish
The neutral lustre of stainless steel teapots is what makes them attractive, and also ensures that they look look good in any surroundings and alongside any design of cups or mugs. There are two basic finishes of stainless steel teapot available: polished finsh, which is highly reflective and gleaming; and brushed finish, which offers a more subtle and sophisticated 'diffuse' look.
Capacity
The overall size and weight of the teapot depends on the volume of tea that it's designed to hold. A typical family-sized teapot can contain enough tea for around four mugs or six cups of tea. Smaller teapots are also available for those whose needs don't extend to pouring out so many cups or mugs at any one time.
Shape
The shape of the teapot has a bearing on how well the tea inside can be brewed. Rounded, bulbous-shaped teapots are considered best for efficient and even circulation of the flavour of the tea throughout the water.
Heat Retention
The heat retention properties of stainless steel teapots are considered to be above average and certainly better than other metal types. In some cheaper models, the teapot handle can become uncomfortably hot. Some manufacturers overcome this problem by fitting a plastic handle instead, which doesn't get hot. The knob on the teapot's lid may also be plastic for the same reason. Other makers use the same stainless steel for the handle as the rest of the teapot, but angle it in such a way that far less heat will be transferred from the pot to the handle. There are also teapots that work on the same principle as vacuum flasks by using a double (airless) layer of stainless steel. A full pot of tea with this type of teapot can be kept warm enough to drink for a matter of hours. After brewing the tea for a few minutes, any teabags, or in the case of loose tea leaves, the integral infuser holding them, need to be removed otherwise the tea will over-brew and become undrinkable.
Online Reviews
Although the makers of any particular model of stainless steel teapot will supply some helpful information, usually in glowing terms, about any particular model within their range, there's nothing to beat independent reviews from those who have actual experience of using the teapot and nothing to gain by dishing out praise where it's not due. The makers' information must, by law, be accurate. Independent online reviews are far more objective and truthful. Reviewers can report any design flaws that they have encountered while using their teapot, or, alternatively, they may recommend it very highly. Either way, it's very useful information for anyone considering buying a particular make and model of stainless steel teapot. Product reviews for just about every model of teapot are easily found online via search engines. The maker and model name plus the search term "review" all entered into the search engine's search box are usually enough to locate a sizeable number of online reviews, especially for the more popular models.
Buying a Stainless Steel Teapot
Stainless steel teapots are commonly available for sale in shops that sell kitchenware. They may be offered singly, or as part of a tea set including a stainless steel milk jug and sugar bowl in addition to the the teapot. There are also a large number of online sources from which stainless steel teapots, and complete tea sets can be obtained. Online sources also offer the greatest choice if searching for a used stainless steel teapot..
Finding a Stainless Steel Teapot on eBay
When considering buying any item online, eBay is the first port of call for many. It's hardly surprising given the vast number of items being bought and sold on a daily basis. Stainless steel teapots are always available on eBay and may be found under various categories and sub-categories of eBay's product listing system. The majority can be found listed under the 'Cookware, Dining and Bar' subcategory of eBay's Home, Furniture & DIY main category. A few more may be found in the Food & Drink or Collectables categories. In the event that there are too many results returned from using the eBay search facility, there are filtering options that limit thee results to those that are more relevant to the buyer's requirements. These list-filtering check-boxes are located on the left side of the listings pages and include the following:
| | |
| --- | --- |
| Condition | Choose to see stainless steel teapots that are being sold either as new or used. |
| Price | Choose from stainless steel teapots that fall within a chosen price range. |
| Seller | Choose to limit the search to teapots being offered by eBay-approved 'Top-rated sellers'. |
| Buying Formats | Buy a teapot that is being sold directly or bid for one that is being auctioned. |
| Show Only | Choose from a list of stainless steel teapots that are being offered with various conditions, such as express delivery or free postage and packing. |
| Location | Limit the search to include sellers within the UK only, the European Union, or remove the geographical limits completely for a complete worldwide search. |
| Distance | List only stainless steel teapots from sellers that are located within a chosen maximum distance. |
For those not already registered with eBay, the sign-up process, which is necessary for all buyers and sellers to complete, is secure, fast and easy. It's simply a matter of filling in an online form with some required personal and financial details, which will be securely held by eBay. They are accessible and editable by the new member via their member page, which is password-protected.
Conclusion
The popularity of stainless steel teapots has ensured that there is no shortage of them available for sale from a wide variety of sources whether in department stores, hardware shops, from catalogues or from countless online retailers and private sellers. Finding exactly the right one is simply a matter of searching among the choices available. Knowing exactly which features are required is the way to start looking. The perfect stainless steel teapot is bound to come along, and probably sooner rather than later.