Filling gaps in the collection
Many people new to the hobby, or who have been collecting stamps for years on a tight budget, will have many spaces in their collection, particularly if they are mounting their stamps in an album with dedicated spaces, such as Stanley Gibbons' "Windsor" album.
The bad news is there are spaces in your album you will probably never fill - SG43/44 1d red plate number 77 is a prime example.
The good news is you can get some rarer examples of these stamps for a fraction of the catalogue price, particularly on eBay.
This guide uses British Stamps as examples, but the rules apply to stamps from any country.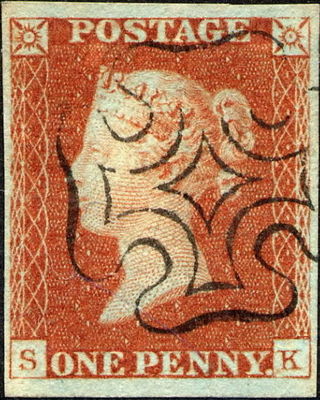 Perfect vs Space filler
The example left is pretty much a perfect stamp - 4 full borders, bright print colour and a crisp cancellation that allows the design of the stamp to be seen. A dealer or collector would grade this as Superb or Very Fine used.
The term "space filler" will vary from seller to seller, and can mean anything from a stamp with a smudgy cancel, to something with physical defects such as paper thins or a missing perforation tooth. On imperforate stamps, close or missing design borders can relegate an otherwise nice stamp to space filler status.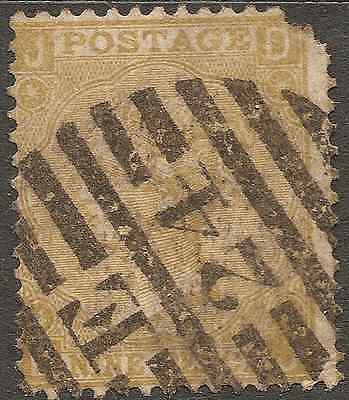 Paper defects.
The stamp on the right would be a presentable example of the 1862 9d bistre for anyone's collection, if it wasn't for the torn corner. It's slightly off centre, which is normal for perforated stamps of this era, and the print colour is bright. The cancel, while covering most of the stamp, is sharp with no smudges, and my opinions is this would be a better stamp filling a hole in your album than an intact example with a smudgy cancel covering the stamp's design. As a space filler, this stamp is worth a fraction of its £525 catalogue price. The example above is on the top end of the space filler condition, and would probably sell for £20-40 at a dealer's shop, £10-20 from a privateer on eBay. The price will vary depending on the what the damage is, and the extent it affects the stamp.
Other paper defects include creases, splits and tears in the stamps design. Stamps with holes (except examples with perfins) are virtually valueless.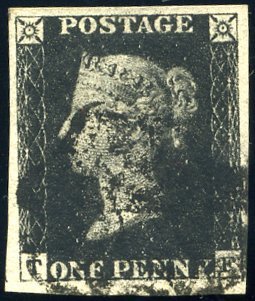 Smudgy Cancels
This otherwise perfect example of a Penny black is let down by a smudged black maltese cross cancel. The printing is bright and it has 4 wide hand-cut margins. It is worth more than a stamp with physical defects as it is intact. Most dealers would classify this as average to good condition, purely because the cancellation is poor.
With a catalogue value of £1700, you can pick up a similar example with a dealer for £150-200, and a privateer with an online auction you may be lucky enough to pick one up for under £100.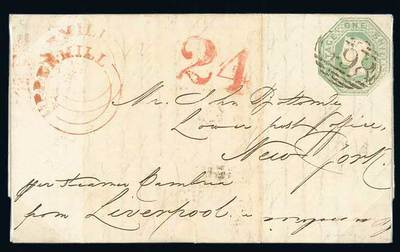 Add a caption
1 shilling green on cover, the stamp is cut to shape
Cut to shape stamps
Odd shaped stamps, such as the octagonal 1847 embossed issues, and surface printed stamps where a wing margin would be normally be present (stamps from the centre of the sheet) have practically no value when cut to shape. This was often done at the post office for aesthetic reasons, but basically the stamp is valueless to a collector. But as they are quite valuable in perfect condition, getting a cut to shape example for £20-30 from a dealer or private seller will put something in a hard to fill gap 'til you can afford something better.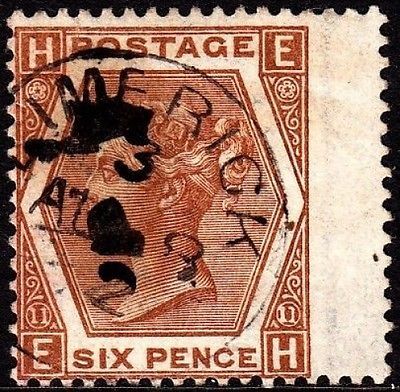 Trimmed wing margins
Wing margins are found on stamps that originate in the middle of a sheet, and are found on surface printed GB issues between 1855 and 1862. The printing technique involved at the time gave a gap approximately half a stamp's width between blocks of stamps on a printed sheet, and affects all stamps with garter, emblems or spray of rose watermarks. The 4d & 8d stamps on garter watermarked paper will have the letter F or G in the bottom right corner. Other value stamps on a wing margin should have a letter D, E, H or I in the bottom right corner. Use the check letters on the stamp to make sure it's not been trimmed down. Reperforating a wing margin or simply cutting it off with scissors was common practise until the mid-late 20th century, when philately standards were not as high as they are now, and was practised by both dealers and collectors, with varying results. Even well re-perforated examples are worth, once again, a fraction of the catalogue price, from under £1 up to a couple of hundred for rare examples, but once again will make a great cheap space filler if you are after a rare stamp.
Buying an entire collection or album.
This may sound a little crazy, but people often inherit a collection from their parents or grandparents, and have little idea of the collection's value, or no interest in continuing the hobby their loved ones started. Sometimes a collector simply wants to thin out his or her collection, having got the best examples of stamps he needs.
People may get the collection valued at and then sell to a dealer, who will often strip down an album or stockbook for his or her's selling stock and dispose of or sell the remaining stamps in the album at a discount price.
Others may put the collection up for auction on eBay, totally unaware of its value and if any of the examples contained therein are rare or valuable. This is a good way of grabbing a bargain where you can fill your album's gaps for not a lot of money.
See if you can view the album or collection for sale, taking along a note of stamps you need for your books. Also note the condition of the stamps you are after, for any damage, on paper, unused or smudgy cancels.
The seller may want to get rid of what they have as a job lot, which could range from a couple of albums to enough stuff to stock up a philately shop! If there are only one or 2 examples you are after, then it is probably better getting these individually as opposed to a whole collection, unless it is really cheap!
But if you can fill a substantial amount of gaps in your collection, make the seller a fair offer (dealers typically offer under a quarter of the collection's value), or if it is an online auction, keep to a maximum amount you want to pay. It is very easy to get overexcited and carried away bidding on a good lot.