Emerald is the birthstone of May, but you don't have to be born in the merry month to enjoy wearing these beautiful stones. The likes of Reece Witherspoon and Angelina Jolie have graced the red carpet wearing stunning emerald earrings, so if you fancy recreating some celebrity style, check out our guide to the top 10 stunning designs.
10. Choice of royals: gorgeous gold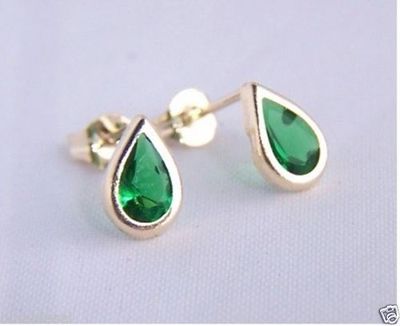 Gold and emerald makes for an alluring partnership that works very well for formal occasions. Gold tends to make the green of the gemstone look deeper. Styles vary so base your choice on the occasion and your face shape. You may even think about buying or hiring a dress to complement your earrings, rather than the other way around! This combination isn't the most versatile, but with a bit of thought it is sure to look amazing with a formal gown.
---
9. Perfect partners: clusters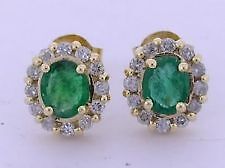 If you like the idea of partnering your emeralds with diamonds, then a cluster style is perfect. The emerald sits in the centre of the design and tiny stones are set around it, sometimes diamonds or even more emeralds. The stone is often oval, but it may also be rectangular, heart, square or flower-shaped. This is a sophisticated style that suits an oval or round face shape.
---
8. Heavenly hoops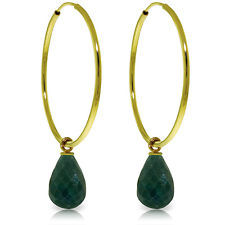 If you have a square face then hooped earrings are a good style to wear. The hoops can be gold or silver, and the emeralds may be set into the hoops, sometimes with diamonds, giving a very glamorous look. Also, a hoop with an emerald drop makes a good variation and gives a more modern look.
---
7. Antique charm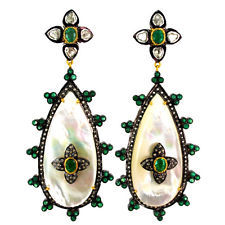 If you would like an extra special pair or earrings or something a bit different, you really need to look at antique earrings. Emerald was a favourite stone of the Victorians. All the modern gemstone styles are inspired by the designs of previous eras, but originals are often hard to beat. Invest some time and money in finding a special pair and you know nobody will turn up wearing the same ones! Genuine antique emeralds will be the natural stone as synthetic emeralds were only created after 1946.
---
6. Dangly darlings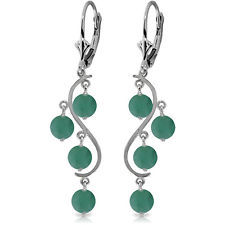 If you are a bit of a hippy chick at heart, clusters of emeralds dangling down your neck on silver chains is going to be your thing. If you are not so keen on wearing long earrings, or you face shape doesn't suit, then a shorter dangle makes a pretty, feminine option. A single emerald hanging off the ear has a definite ethereal air to it, and chandelier-style strings of tiny stones make a glamorous statement.
---
5. Simple, subtle studs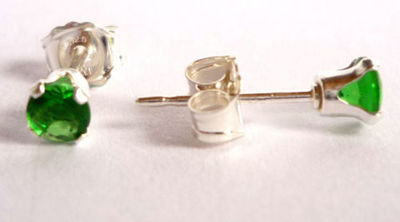 For ladies who like small and subtle, a simple emerald stud is perfect. These have understated style and show the emerald off in its own simple beauty. As the stone is generally small, you can spend more money on a better-quality emerald. Pretty little studs are so versatile they will suit any face shape and outfit. A matching necklace with a single stone makes a stunning complement to these studs.
---
4. Celebs' favourites: large teardrops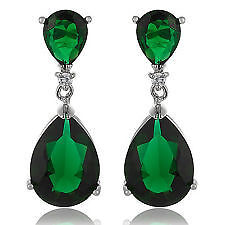 Give yourself the red carpet makeover by wearing teardrop earrings – if they're good enough for Angelina Jolie, they're good enough for us! Celebrating the emerald, this drop-style earring usually consists of a pair of large, simple, tear drops – just emeralds and nothing much else. This design manages to be dramatic and classy at the same time. Timeless and beautiful, this is one style that deserves to be reserved for special occasions. They tend to suit square or rectangle faces a little more, although everyone can give them a go.
---
3. Art deco drama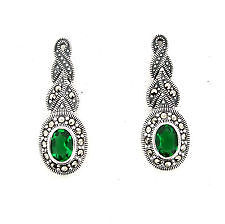 Emerald green is definitely a colour reminiscent of this period, so why not celebrate the era by becoming a walking piece of art deco? Using shapes popular from the era, such as square stones set alongside baguette diamonds, or geometric designs, the emerald is shown off at its very best. The popular mount of the time was silver, and the diamond and emerald combinations would look fantastic with a 1920s outfit... a charleston dress if you dare!
---
2. Pure and natural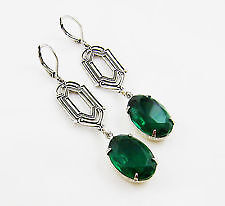 There are two types of emerald – synthetic and natural. The most beautiful natural emeralds are said to come from Columbia. If you can, treat yourself to a pair of earrings from the region to ensure a real depth of colour. It really doesn't matter what design you buy, but make sure the emeralds are natural. The 'someone special' in your life may need some warning, however, as natural stones can run to hundreds and even thousands of pounds. But they will be worth every penny!
---
1. Handmade for you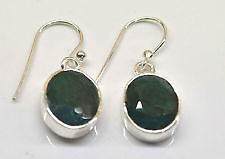 A pair of emerald earrings made just for you makes a very special gift. Commissioning a jeweller to create some beautiful silver and emerald earrings will both support UK craftsmen and result in a beautiful, uniquely personal piece. The emerald stone looks amazing with silver – and as silver is used to create lots of delicate jewellery designs, you'll get a pretty, fresh look. An intricate, chandelier style will look beautiful with a summer outfit. And one thing is certain, you are sure to be wearing one of a kind.